New Movies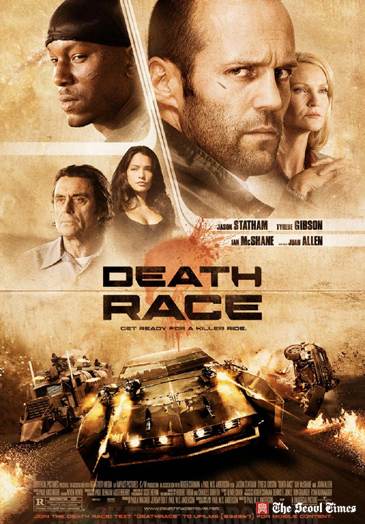 Death Race (데스 레이스)Synopsis

Ex-con Jensen Ames is forced by the warden of a notorious prison to compete in our post-industrial world's most popular sport: a car race in which inmates must brutalize and kill one another on the road to victory.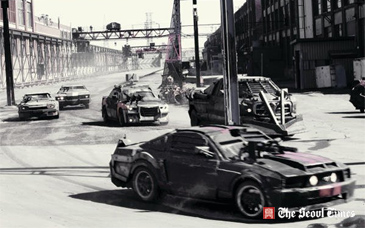 Death Race (데스 레이스)


About the Movie

An action film written and directed by Paul W. S. Anderson. The film is a remake of the 1975 film Death Race 2000, based on Ib Melchior's short story "The Racer", and stars Jason Statham in the lead role. The remake had been in development since 2002, though production was delayed by disapproval of early screenplays then placed in turnaround following a dispute between Paramount Pictures and the producer duo Tom Cruise and Paula Wagner. Death Race was acquired by Universal Studios, and Anderson re-joined the project to write and direct. Filming began in Montreal in August 2007, and the completed project was released on August 22, 2008.

The Roger Corman-produced cult favorite DEATH RACE 2000 (1975) gets an update in this reworking from action director Paul W.S. Anderson (RESIDENT EVIL). In a role sure to please fans of his work in CRANK (2006) and the TRANSPORTER films, Jason Statham is Frankenstein, the fierce driver portrayed by David Carradine in the original.

DEATH RACE is geared to the video game generation, right down to the graphics that appear onscreen during the race's TV broadcast. Once again, Statham creates a great hero to root for in a performance that rises above the copious stunts and visual effects. Allen, in uncharacteristic role, is suitably imposing as the steely warden.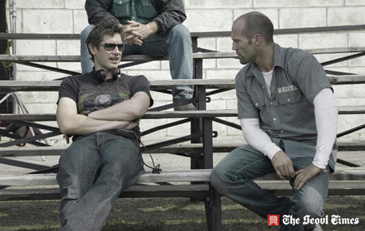 Death Race (데스 레이스)


Cast & Crew

Director: Paul W.S. Anderson
Writing credits: Paul W.S. Anderson, Robert Thom(1975 screenplay Death Race 2000) and
Charles B. Griffith(1975 screenplay Death Race 2000), Ib Melchior
Starring: Jason Statham, Tyrese, Ian McShane, Joan Allen, Natalie Martinez
Release Date: 16 October, 2008
Genre:Action, Adventure, Sci-Fi, Thriller
Runtime: 105 min
Music by Paul Haslinger
Distribution: Universal Pictures
Country: USA
Language: English
Parents Guide: View content advisory for parents
Company: Cruise/Wagner Productions

Synopsis

살인 누명을 쓰고 감옥에 들어간 전직 레이싱 선수 젠슨(제이슨 스테이섬)은 교도소장 헤네시(조앤 알렌)에게 무차별 파괴 레이싱 '데스 레이스'의 출전을 제안받는다. '데스 레이스'의 최고 인기 레이서인 프랑켄슈타인이 4승 후 사망하자 경기의 인기 하락을 우려한 헤네시는 프랑켄슈타인의 죽음을 숨기고 젠슨에게 프랑켄슈타인의 대역을 요구한 것. 또한 만약 1승을 올린다면 젠슨은 교도소에서 나가 자유의 몸이 될 수 있는 조건이 있다. 이에 레이싱 출전을 결심한 젠슨은 여성 파트너 케이스(나탈리 마르티네즈)의 도움을 받아 단 한 사람만이 살아남을 수 있는 죽음의 레이스를 시작한다.


Death Race (데스 레이스)


About the Movie

로저 콜만과 폴 바르텔이 제작과 연출을 담당했고 데이비드 캐러딘과 실베스터 스탤론이 주연했던 컬트 액션물 <죽음의 경주(Death Race 2000)>을 리메이크한 미래 액션 모험물. 제작비 4,500만불이 소요된 이 영화의 출연진으로는, <트랜스포터>, <아드레날린 24>의 제이슨 스테이섬이 원작에서 캐러딘이 연기했던 주인공 프랑켄슈타인/젠슨 에임즈 역을 담당했고, <패스트 앤 퓨리어스 2>, <트랜스포머>의 타이레스 깁슨이 원작의 스탤론 역할인 머신건 조를 연기했으며, <본 슈퍼리머시>와 <본 얼티메이텀>의 조앤 알렌, <황금나침반>, <쿵푸팬더>(타이 렁 목소리)의 이안 맥쉐인, TV <세인트스 앤 시너스(Saints and Sinners)>의 나탈리 마르티네즈, <젠틀맨 리그>의 맥스 라이언, TV <브러더후드(Brotherhood)>의 제이슨 클라크 등이 공연하고 있다. 연출 및 각본은 <모탈 컴뱃>, <레지던트 이블>, <에이리언 대 프레데터> 등 비디오게임 원작 영화들을 히트시켰던 폴 W.S. 앤더슨이 담당했다. 미국 개봉에선 첫 주 2,532개 극장으로부터 주말 3일동안 1,262만불을 벌어들여 개봉주말 박스오피스 3위에 랭크되었다.

미국 개봉시 평론가들의 반응은 그럭저럭 볼만한 영화라는 반응과 형편없다는 졸작이라는 반응으로 양분되었다. 뉴스데이의 레이퍼 구즈만은 "이 영화는 아마도 시끄럽고, 지적이지 않은 펄프 취향 영화일지 모르지만, 싸구려 스릴(cheap thrill)이 무엇인지를 정확하게 정의해주는 매력적인 오락물이기도 하다."고 만족감을 나타내었고, 토론토 글로브 앤 메일의 스티븐 콜은 "그렇다. 이 영화는 얼굴에 날아오는 펀치만큼이나 폭력적이다. 하지만, 만일 당신이 먼지와 피가 뒤덮힌 B급 영화를 갈망하고 있다면, 이 영화는 엄청나게 큰 재미를 선사할 것."이라고 평했다. 반면 반감을 나타낸 평론가들로서, 시카고 선타임즈의 로저 이버트는 별 넷 만점에 반 개 만을 부여하면서 "극장문을 나서면서, 방금 비디오 게임을 보았고 아직도 그 영화를 기다리고 있는 것 같은 느낌이 들었다."며 엄지손가락을 내려 사형을 선언했고, 뉴욕 데일리 뉴스의 엘리자베스 와이츠먼은 "자신의 정체를 알고 있으면서도 사과하지 않는 영화. 이 영화의 정체는 바로 쓰레기(junk)."라고 직격탄을 날렸으며, 시카고 트리뷴의 맷 파이스는 "실제로 데쓰 레이스에 참가하는 것이 이 영화를 관람하는 것보다는 덜 고통스러울 것."이라고 빈정거렸다.


Death Race Trailer - Watch more amazing videos here

Cast & Crew

감독: 폴 W.S. 앤더슨
배우: 제이슨 스테이섬, 조안 알렌, 나탈리 마르티네즈
장르: 액션
등급: 청소년 관람불가
시간: 104 분
개봉: 2008-10-16
국가: 미국
제작사: Cruise-Wagner Productions
배급사: UPI KOREA
수입사: UPI KOREA

홈페이지: http://www.deathracemovie.net
ST Photo Gallery
Photo News
Embassy Events
Econo People 2005
Fashion Images
New Movies
Travel Images
Nayan Sthankiya's Photo Features New
Abuses of Iraqi Prisoners of War
Academy Awards Photos 2004
Adolf Hitler
Aishwarya Rai-Indian actress
Buddha`s Birthday 2004
Cannes 2004 — 57th Cannes Film Festival
Choi Tae-Ji Photo Gallery
Comfort Woman Picture Gallery
Crown Prince Felipe of Spain
Dokdo Photo Gallery
Erotic Paintings of Hyewon and Danwon
Franz`s Art Exhibition
Gando Photo Gallery
Geisha in Japan
Gwangju Massacre
Jeju Island
Kim Jong-Il and Kim Il-Sung
Koguryo Murals
Korean War (1950-53)
Madonna
Miss Universe 2004
Miss World Contest 2003
Mt. Kumkang or Mt. Diamond New
Natural Beauty of Korea
Rape of Nanjing (Nanjing Massacre)
Rio Carnival 2004
Ronald Reagan`s Life in Pictures
ST Family
Sonia Gandhi and Gandhi Clan
Taj Mahal Photo Gallery
Ukrainian Embassy
World War Two
Photo Gallery of World Newspapers/Media
Times of India
Hindustan Times
SantaBanta.com
Straights Times (Singapore)
Chicago Sun-Times
Moscow Times