New Movies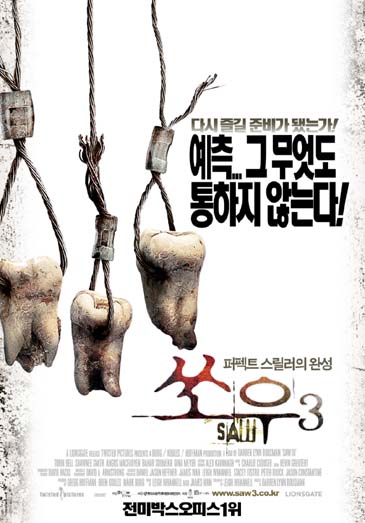 Saw III (쏘우3)Movie Title: Saw III
Director: Darren Lynn Bousman
Written by: Leigh Whannell
Main Cast: Tobin Bell, Shawnee Smith, Angus Macfadyen, Bahar Soomekh, Donnie Wahlberg
MPAA Rating: R
Runtime: 1 Hour 47 Minutes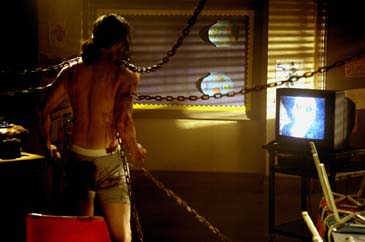 Saw III (쏘우3)



Movie Review: Saw III

Bones Will Pop, but He's No Chiropractor

By Jeannette Catsoulis

The "Saw" franchise rasps on with "Saw III," a deadening barrage of grungy rooms, mortified flesh and elaborate torture. This time Jigsaw/John Kramer (Tobin Bell), the masked sadist whose fondness for men in chains continues unabated, has decided to play marriage counselor to a couple whose young son has been killed in a car accident.

Since Jigsaw is currently laid low by a brain tumor, his torture-as- therapy program requires the assistance of Amanda (Shawnee Smith), a sidekick who slices her own thighs when no one else's are handy. Amanda probably spent a lot of time in her teens writing to men on death row.

Having learned the (knotted) ropes on "Saw II," 27-year-old Darren Lynn Bousman returns to direct, while James Wan and Leigh Whannell push their original story to new depths of monstrousness. Joining the pantheon of stomach-churning devices is a rack that twists one's extremities until the bones pop out, and an abattoir-inspired scenario involving deliquescent pigs is enough to make you long for the comparatively benign stenches of John Waters's Odorama.

The most depressing thing about this series is not the creativity of the bloodletting but the bleak view of human nature, specifically our talent for ruining the present to avenge the past. In the opening scene, a man frees himself from an ankle restraint by pulverizing his foot with a brick; fortunately, all we have to do is get up and leave.

"Saw III" is rated R (Under 17 requires accompanying parent or adult guardian). It is obscene in every regard.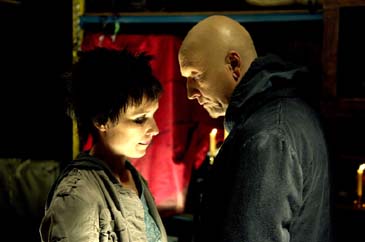 Saw III (쏘우3)
제목: 쏘우3
원제: SAW Ⅲ
제작국: 미국
제작사: 라이온스게이트필름
수입/배급: ㈜쇼타임
배급: 롯데쇼핑㈜롯데 엔터테인먼트
국내개봉: 11월 30일
관람등급: 18세 이상 관람가
러닝타임: 107분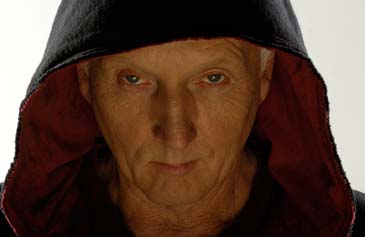 Saw III (쏘우3)



Synopsis

같은 시간, 각기 다른 방... 두 개의 미션이 동시에 시작된다!
유능한 뇌 전문 박사 린은 병원에서 하루 일과를 마치고 나오던 어느 날 밤, 알 수 없는 누군가에 의해 납치된다. 정체 불명의 밀실에서 눈을 뜬 린 박사가 마주 친 것은 병상에 누워 있는 죽기 직전의 직쏘! 직쏘는 심판이라는 명분으로 여러 명을 죽음의 게임에 끌어들였던 지능적 살인마이다. 직쏘의 새로운 게임 대상이 된 린은 다른 방에 잡혀있는 또 다른 인질이 미션을 모두 마칠 동안 직쏘를 살려야 한 다는 말을 듣게 된다
같은 시각, 나무 상자 안에서 깨어난 제프. 그는 교통사고로 아들을 잃은 충격으로 휩싸여 있는 인물이다. 그에게 주어진 게임은 아들의 사고와 관련되어 있는 사람들을 차례로 만나 직쏘가 정한 규칙대로 미션을 수행해야 한다는 것. 그리고 그에게는 게임을 풀 수 있는 단 두 시간의 시간이 주어진다.

끝이라 생각한 순간, 또 다른 게임은 이미 시작되었다!
같은 시간, 각기 다른 방에서 동시에 시작된 미션. 둘 중 한명만 성공 해서는 목숨을 보장 받지 못하며, 미션 중 하나는 스스로 풀 수 없다! 뿐만 아니라, 린의 목에 걸려 있는 폭탄장치는 직쏘의 심장 모니터와 연결이 되어 있어 직쏘의 심장이 멎거나 그와 일정 범위를 벗어나면 폭발해 버리게 된다. 린과 제프는 서로의 생존을 위해 각기 다른 방에서 미션을 수행하기 시작한다. 하지만 그것은 직쏘가 세워놓은 치밀한 계획 중 하나일 뿐, 이미 또 다른 게임은 시작되고 있었는데…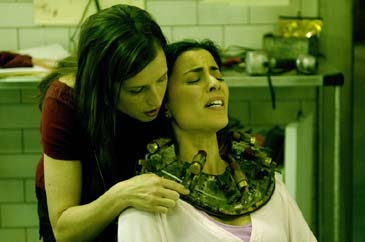 Saw III (쏘우3)


Cast & Crew

Cast
직쏘: 토빈 벨 (Tobin bell)
아만다: 샤니 스미스 (Shawnee Smith)
제프: 앵거스 맥파디언 (Angus MacFadyen)
린: 바하 수멕 (Bahar Soomekh)

Crew
감독: 대런 린 보우즈만 (Darren Lynn Bousman)
제작: 마크 버그 (Mark burg), 오렌 쿨즈 (Oreen koules)
각본: 리 워넬 (Leigh Whannell), 제임스 완 (James wan)
촬영: 데이빗 A. 암스트롱 (David A. Armstrong)
편집: 케빈 그루터트 (Kevin Greutert)
미술: 데이비드 헤클 (David Hackl)
ST Photo Gallery
Photo News
Embassy Events
Econo People 2005
Fashion Images
New Movies
Travel Images
Nayan Sthankiya's Photo Features New
Abuses of Iraqi Prisoners of War
Academy Awards Photos 2004
Adolf Hitler
Aishwarya Rai-Indian actress
Buddha`s Birthday 2004
Cannes 2004 — 57th Cannes Film Festival
Choi Tae-Ji Photo Gallery
Comfort Woman Picture Gallery
Crown Prince Felipe of Spain
Dokdo Photo Gallery
Erotic Paintings of Hyewon and Danwon
Franz`s Art Exhibition
Gando Photo Gallery
Geisha in Japan
Gwangju Massacre
Jeju Island
Kim Jong-Il and Kim Il-Sung
Koguryo Murals
Korean War (1950-53)
Madonna
Miss Universe 2004
Miss World Contest 2003
Mt. Kumkang or Mt. Diamond New
Natural Beauty of Korea
Rape of Nanjing (Nanjing Massacre)
Rio Carnival 2004
Ronald Reagan`s Life in Pictures
ST Family
Sonia Gandhi and Gandhi Clan
Taj Mahal Photo Gallery
Ukrainian Embassy
World War Two
Photo Gallery of World Newspapers/Media
Times of India
Hindustan Times
SantaBanta.com
Straights Times (Singapore)
Chicago Sun-Times
Moscow Times