New Movies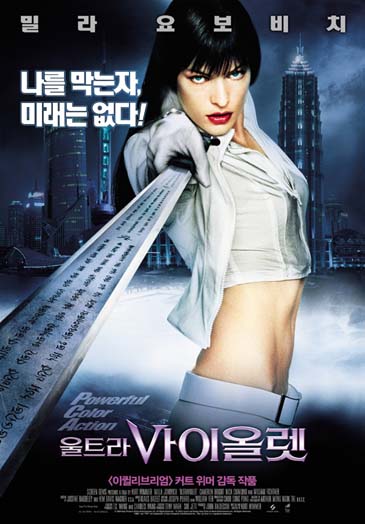 Ultraviolet (울트라바이올렛 2006)Director: Kurt Wimmer
Starring: Milla Jovovich, Cameron Bright, Nick Chinlund, Sebastien Andrieu
Producer: Lucas Foster
Distributor: STUDIO 2.0
Length: 87 Minutes
Rated: PG-13
Release Date: July 20, 2006

Movie Review

Set in the future, this film features a lead hottie who is part vampire/part human? Actually, I'm not sure exactly but she's pissed off at the humans leading this futuristic world and kidnaps a child for her blood-thirsty bosses. Then, at some point, she changes her mind and steals the kid right back. After that, everybody in this videogame—oops, I mean "movie", chases after the lead hottie as she kicks ass and kills pretty much anyone and everyone in her way.

One of the reasons that I was really stoked to see this movie, other than the gunkata and Milla Jovovich factors of course, was the fact that the director's previous film, EQUILIBRIUM, had received shoddy treatment by Dimension Films and practically dumped onto the world. The film gathered a tidy little cult following since that time (with yours truly included) which made this film all the more anticipated. Unfortunately for Mr. Wimmer, it appears as though he once again got dicked with this movie, as the studio apparently took it away from him in the end (he hasn't given any interviews over the past few months, so we don't really know the whole story), cut it up as they saw fit and released it into theaters at 85 minutes and a PG-13 rating. So is this version of the film any good? You know what…it's decent for "what it is". I mean, this is a movie that starts off with a very cool animated credit sequence featuring various different covers of a fake "Ultraviolet" comic book featuring the lovely lead in various hot poses shooting people up. Basically…that's the movie. If you enjoy comic book action, if a deep and intertwined plot is NOT what you're looking for, if a very hot girl kicking ass in various colored hot outfits rubs your wee-wee the right way, buy yourself a ticket for this show and prepare to enjoy the very visual ride through an awesome looking futuristic society packed with nifty visual effects.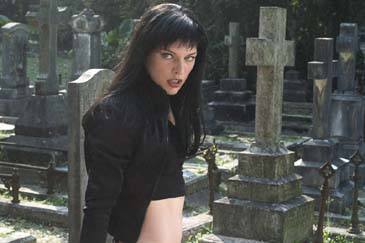 Ultraviolet (울트라바이올렛 2006)



I enjoyed most of this film because what I was given was what I was basically looking for: an escapist action-packed sci-fi flick featuring a hottie slashing people up a la Bride from KILL BILL…but sans any blood. And there, of course, is part of the very real rub against this film. It's rated PG-13 and even though it features hundreds of deaths from blade, gun and foot, barely any blood is shed and almost no real feeling is given to any of the murders. It's a videogame gone wild, basically. I didn't mind that so much, since I still enjoyed most of the action, especially an extremely memorable, and over-the-top, motorcycle ride that has to be seen to be believed, but I think I really would have enjoyed this film that much more, had the action meant more and was bloodier. Also, if you're looking for decent acting, walk down the line and catch BROKEBACK MOUNTAIN instead, because this film might actually include some of the worst deliveries that I have seen in any movie in a long time. This one bald guy at the beginning of the movie almost brought the entire film down with his putrid acting alone. Thankfully, I'm a pretty solid Jovovich fan and along with her good performance, she was looking great in a variety of different colored outfits and hair (I have no idea why they changed so often, but hey…I was all good with it!) and the many shots of her ass from various angles. Thanks, Kurt!

On yet another negative tip though, the blank-faced kid from BIRTH and GODSEND shows up here again with yet another expressionless performance, as the filmmaker attempts to build an emotional base to the movie, but doesn't succeed. If you're going to make a movie so over-the-top that the lead character is able to walk on walls and pull guns out of her wrists (via some dimensional gadget), I'm not sure stopping all of the action to sit down with a vampire and an emotionless kid is the best way to go. Sticking to the film's frenetic pace would likely have paid greater dividends, or much like EQUILIBRIUM, building a sounder plotline. The story here is "so-so", but ultimately you don't really care about much of it. It's basically a chase movie, with plenty of cool kickass sequences to stimulate the eye-balls, again though…if that's what you're looking for! Take the visuals from EQUILIBRIUM, add a few million dollars, then mix the TRANSPORTER flicks with a touch of UNDERWORLD and the "Danger Girl" comic book series, and that's what you get here. In the end, I enjoyed a few more of its elements than I didn't, but if you're looking for a great story, well-developed characters and top-notch acting, do NOT see this movie. If, on the other hand, you can appreciate a film simply for its look and feel, enjoy the whole futuristic science-fiction angle with plenty of cool trinkets, love the Jovovich, her backside and her ass-kicking ways and dig action above all else, check this film out, but do not go into it expecting to see an all-out bloody-ass fight flick since it's essentially geared to teens. For that, I rate it one notch lower (see at home) because I just know the studio f*cked with it, and surely lowered its ambitions.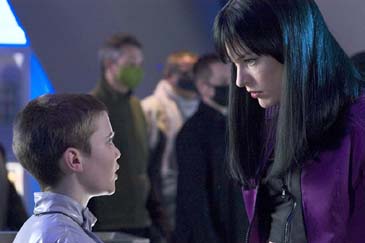 Ultraviolet (울트라바이올렛 2006)



About Actor

Super model Milla Jovovich is proving she's more than one kind of model. "I think it's a bit more of a role model [than Sigourney Weaver in 'Aliens'] because there are so many amazing martial arts in this movie. I think it would be great for someone like Violet to be a role model," she says of her new character in Screen Gems' latest film that opens Friday.

In Ultraviolet, Jovovich assumes the role of Violet, or "V," who is determined to save the subculture of humans called Hemophages, who have a genetic mutation that allows them to have incredible speed, heightened intelligence and tremendous endurance and staying power from the government who fear their power.

She sets out to destroy a government-designed time bomb that will eliminate the Hemophages, and much to her surprise, she finds the device is a nine-year old named Six (Cameron Bright) who was raised in a laboratory and injected with antibodies that can potentially kill or help the subculture.

Writer and director Kurt Wimmer (Equilibrium) knew he wanted only Jovovich for the part. "It was amazing because Kurt came to me and said 'I wrote this with you in mind.' So it was really incredible because it's not everyday you get a director writing something for you. I was really honored and felt very flattered that he did that," Jovovich beamed.

She trained for six months for the role in martial arts that was influenced from other countries and thinks as a result "it's kind of setting some sort of line for like what a western martial arts movie could be. I feel really good because there's not a lot of white girls that get to kick butt like that," Jovovich laughed.

And she does it looking as amazing as ever. She describes Violet as a "sophisticated hot chick," but don't think you'll see her in those incredibly tight sexy costumes anytime soon. "I don't ever want to wear them again. If we do a second one, we'll have to think of something else. Something better," she said.

So what distinguished this film from other science fiction and action roles for the runway model-turned-actress? The script, of course. "I definitely thought the story was really touching, because the truth of the fact is that she's this badass and fighter. It's like she's actually fighting for a cause against this totalitarian government who you know is trying to destroy a group of people. Through this she meets this sick child and has to make this choice of whether to save his life or whether to continue her crazy mission."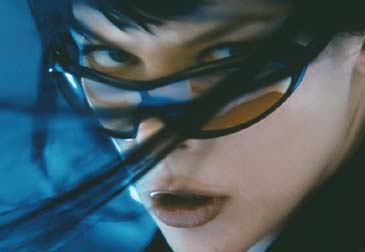 Ultraviolet (울트라바이올렛 2006)



She admits, however, she really related to that kind of special relationship to the boy because "I'm getting to that place where I want to think about kids and family."

In the interview, Jovovich wouldn't give anything away about the third "Resident Evil" movie except that she would start shooting in May and that she is "maybe" being set up to be the villain. "There's a lot of people who'd pay good money for that information," she joked. Jovovich did, however, talk about why she initially took the role as Alice.

"I ended up doing the movie because I have a younger brother. He loves 'Resident Evil,' of course. It's something he really wanted me to do. He would play the game, and I would sit with him and talk him through it. The thing is I didn't want him to zone out completely in his world. I'd joke around and be like, 'Oh, you killed this other thing.' Isn't that funny? To make sure that, I don't know. I don't know where kids go in that world, but I didn't want to let him go. So we would end up sitting for hours and playing this kind of together. I would end up getting into it. I'd be like, 'Go over there. See what's in that closet thing. Okay, open the thing. Oh, you have a choice between an ax and a machine gun. Look through your weapons.' So I was talking him through. I ended up having a really great time playing with him. So he was like, 'Oh, you'd be so perfect as the girl from Resident Evil.' So when it came up I had to say yes."

She also talked about the differences between playing Violet and Alice.

"I think Violet is very much like some mythological character I had in my head, where Alice is a bit more of a modern character in my head. Violet was kind of all my dreams of being a ninja my whole life, like coming true in this moment. There was a bit more of that comic book edge so it was a bit brighter. She doesn't react to a punch or pain in the same way that Alice is a bit more real in that sense. Where Violet, because of the advanced state of her sickness, she's got just like super powers and so it really gave me a chance to not make faces and be all like super cool. Not be like, 'Grrr!' (grimaces) all the time like in 'Resident Evil' where constantly I need to be really tough."

Jovovich has another upcoming film called .45 in which she plays the girlfriend of a drug addict. He abuses her one too many times and she talks her friend into killing him.

"'.45' is a film that I did last year, and hopefully we should see it soon. It's a really small movie that's about domestic violence. The writer and director wrote one of my favorite plays called 'Blackout.' It was really incredible to work on the part because it's something I've experienced growing up and like knowing lots of Eastern European people, domestic violence is a very normal part of life. So it was really important for me to make a movie about a woman who is trying to escape this vicious cycle. It was great. It was an independent film."


Ultraviolet (울트라바이올렛 2006)



Synopsis

21세기의 지구.. 그곳은 더 이상 인간들만의 세상은 아니었다

21세기, 인류는 무한한 발전을 거듭하며 신세계를 창조하는 데 성공하고, 그 중심에는 과학자이자 권력가인 '덱서스'란 인물이 존재하고 있었다. 몇 년 전 '덱서스'는 HGV라는 의문의 바이러스를 발견, 그 바이러스를 통해 인간의 종을 변질시켜 엄청난 초인군단을 창조시키려는 계획을 세운다. 그러나 계획과는 달리 바이러스가 유출되면서 치명적인 전염병이 퍼져 돌연변이들을 발생시키고 만다. '흡혈족'이라 불리는 돌연변이들은 강한 육체적 힘과 엄청난 전투적 능력을 보유하게 되었고 이에 위기를 느낀 '덱서스'는 인간세상의 평화를 주장하며 돌연변이들을 색출, 멸종시키는 데 주력한다. 돌연변이들 또한 '너바'라는 지도자를 중심으로 조직을 이뤄 '덱서스'에게 저항한다.

내 이름은 바이올렛.. 너희들은 이해 못하는 세상에서 왔다!

어느 날, 돌연변이들에게 치명적인 무기를 개발하는데 성공한 '덱서스'는 이를 운반키 위해 최고의 비밀요원을 불러들이게 되지만, 비밀요원으로 위장 잠입한 정체불명의 여전사에게 그 비밀무기를 빼앗기게 된다. 돌연변이지만 그들보다 더 뛰어난 전투력을 갖고 있는 의문의 여전사의 이름은 '바이올렛'. '너바'의 요청으로 비밀무기를 탈취한 그녀는 이송 도중 무기의 실체를 보게 되고 그 무기 속에 뭔가 거대한 음모와 비밀이 존재한다는 사실을 직감적으로 느끼게 된다.

지켜봐! 누구든.. 나를 막는 자의 미래는 존재하지 않는다!

무기의 비밀을 알게 된 '바이올렛'은 이를 돌연변이들에게서마저도 빼돌려 절친한 친구인 저항군 과학자 '가쓰'를 찾아가게 된다. '가쓰'로부터 그 비밀 무기로 인해 이 지구상에 엄청난 혼란을 가져오게 될 것이라는 사실을 알게 된 그녀는 인간들과 돌연변이들로부터 필사적으로 그 무기를 지키게 되는데… '덱서스'의 최정예 부대와 돌연변이들은 서로 먼저 비밀무기를 손에 넣기 위해 그녀와의 전쟁을 선포한다.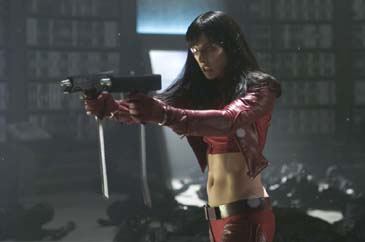 Ultraviolet (울트라바이올렛 2006)
Preview
원 제: Ultraviolet (울트라바이올렛 2006)
감 독: 커트 위머
주 연: 밀라 요보비치, 카메론 브라이트, 닉 친런드, 윌리엄 피츠너
수입/배급 : 소니 픽처스 릴리징 코리아 (주)/ STUDIO 2.0
제작국가: 미국
등 급: 12세 이상 관람가
상영시간: 87분
장 르: 액션, 호러, SF
개봉일: 2006.07.20
홈페이지:
http://www.sonypictures.com/homevideo/ultraviolet/index.html
ST Photo Gallery
Photo News
Embassy Events
Econo People 2005
Fashion Images
New Movies
Travel Images
Nayan Sthankiya's Photo Features New
Abuses of Iraqi Prisoners of War
Academy Awards Photos 2004
Adolf Hitler
Aishwarya Rai-Indian actress
Buddha`s Birthday 2004
Cannes 2004 — 57th Cannes Film Festival
Choi Tae-Ji Photo Gallery
Comfort Woman Picture Gallery
Crown Prince Felipe of Spain
Dokdo Photo Gallery
Erotic Paintings of Hyewon and Danwon
Franz`s Art Exhibition
Gando Photo Gallery
Geisha in Japan
Gwangju Massacre
Jeju Island
Kim Jong-Il and Kim Il-Sung
Koguryo Murals
Korean War (1950-53)
Madonna
Miss Universe 2004
Miss World Contest 2003
Mt. Kumkang or Mt. Diamond New
Natural Beauty of Korea
Rape of Nanjing (Nanjing Massacre)
Rio Carnival 2004
Ronald Reagan`s Life in Pictures
ST Family
Sonia Gandhi and Gandhi Clan
Taj Mahal Photo Gallery
Ukrainian Embassy
World War Two
Photo Gallery of World Newspapers/Media
Times of India
Hindustan Times
SantaBanta.com
Straights Times (Singapore)
Chicago Sun-Times
Moscow Times