Madonna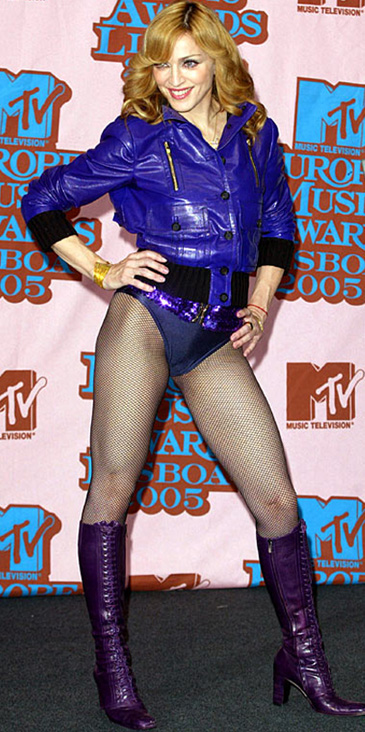 She's So Vein: the Very Veiny Hand of MadonnaPopeye-like singer Madonna looks as if she could crush more than a grape with her veiny forearms.

The muscly yoga devotee revealed her ultra-veiny hands, and rippling biceps - a result of her intense daily three-hour workouts

The 48-year old mother-of-two is in enviable shape due to her punishing workout schedule.

But it seems her hardcore attitude to exercise is having a somewhat negative effect on other areas of her body.

Just like actress Angelina Jolie whose appearance last week raised similar fears, it seems Madonna's pulsing prominent veins are a tell-tale sign of over-exercising.

Trainer Mark Munroe said: "Such increased vascularity is often the result of over-exercising, particularly weight-bearing or resistance work".

The singer had a meeting in London with environmental campaigner Al Gore, who is recruiting top-name stars to sign up for the Live Earth concert in July.

Madonna has agreed to close the concert which will be staged at Wembley.
ST Photo Gallery
Photo News
Embassy Events
Econo People 2005
Fashion Images
New Movies
Travel Images
Nayan Sthankiya's Photo Features New
Abuses of Iraqi Prisoners of War
Academy Awards Photos 2004
Adolf Hitler
Aishwarya Rai-Indian actress
Buddha`s Birthday 2004
Cannes 2004 — 57th Cannes Film Festival
Choi Tae-Ji Photo Gallery
Comfort Woman Picture Gallery
Crown Prince Felipe of Spain
Dokdo Photo Gallery
Erotic Paintings of Hyewon and Danwon
Franz`s Art Exhibition
Gando Photo Gallery
Geisha in Japan
Gwangju Massacre
Jeju Island
Kim Jong-Il and Kim Il-Sung
Koguryo Murals
Korean War (1950-53)
Madonna
Miss Universe 2004
Miss World Contest 2003
Mt. Kumkang or Mt. Diamond New
Natural Beauty of Korea
Rape of Nanjing (Nanjing Massacre)
Rio Carnival 2004
Ronald Reagan`s Life in Pictures
ST Family
Sonia Gandhi and Gandhi Clan
Taj Mahal Photo Gallery
Ukrainian Embassy
World War Two
Photo Gallery of World Newspapers/Media
Times of India
Hindustan Times
SantaBanta.com
Straights Times (Singapore)
Chicago Sun-Times
Moscow Times