Madonna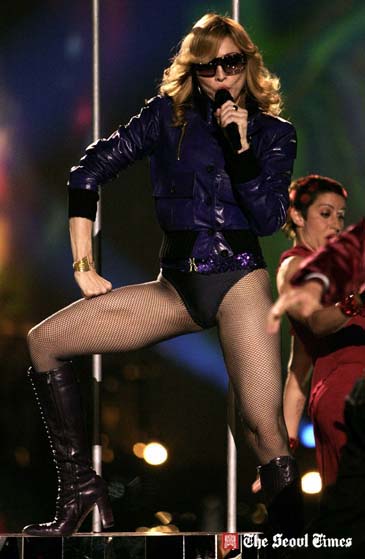 Madonna Makes Records as Richest SingerMadonna has been named the world's most well paid female in the The Guinness Book of Records.

The mother-of-two's latest account figures put her at the top of the global league with £26.6 million a year, and toppling Britney Spears for the first time since 2001.

Her lead, based on 2004 figures, is also likely to be even larger after her recent Confessions world tour which is the biggest ever by a female. Her other records include being the most successful woman in the charts in both the US and UK.

James Blunt, meanwhile, has taken the record for the most albums sold in a year in the UK in the new book of records. Back to Bedlam shifted 2,368,000 copies in 2005.

The Arctic Monkeys took their place in the coveted pages with the fastest selling UK debut album - Whatever People Say I Am, That's What I'm Not sold 363,735 in a week and 113,000 on its first day.

Ricky Gervais has been listed for the most downloaded podcast and Simon Cowell for being the highest paid television talent show judge, at £18 million.
ST Photo Gallery
Photo News
Embassy Events
Econo People 2005
Fashion Images
New Movies
Travel Images
Nayan Sthankiya's Photo Features New
Abuses of Iraqi Prisoners of War
Academy Awards Photos 2004
Adolf Hitler
Aishwarya Rai-Indian actress
Buddha`s Birthday 2004
Cannes 2004 — 57th Cannes Film Festival
Choi Tae-Ji Photo Gallery
Comfort Woman Picture Gallery
Crown Prince Felipe of Spain
Dokdo Photo Gallery
Erotic Paintings of Hyewon and Danwon
Franz`s Art Exhibition
Gando Photo Gallery
Geisha in Japan
Gwangju Massacre
Jeju Island
Kim Jong-Il and Kim Il-Sung
Koguryo Murals
Korean War (1950-53)
Madonna
Miss Universe 2004
Miss World Contest 2003
Mt. Kumkang or Mt. Diamond New
Natural Beauty of Korea
Rape of Nanjing (Nanjing Massacre)
Rio Carnival 2004
Ronald Reagan`s Life in Pictures
ST Family
Sonia Gandhi and Gandhi Clan
Taj Mahal Photo Gallery
Ukrainian Embassy
World War Two
Photo Gallery of World Newspapers/Media
Times of India
Hindustan Times
SantaBanta.com
Straights Times (Singapore)
Chicago Sun-Times
Moscow Times