Kim Jong-Il and Kim Il-Sung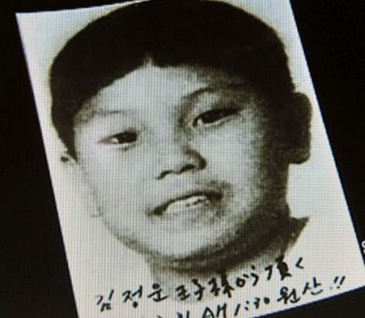 Kim Jong-Un, Successor of Kim Jung-IlKim Jong-un, Kim Jong-woon or Kim Jung Woon (born January 8, 1984) is the third and youngest son of Kim Jong-il with his late partner Ko Young-hee. JoongAng Daily has reported that he was designated successor by his father, the leader of North Korea.

It is reported that he attended the English language International School of Bern in Bern, Switzerland under a pseudonym, although this is disputed.[3] It is also reported that he speaks English, some German, Bernese German, and French, and that he enjoys skiing and basketball and is a fan of Michael Jordan.

Kim Jong-il's former chef, Kenji Fujimoto, revealed details of Kim Jong-un, stating that he is favoured to be his father's successor. Fujimoto also claimed that Jong-un is favoured by his father over his elder brother, Jong-chul, reasoning that Jong-chul is too feminine in terms of his character, while Jong-un is "exactly like his father". Furthermore Mr Fujimoto stated "If power is to be handed over then Jong Un is the best for it," Mr Fujimoto said. "He has superb physical gifts, is a big drinker and never admits defeat." On January 15, 2009 South Korean News Agency, Yonhap, reported that Kim Jong-il appointed Kim Jong-un to be his successor.

On March 8, 2009, the BBC reported rumors that Kim Jong-un appeared on the ballot for elections to the Supreme People's Assembly, the rubber stamp parliament of North Korea. Subsequent reports indicate that his name did not appear on the list of lawmakers, however he was later elevated to a mid-level position in the National Defense Commission, which is a branch of the North Korean Military. Reports have also suggested that he is a diabetic and suffers from hypertension.

On June 1, 2009, it was reported that Kim was to succeed his father Kim Jong-il as the head of the Korean Workers' Party and de-facto head of state of North Korea.
ST Photo Gallery
Photo News
Embassy Events
Econo People 2005
Fashion Images
New Movies
Travel Images
Nayan Sthankiya's Photo Features New
Abuses of Iraqi Prisoners of War
Academy Awards Photos 2004
Adolf Hitler
Aishwarya Rai-Indian actress
Buddha`s Birthday 2004
Cannes 2004 — 57th Cannes Film Festival
Choi Tae-Ji Photo Gallery
Comfort Woman Picture Gallery
Crown Prince Felipe of Spain
Dokdo Photo Gallery
Erotic Paintings of Hyewon and Danwon
Franz`s Art Exhibition
Gando Photo Gallery
Geisha in Japan
Gwangju Massacre
Jeju Island
Kim Jong-Il and Kim Il-Sung
Koguryo Murals
Korean War (1950-53)
Madonna
Miss Universe 2004
Miss World Contest 2003
Mt. Kumkang or Mt. Diamond New
Natural Beauty of Korea
Rape of Nanjing (Nanjing Massacre)
Rio Carnival 2004
Ronald Reagan`s Life in Pictures
ST Family
Sonia Gandhi and Gandhi Clan
Taj Mahal Photo Gallery
Ukrainian Embassy
World War Two
Photo Gallery of World Newspapers/Media
Times of India
Hindustan Times
SantaBanta.com
Straights Times (Singapore)
Chicago Sun-Times
Moscow Times