Fashion Images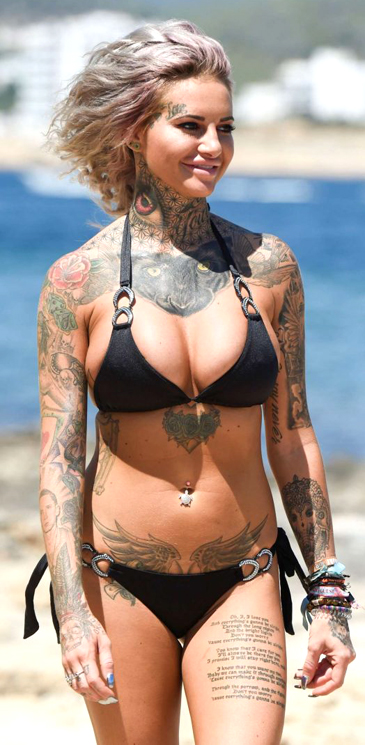 Who is Jemma Lucy?Jemma is a 28-year-old reality star, model and social media personality known for her collection of tattoos and acid tongue.

She has never been one afraid to bare all for the cameras and has shown her love of getting naked by stripping down for sexy photoshoots to putting out the bins.

The star also frequently teases fans with sexed-up selfies, often in the buff with emojis and black bars covering her essentials.

But Jemma has been on the reality show circuit since childhood – appearing in Brat Camp back in 2005 after her parents caught her shoplifting.

She also made an appearance on TV was in Katie Price's short-lived model scouting show, Signed by Katie Price – which was eventually won by Amy Willerton in 2011.

However, the wild child has also courted controversy after lighting a cigarette in a video with a flamethrower made from a deodrant can.

Late last year, she showed off a bag of white powder to her followers on Snapchat.

Jemma first appeared on the bonk-fest MTV show Ex on the Beach during season three.

During her time on the show, she became part of a heated feud between TOWIE's Kirk Norcross and ex Cami Li – and slept with Kirk.

She returned for the All-Star series in 2016, where on the first night she slept with Geordie Shore's Gaz Beadle.

The star was later confronted by her ex David Hawley when he arrived onto the show, and the pair were frequently seen locking horns as he got close to other participants on the show.

In retaliation, she ended up in a threesome with Ashley Cain and Olivia Walsh, and she later compared vaginas with her villa house mates.

She was eventually removed after getting into a fight with Kayleigh Morris after sleeping with her ex, Ashley Cain.

Jemma had a short-lived relationship with fellow Ex on the Beach star and Celebrity Big Brother winner, Stephen Bear.

However, their relationship didn't last long and she confirmed her split with him on social media, dubbing him as "for a good time, not a long time."
The bisexual star has also previously shared a raunchy snog with Geordie Shore's Marnie Simpson.

She was also rumoured to be dating Charlotte Dawson at the end of 2016, but while the pair did confirm they relationship, Charlotte quickly returned to her boyfriend.
ST Photo Gallery
Photo News
Embassy Events
Econo People 2005
Fashion Images
New Movies
Travel Images
Nayan Sthankiya's Photo Features New
Abuses of Iraqi Prisoners of War
Academy Awards Photos 2004
Adolf Hitler
Aishwarya Rai-Indian actress
Buddha`s Birthday 2004
Cannes 2004 — 57th Cannes Film Festival
Choi Tae-Ji Photo Gallery
Comfort Woman Picture Gallery
Crown Prince Felipe of Spain
Dokdo Photo Gallery
Erotic Paintings of Hyewon and Danwon
Franz`s Art Exhibition
Gando Photo Gallery
Geisha in Japan
Gwangju Massacre
Jeju Island
Kim Jong-Il and Kim Il-Sung
Koguryo Murals
Korean War (1950-53)
Madonna
Miss Universe 2004
Miss World Contest 2003
Mt. Kumkang or Mt. Diamond New
Natural Beauty of Korea
Rape of Nanjing (Nanjing Massacre)
Rio Carnival 2004
Ronald Reagan`s Life in Pictures
ST Family
Sonia Gandhi and Gandhi Clan
Taj Mahal Photo Gallery
Ukrainian Embassy
World War Two
Photo Gallery of World Newspapers/Media
Times of India
Hindustan Times
SantaBanta.com
Straights Times (Singapore)
Chicago Sun-Times
Moscow Times