Fashion Images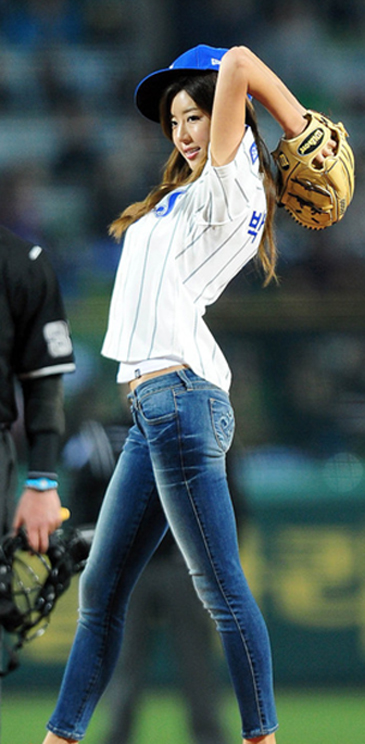 Park Han-Byul in BallparkSouth Korean actress and model Park Han-Byul tries her ball in a local baseball game held recent in South Korea, drawing the attention of the baseball fans.

Park Han-Byul was born on Nov.17, 1984. As a student at Anyang Art High School, Park posted photographs of herself on the internet,
becoming an online celebrity due to her close physical resemblance to actress Jun Ji-hyun.

After being signed by an entertainment agency, she made her acting debut in the 2003 horror film Wishing Stairs, her part requiring her to learn ballet over a two month period of rigorous training.

Having since appeared in a succession of television drama series,
Park returned to the big screen with a role in the 2008 film Fate. Her next project will be a film titled Yoga School.

In June 2009, K-pop singer Seven acknowledged on his website that he and Park had been in a relationship for seven years, with the couple having first met when they were seniors in high school. Seven had previously denied rumours that they were a couple in order to protect Park's privacy and let the relationship grow naturally.
ST Photo Gallery
Photo News
Embassy Events
Econo People 2005
Fashion Images
New Movies
Travel Images
Nayan Sthankiya's Photo Features New
Abuses of Iraqi Prisoners of War
Academy Awards Photos 2004
Adolf Hitler
Aishwarya Rai-Indian actress
Buddha`s Birthday 2004
Cannes 2004 — 57th Cannes Film Festival
Choi Tae-Ji Photo Gallery
Comfort Woman Picture Gallery
Crown Prince Felipe of Spain
Dokdo Photo Gallery
Erotic Paintings of Hyewon and Danwon
Franz`s Art Exhibition
Gando Photo Gallery
Geisha in Japan
Gwangju Massacre
Jeju Island
Kim Jong-Il and Kim Il-Sung
Koguryo Murals
Korean War (1950-53)
Madonna
Miss Universe 2004
Miss World Contest 2003
Mt. Kumkang or Mt. Diamond New
Natural Beauty of Korea
Rape of Nanjing (Nanjing Massacre)
Rio Carnival 2004
Ronald Reagan`s Life in Pictures
ST Family
Sonia Gandhi and Gandhi Clan
Taj Mahal Photo Gallery
Ukrainian Embassy
World War Two
Photo Gallery of World Newspapers/Media
Times of India
Hindustan Times
SantaBanta.com
Straights Times (Singapore)
Chicago Sun-Times
Moscow Times