Fashion Images


Lee Ha-Nui Stars in New Film "The Brothers"Ma Dong-Seok Also Stars in Film to Be Released Soon

Held in the morning of the day in Megabox Dongdaemun theater in Seoul's central Jungu area Lee appeared on the stage with her follow acting staff Ma Dong-Seok and Lee Dong-Hwi.

The conference for the production of "The Brothers" attracted a number of audience including local news media.

"Brothers" is a comedy film depicting the tale of two farcical bothers who come to reveal the 100-year-old secrets when they meet four-dimensional lady Aurora (Lee Ha-Nui).

The film was directed by Ms. Jang Yoo-Jeong, an up-and-rising female director. "The Brothers" was based on the famous musical work "The Brothers Were Brave."

"The Brothers" will be released in the nation on Nov. 2, 2017.

Who Is Lee Ha-Nui?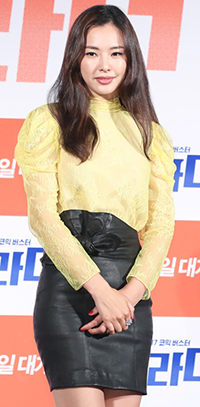 Lee Ha-Nui poses for a camera at press conference for the new film "The Brothers" at Megabox Dongdaemun theater in Seoul on Sept. 25, 2017.

South Korean model and actress Lee Ha-Nui became a media object recently on Sept. 25, 2017 when she held a press conference in Seoul for her planned new movie "The Brothers."

Lee Ha-Nui is extremely talented in many ways: Musical prodigy, Taekwondo practitioner, former Miss Korea, hugely populer model and an actress, a television MC and moderator, and so forth.

Lee was born in Seoul on March 2, 1983. Her father Korean CIA's official and her mother was a music professor.

She graduated from the elite Seoul National University. Due to her social characters she earned her nickname "Honey Lee."

The 173-cm and 51-kg former Miss Korea has been overcovered for stories and photos owing to her huge popularity.

She was the title winner of "Miss Korea 2006" and became the third runner-up "Miss Universe 2007."

The beauty pageant titleholder is also a classical musician, and player of gayageum, South Korea's traditional string musical instrument.

She is also one of the most well-known vegetarians in South Korea with her TV show, Lee Ha-Nui's Vegan Recipe.

She represented her country at the Miss Universe 2007 pageant at Mexico City and placed as 3rd Runner-Up behind the grand winner Riyo Mori of Japan.

Lee is the middle child of two daughters and one son.
Lee inherited her intelligence and talents from her parents.

Her father Lee Sang-Eob was a high-ranking official with the National Intelligence Service, Korean CIA.

Her mother Moon Jae-Suk has a Ph.D in Korean Music History and is a professor at Ewha Womans University. Moon leads a Gayagum concert group, and was designated the title of Human Cultural Asset No. 23 in South Korea due to her superb musical skills.

She is also a music director of Gimhae City Gayageum Orchestra, trustee of the Yegahoe Corporation, and visiting scholar at New York University in 2008 to 2009.

Prominent politician Moon Hee-Sang, currently president Moon Jae-in's special envoy to Japan, is Lee's maternal uncle (Moon Jae-suk's brother).

Lee's older sister Lee Seul-Gi also graduated with a degree in Korean traditional music from Seoul National University. She has released three albums since 2005 ― "The Song of String," "In the Green Cafe?" and "Blossom." She is a member of the KBS Orchestra of Traditional Korean Music and has received the President's Award from Korea's National Classical Music Institute.

Currently, Seul-Gi is a doctoral student in Korean classical music at Seoul National University, she has performed at such venues as Sejong Center for the Performing Arts, KBS Hall, the University of California, Los Angeles and Carnegie Hall.

Lee, like her mother and older sister, is also a professional gayageum player, and was named a gayageum prodigy by the Kumho Art Center, the most prestigious musical foundation in Korea.

She has released 4 CDs and played in more than 25 countries worldwide, including concerts at Carnegie Hall in New York City.

She has been involved in volunteer work for UNICEF, Compassion, World Vision and is the Goodwill Ambassador for Beautiful Mind Charity and Korea Green Foundation. She also holds a 3rd degree black belt in Taekwondo, is a scuba diver, and a competitive skier.

Lee competed in the 50th Miss Korea pageant as Miss Seoul, which she won. She got her bachelor's degree from the prestigious Seoul National University, with high honors, after taking up Korean traditional music. She received her master's degree from the same university. She has also appeared on many Korean talk shows.[8]

Lee Ha-Nui co-hosted Real Time TV Entertainment, on the national TV network SBS, a 12-year-old show focusing on show business, beginning July 18. She is now an endorsed model for Tommy Hilfiger Korea and DAKS and Vogue.

She has been advertising for a series of SK Telecom's campaign for CF and prints. CT&T entrusted her as public affairs person.

From 3 to 24 August 2008, she made her musical debut in the musical Polaroid alongside Shinhwa member Andy Lee at PMC Daehangno Jayu Theater in Hyehwa-dong, Jongno-gu[14] Honey Lee garnered a lot of attention as she starred in the law drama series "The Partner", which aired on KBS 2TV, as a femme fatale attorney, which is a bit of a departure from her pretty, smiley image. She also made her second stage lead role as Elle Woods in the Korean production of Legally Blonde: the Musical, alternating with Jessica Jung from the popular Korean girl group Girls' Generation and veteran musical actress Kim Ji-woo. The production opened on November 14, 2009 at Seoul Samsung-dong CoEX Atrium, marking the country's first production of the show. In January 2010, she played in MBC TV drama Pasta as celebrity chef Oh Sae-young.

She is close friends with famous actress Kim Tae-hee and called herself "Kim Tae-hee's Bodyguard" when they were studying in the Seoul National University.

Lee played the rival princess, Hwangbo Yeo-won, in the 2015 drama Shine or Go Crazy with Jang Hyuk and Oh Yeon-seo, a fictional romance between a cursed Goryeo prince and the last princess of Balhae.
ST Photo Gallery
Photo News
Embassy Events
Econo People 2005
Fashion Images
New Movies
Travel Images
Nayan Sthankiya's Photo Features New
Abuses of Iraqi Prisoners of War
Academy Awards Photos 2004
Adolf Hitler
Aishwarya Rai-Indian actress
Buddha`s Birthday 2004
Cannes 2004 — 57th Cannes Film Festival
Choi Tae-Ji Photo Gallery
Comfort Woman Picture Gallery
Crown Prince Felipe of Spain
Dokdo Photo Gallery
Erotic Paintings of Hyewon and Danwon
Franz`s Art Exhibition
Gando Photo Gallery
Geisha in Japan
Gwangju Massacre
Jeju Island
Kim Jong-Il and Kim Il-Sung
Koguryo Murals
Korean War (1950-53)
Madonna
Miss Universe 2004
Miss World Contest 2003
Mt. Kumkang or Mt. Diamond New
Natural Beauty of Korea
Rape of Nanjing (Nanjing Massacre)
Rio Carnival 2004
Ronald Reagan`s Life in Pictures
ST Family
Sonia Gandhi and Gandhi Clan
Taj Mahal Photo Gallery
Ukrainian Embassy
World War Two
Photo Gallery of World Newspapers/Media
Times of India
Hindustan Times
SantaBanta.com
Straights Times (Singapore)
Chicago Sun-Times
Moscow Times