Fashion Images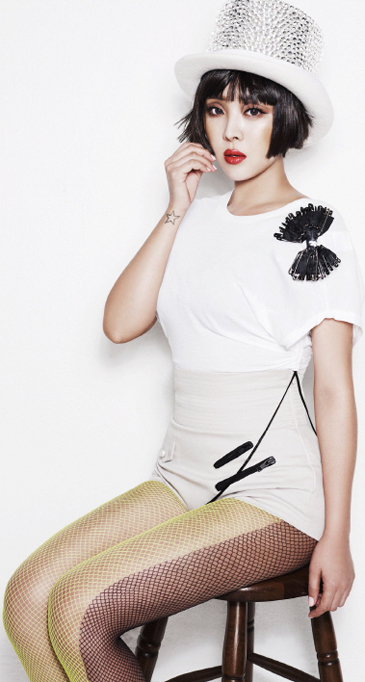 Narsha's New Photo ReleasedA teaser photo of Narsha, a member of South Korea's girl group "Brown Eyed Girls," has recently been released to the public through their official Twitter.

Narsha's sexy photo was taken on the occasion of the girl group's new song to be released in the coming week.

Narsha, the Korean singer and dancer, was born on Dec. 28, 1981. Her real name is Park Hyo-Jin.

She is part of the Korean girl group "Brown Eyed Girls." She made her solo debut in 2010. The name Narsha comes from an old Korean word meaning "to fly."

She became a member of Brown Eyed Girls after a suggestion by Jea, who had been her friend since their high-school years.

The four members held several small size concerts, and was actually known as "Crescendo" before officially debuting as "Brown Eyed Girls."

After more than 3 years of training in singing and holding several small size concerts, the Brown Eyed Girls released their debut album Your Story in South Korea in February 2006, with the ballad track, "Come Closer" as their single.

During 2009, her popularity began to increase after she started appearing on many entertainment programs, including Invincible Youth, on which she gained the nickname "Adult-dol."

She returned as a guest on the episode 22 of season 2 alongside Girls Generation's Taeyeon[4]. She also appeared as a regular member in Heroes.

She was featured in the Anycall LIVE CF promotional music video 'Phone Heart' alongside Kim Taewoo. She became a DJ on "Pump up the Volume" on KBS Cool FM, from 8 PM until 10 PM, first appearing on April 19, 2010 but due to Brown Eyed Girls' overseas promotions Narsha decided to leave the show, with her last broadcast on Dec. 28, 2010.

She made her debut as an MC through OnStyle's fashion program, Style Show Fiㄹ on June 16, 2011.

On Feb. 7, 2012 Narsha made her acting debut through MBC's drama series Light and Shadow playing the role of Hye Bin, a singer aspirant.

She was also featured in fellow BEG member Miryo's solo album 'Miryo AKA JOHONEY' and performed with her for Music Bank.

Narsha announced her intention to make her solo debut in early 2010. Her first solo single, "I'm In Love", was released digitally on July 1, 2010, as a preview for her upcoming album. Her first solo mini-album, the eponymous Narsha, was released on July 8, 2010.

The album contained a preview for "Mamma Mia", a collaboration with fellow NegaNetwork group Sunny Hill, which was released fully on August 20.

The album was also worked on by many composers who had contributed musically to Brown Eyed Girls' third album, Sound G.
ST Photo Gallery
Photo News
Embassy Events
Econo People 2005
Fashion Images
New Movies
Travel Images
Nayan Sthankiya's Photo Features New
Abuses of Iraqi Prisoners of War
Academy Awards Photos 2004
Adolf Hitler
Aishwarya Rai-Indian actress
Buddha`s Birthday 2004
Cannes 2004 — 57th Cannes Film Festival
Choi Tae-Ji Photo Gallery
Comfort Woman Picture Gallery
Crown Prince Felipe of Spain
Dokdo Photo Gallery
Erotic Paintings of Hyewon and Danwon
Franz`s Art Exhibition
Gando Photo Gallery
Geisha in Japan
Gwangju Massacre
Jeju Island
Kim Jong-Il and Kim Il-Sung
Koguryo Murals
Korean War (1950-53)
Madonna
Miss Universe 2004
Miss World Contest 2003
Mt. Kumkang or Mt. Diamond New
Natural Beauty of Korea
Rape of Nanjing (Nanjing Massacre)
Rio Carnival 2004
Ronald Reagan`s Life in Pictures
ST Family
Sonia Gandhi and Gandhi Clan
Taj Mahal Photo Gallery
Ukrainian Embassy
World War Two
Photo Gallery of World Newspapers/Media
Times of India
Hindustan Times
SantaBanta.com
Straights Times (Singapore)
Chicago Sun-Times
Moscow Times