Fashion Images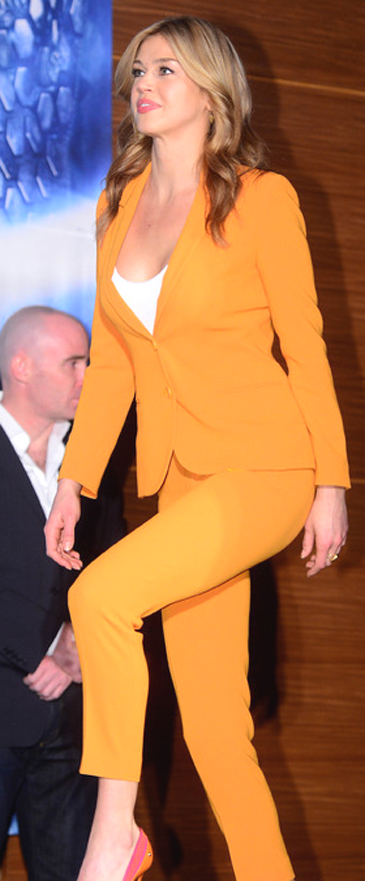 Adrianne Palicki Visits SeoulAmerican actress Adrianne Palicki poses for the local South Korean journalists at the premiere of the feature film "G.I. Joe 2" held at Conrad Hotel in Seoul's Yoido on March 11, 2012.

Two other actors, Dwayne Douglas Johnson and D.J. Cotrona, and Director Jon M. Chu also came to Seoul to promote the incoming feature film amongs the Korean fans.

Adrianne Palicki in particular drew the attention of the local news media.

Palicki was born on May 6, 1983). The American actress best known for her roles in Legion (2010), Red Dawn (2012) and in the TV series Friday Night Lights (2006–2011). In 2013, she will appear as Lady Jaye in G.I. Joe: Retaliation.

Palicki was born in Toledo, Ohio, the daughter of Nancy (née French) and Jeffrey Palicki.

She has an older brother, Eric, a comic book writer, and influenced her interest in comics.

She graduated from Whitmer High School in Toledo in 2001. She ran track in high school and was named runner-up for homecoming queen.

Palicki appeared in The WB pilot Aquaman as the evil Nadia. The pilot was not picked up for series by the CW network, a result of The WB and UPN network merger, which occurred while the pilot was being filmed. She also appeared as Kara/Lindsey Harrison in the Season 3 finale of Smallville. She was a series regular on the first three seasons of NBC's drama series Friday Night Lights, portraying Tyra Collette. In early 2011, she returned for the final two episodes of the series.

Palicki also starred in Supernatural as Jessica Moore, Sam Winchester's doomed girlfriend who is killed by a demon in its pilot episode. The character reappears in the Supernatural Season 2 episode, "What Is and What Should Never Be", and the Season 5 episode "Free To Be You and Me."

Palicki also appeared as Judy Robinson in John Woo's unsold pilot, The Robinsons: Lost in Space. Palicki starred in Legion opposite Lucas Black. She made an appearance in the will.i.am music video "We Are The Ones" in support of 2008 presidential hopeful Barack Obama.

She was cast as Toni Mason in Red Dawn, the 2012 remake of the 1980s film Red Dawn. Although initially signed on to star in the Jamie Babbit horror film Breaking the Girl, due to delays in filming and production, and then scheduling conflicts, Palicki does not appear in the film. In 2010, Palicki joined the FOX television drama Lone Star, which was cancelled after two episodes, despite good reviews.

In 2011, Palicki portrayed Wonder Woman in a 2011 pilot produced by David E. Kelley for NBC. The pilot was not picked up by NBC as a series.

Palicki has joined the cast of the feature film G.I. Joe: Retaliation in the lead female role of Lady Jaye.
ST Photo Gallery
Photo News
Embassy Events
Econo People 2005
Fashion Images
New Movies
Travel Images
Nayan Sthankiya's Photo Features New
Abuses of Iraqi Prisoners of War
Academy Awards Photos 2004
Adolf Hitler
Aishwarya Rai-Indian actress
Buddha`s Birthday 2004
Cannes 2004 — 57th Cannes Film Festival
Choi Tae-Ji Photo Gallery
Comfort Woman Picture Gallery
Crown Prince Felipe of Spain
Dokdo Photo Gallery
Erotic Paintings of Hyewon and Danwon
Franz`s Art Exhibition
Gando Photo Gallery
Geisha in Japan
Gwangju Massacre
Jeju Island
Kim Jong-Il and Kim Il-Sung
Koguryo Murals
Korean War (1950-53)
Madonna
Miss Universe 2004
Miss World Contest 2003
Mt. Kumkang or Mt. Diamond New
Natural Beauty of Korea
Rape of Nanjing (Nanjing Massacre)
Rio Carnival 2004
Ronald Reagan`s Life in Pictures
ST Family
Sonia Gandhi and Gandhi Clan
Taj Mahal Photo Gallery
Ukrainian Embassy
World War Two
Photo Gallery of World Newspapers/Media
Times of India
Hindustan Times
SantaBanta.com
Straights Times (Singapore)
Chicago Sun-Times
Moscow Times