Fashion Images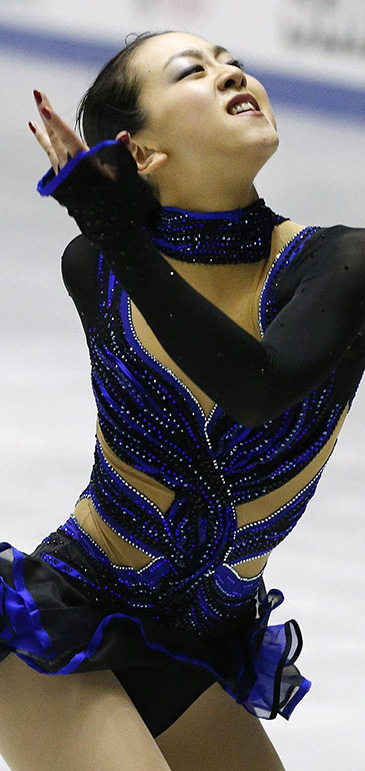 Japan's Mao Asada Breaks Yuna Kim's World Record in Women's ShortSAITAMA, Japan — Mao Asada of Japan set a world record on Thursday to finish first in the short program at the World Figure Skating Championships on March 27 (Thursday), 2014, Fox Sports announced recently.

Skating to Chopin's Nocturne, Asada hit her trademark triple axel at the start of her routine and completed all her remaining jumps to finish with 78.66 points, surpassing the previous record of 78.50 set by Yuna Kim at the Vancouver Olympics.

"As the last competition of this season, I am happy to skate the best short program," said Asada, a two-time world champion. "My mission here is to perform both programs perfect so already half is done and tomorrow I want to focus on showing everything I have practiced."

The world record fell less than a month after Tokyo's 2020 Olympic organizing committee criticized Asada's performance in the women's short program at the Sochi Olympics.

Asada finished 16th in the short program in Sochi after falling on her opening triple axel. Asada was a silver medalist at the 2010 Olympics in Vancouver, where she finished second to Kim.

Former Japanese Prime Minister Yoshiro Mori, who became the Tokyo 2020 organizing committee's chairman last month, said Asada has a habit of "always falling at the most critical time" of a competition. He blamed Asada's short program shortcomings on her participation in the team event at Sochi.

Carolina Kostner of Italy was second with 77.24 points followed by Julia Lipnitskaia of Russia, who had 74.54 points. Kim, the defending champion, has retired and Olympic gold medalist Adelina Sotnikova of Russia isn't competing at the worlds.

"I was very nervous," Kostner said. "But this is my 13th world championship so I just kept telling myself not to be nervous."

Akiko Suzuki, who is retiring after this event, was fourth with 71.02 points.

Gracie Gold of the United States was fifth followed by compatriot Ashley Wagner.

Earlier, Aliona Savchenko and Robin Szolkowy of Germany won the pairs event, claiming their fifth title in the event they have dominated since 2008.

Skating to music from "The Nutcracker," the defending champions were solid on all their elements and earned 224.88 points to beat Russia's Olympic silver medalists Ksenia Stolbova and Fedor Klimov, who had 215.92 points.

"A fifth title is quite amazing," Szolkowy said. "We did a very good performance yesterday and were very good today."

Meagan Duhamel and Eric Radford were third with 210.84 points, edging fellow Canadians Kirsten Moore-Towers and Dylan Moscovitch into fourth.

Savchenko and Szolkowy, who won the Olympic bronze in 2010 and 2014, have been together since August of 2003 and will split up after the world championships.

"I can hardly believe it is over now. It feels very strange," Savchenko said. "To be honest, it felt like I was skating in an exhibition gala."

Who Is Asada Mao (浅田真央)?

Asada Mao (浅田真央: Born Sept. 25, 1990) is a Japanese competitive figure skater and an Olympic silver medalist noted for her smooth skating skills and triple axel jumps. She is the only female figure skater who has landed three triple axels in one competition, which she achieved in 2010 Winter Olympics. She is the 2010 Winter Olympic silver medalist, a two-time (2008 and 2010) World champion, the 2007 World silver medalist, 2013 World bronze medalist, a three-time (2008, 2010, and 2013) Four Continents champion, and a four-time (2005–2006, 2008–2009, 2012–2013, 2013–2014) Grand Prix Final champion. She is also the 2005 World Junior champion, the 2004–2005 Junior Grand Prix Final champion, and a six-time (2006–2010, 2012–2013) Japanese national champion.

She currently holds the world record for the ladies' short program score under the ISU Judging System. A former prodigy, Asada is the fifth woman and the first junior girl to land the triple axel, accomplishing this feat at the 2004–2005 Junior Grand Prix Final. She won her first Grand Prix Final at the age of 15. Considered by many to be the best figure skater in the world at that time, Asada was 87 days too young to compete at the 2006 Winter Olympics. She is the first figure skater in a singles discipline from Asia to win multiple world championships. At the 2013 Skate America, she became the first singles skater, male or female, in history, to win all seven of the current events on the Grand Prix circuit. She is one of the most highly recognized athletes in Japan.
ST Photo Gallery
Photo News
Embassy Events
Econo People 2005
Fashion Images
New Movies
Travel Images
Nayan Sthankiya's Photo Features New
Abuses of Iraqi Prisoners of War
Academy Awards Photos 2004
Adolf Hitler
Aishwarya Rai-Indian actress
Buddha`s Birthday 2004
Cannes 2004 — 57th Cannes Film Festival
Choi Tae-Ji Photo Gallery
Comfort Woman Picture Gallery
Crown Prince Felipe of Spain
Dokdo Photo Gallery
Erotic Paintings of Hyewon and Danwon
Franz`s Art Exhibition
Gando Photo Gallery
Geisha in Japan
Gwangju Massacre
Jeju Island
Kim Jong-Il and Kim Il-Sung
Koguryo Murals
Korean War (1950-53)
Madonna
Miss Universe 2004
Miss World Contest 2003
Mt. Kumkang or Mt. Diamond New
Natural Beauty of Korea
Rape of Nanjing (Nanjing Massacre)
Rio Carnival 2004
Ronald Reagan`s Life in Pictures
ST Family
Sonia Gandhi and Gandhi Clan
Taj Mahal Photo Gallery
Ukrainian Embassy
World War Two
Photo Gallery of World Newspapers/Media
Times of India
Hindustan Times
SantaBanta.com
Straights Times (Singapore)
Chicago Sun-Times
Moscow Times