Fashion Images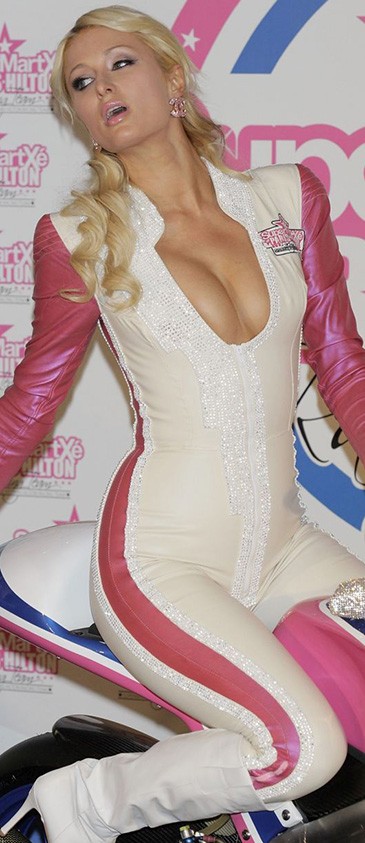 Paris Hilton to Visit S. Korea in Mid-JuneHollywood star Paris Hilton will visit South Korea in the middle of June, 2014, according to the local media.

She will appear on a local cable channel "StoryOn" to speak about her personal life including her house, her Hollywood life, and her secrets of maintain her beauty.

In 2007 she visited the nation for the first time.

Paris Whitney Hilton is an American socialite, actress and entertainer. She is the great-granddaughter of Conrad Hilton, the founder of Hilton Hotels.

Born on Feb. 17, 1981 in New York City and raised in both Beverly Hills, California and New York, Hilton began a modeling career as a teenager when she signed with Donald Trump's modeling agency, T Management.

Her hard-partying lifestyle and rumored short-lived relationships with Leonardo DiCaprio and Oscar De La Hoya led her to earn a position as a fixture in entertainment news. For her notoriety as a socialite, Hilton was hailed by the media as "New York's leading It Girl" in 2001.

In 2003, Hilton came to prominence after a sex tape with her then-boyfriend Rick Salomon was leaked. Later that year, she starred in the reality television series The Simple Life alongside Nicole Richie, which provided both women with international recognition. In the following years, she released her autobiography Confessions of an Heiress: A Tongue-in-Chic Peek Behind the Pose (2004), landed a supporting role in the horror film House of Wax (2005), and released her debut studio album Paris (2006).

Hilton returned to reality television with Paris Hilton's My New BFF (2008) and its two spin-offs Paris Hilton's British Best Friend (2009) and Paris Hilton's Dubai BFF (2009).

She served as a voice actress in the TV movie The Dog Who Saved Christmas Vacation (2010) and appeared in the reality show The World According to Paris (2011). She had a part in Sofia Coppola's independent film The Bling Ring (2013).

Critics and admirers alike have stated that Hilton epitomizes the title of famous for being famous; she is an example of the modern phenomenon of the "celebutante," the celebrity who rises to fame not because of their talent or work but because of their inherited wealth and controversial lifestyle.

In recent years, she has parlayed her media fame into a fashion line and various perfumes with her celebrity endorsement — her fragrances have reportedly earned $1.5 billion.

Currently, there are 44 Paris Hilton Stores worldwide and her brand includes perfumes, handbags, watches, footwear, among other products. Hilton earns over $10 million a year from her products sales and as of 2005, she was paid around $300,000 for appearances in clubs and events.
ST Photo Gallery
Photo News
Embassy Events
Econo People 2005
Fashion Images
New Movies
Travel Images
Nayan Sthankiya's Photo Features New
Abuses of Iraqi Prisoners of War
Academy Awards Photos 2004
Adolf Hitler
Aishwarya Rai-Indian actress
Buddha`s Birthday 2004
Cannes 2004 — 57th Cannes Film Festival
Choi Tae-Ji Photo Gallery
Comfort Woman Picture Gallery
Crown Prince Felipe of Spain
Dokdo Photo Gallery
Erotic Paintings of Hyewon and Danwon
Franz`s Art Exhibition
Gando Photo Gallery
Geisha in Japan
Gwangju Massacre
Jeju Island
Kim Jong-Il and Kim Il-Sung
Koguryo Murals
Korean War (1950-53)
Madonna
Miss Universe 2004
Miss World Contest 2003
Mt. Kumkang or Mt. Diamond New
Natural Beauty of Korea
Rape of Nanjing (Nanjing Massacre)
Rio Carnival 2004
Ronald Reagan`s Life in Pictures
ST Family
Sonia Gandhi and Gandhi Clan
Taj Mahal Photo Gallery
Ukrainian Embassy
World War Two
Photo Gallery of World Newspapers/Media
Times of India
Hindustan Times
SantaBanta.com
Straights Times (Singapore)
Chicago Sun-Times
Moscow Times