Fashion Images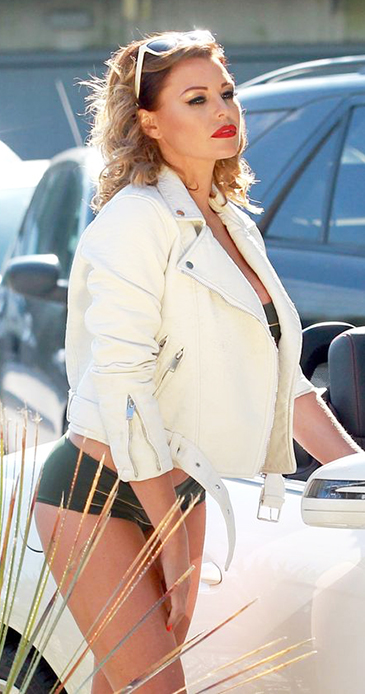 Jessica Wright: British Singer & ModelJessica "Jess" Wright is a model, singer, entrepreneur and a television personality. She is probably best known for her part in the ITVBe reality TV series, The Only Way Is Essex, in which she has appeared throughout its run from 2010.

Wright is the elder daughter of Carol and Mark Wright, Sr and the sister of Mark, Natalya and Josh Wright, and the cousin of Elliott Wright and Leah Wright, who also appeared in The Only Way Is Essex.

She has a degree in Business & Marketing Management from Westminster University in London and her final dissertation looked at celebrity endorsements.

Prior to appearing on The Only Way Is Essex Wright auditioned for a number of girl bands

Wright was noticed as one of the cast members in the ITVBe reality TV series, The Only Way Is Essex 2010–present Series 1-present. Wright appeared in the show from its premiere until its 16th series and has had public feuds with Lauren Goodger played out in the show. Her relationship with fellow cast member Ricky Rayment was documented as well. In February 2016, after five years and 16 series, Wright announced her departure from TOWIE,

In December 2011 the show's current cast released a cover of the Wham! classic "Last Christmas", with their own unique version of the show's theme song "The Only Way Is Up" as the single's B-side, which was a cover of the Yazz version that is used as the theme for The Only Way Is Essex.

In 2012, Wright signed a three-single deal with All Around the World. She later went to Marbella to film the music video for her debut single "Dance All Night", which was released on 16 September 2012 and peaked at number 36 on the UK Singles Chart.

Wright released her second single "Dominoes" featuring Mann on 17 February 2013. It failed to make the Top 100 of the UK Singles Chart, but did chart on the UK Official Dance Chart at number 36. Wright then released a further track, "Come with Me", in June 2013, as part of Clubland 23.
ST Photo Gallery
Photo News
Embassy Events
Econo People 2005
Fashion Images
New Movies
Travel Images
Nayan Sthankiya's Photo Features New
Abuses of Iraqi Prisoners of War
Academy Awards Photos 2004
Adolf Hitler
Aishwarya Rai-Indian actress
Buddha`s Birthday 2004
Cannes 2004 — 57th Cannes Film Festival
Choi Tae-Ji Photo Gallery
Comfort Woman Picture Gallery
Crown Prince Felipe of Spain
Dokdo Photo Gallery
Erotic Paintings of Hyewon and Danwon
Franz`s Art Exhibition
Gando Photo Gallery
Geisha in Japan
Gwangju Massacre
Jeju Island
Kim Jong-Il and Kim Il-Sung
Koguryo Murals
Korean War (1950-53)
Madonna
Miss Universe 2004
Miss World Contest 2003
Mt. Kumkang or Mt. Diamond New
Natural Beauty of Korea
Rape of Nanjing (Nanjing Massacre)
Rio Carnival 2004
Ronald Reagan`s Life in Pictures
ST Family
Sonia Gandhi and Gandhi Clan
Taj Mahal Photo Gallery
Ukrainian Embassy
World War Two
Photo Gallery of World Newspapers/Media
Times of India
Hindustan Times
SantaBanta.com
Straights Times (Singapore)
Chicago Sun-Times
Moscow Times