Fashion Images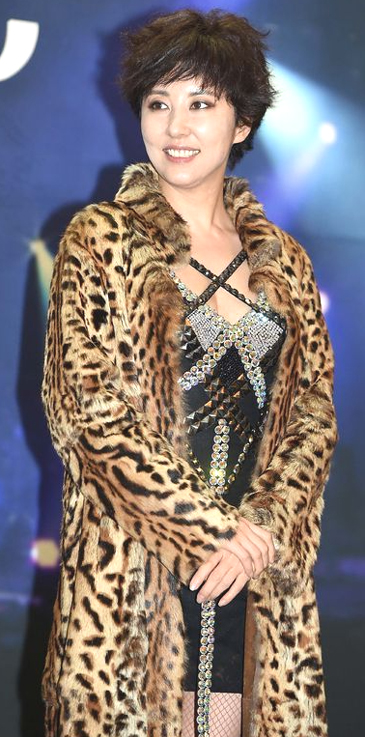 "Dancing Queen" Kim Wan-Sun Still Active, BeautifulSouth Korea's "Dancing Queen" Kim Wan-Sun is making an attractive pose in front of the Korean press gathered at the building of local KBS network TV station on March 17, 2015 on the occasion of 500th run of "Concert 7080," a KBS music program of old Korean pop songs.

Long loved by her fans the Korean pop diva atteneded the press conference celebrating the 10th year anniversary of the popular TV concert program along with other key musicians.

South Korea's "Dancing Queen" Kim Wan-Sun was born on May 16, 1969. She is a Korean female singer. Since her sensational debut at the age of 17 in 1986.

She earned her nickname "Madonna of Korea" or "the dancing queen of Korean popular music's renaissance era", as she is known for her beauty, clear voice, charismatic stage presence and catchy hits from the mid-1980s through the early 1990s.

Her fifth studio album, released in 1990, spawned three consecutive No.1 songs and sold more than 1 million copies.

In the mid-1990s, she also achieved success in Taiwan.
From the late 2006, she lived in Hawaii for about three years and studied digital arts at the University of Hawaii.

She returned to the music scene in April 2011, releasing the Super Love EP.

Also, she has created her own production company and is focusing on finding and developing young talent.
ST Photo Gallery
Photo News
Embassy Events
Econo People 2005
Fashion Images
New Movies
Travel Images
Nayan Sthankiya's Photo Features New
Abuses of Iraqi Prisoners of War
Academy Awards Photos 2004
Adolf Hitler
Aishwarya Rai-Indian actress
Buddha`s Birthday 2004
Cannes 2004 — 57th Cannes Film Festival
Choi Tae-Ji Photo Gallery
Comfort Woman Picture Gallery
Crown Prince Felipe of Spain
Dokdo Photo Gallery
Erotic Paintings of Hyewon and Danwon
Franz`s Art Exhibition
Gando Photo Gallery
Geisha in Japan
Gwangju Massacre
Jeju Island
Kim Jong-Il and Kim Il-Sung
Koguryo Murals
Korean War (1950-53)
Madonna
Miss Universe 2004
Miss World Contest 2003
Mt. Kumkang or Mt. Diamond New
Natural Beauty of Korea
Rape of Nanjing (Nanjing Massacre)
Rio Carnival 2004
Ronald Reagan`s Life in Pictures
ST Family
Sonia Gandhi and Gandhi Clan
Taj Mahal Photo Gallery
Ukrainian Embassy
World War Two
Photo Gallery of World Newspapers/Media
Times of India
Hindustan Times
SantaBanta.com
Straights Times (Singapore)
Chicago Sun-Times
Moscow Times