Fashion Images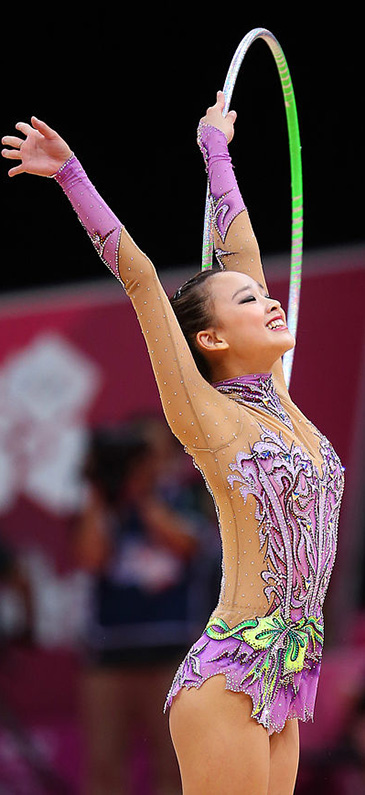 S. Korean Gymnast Son Yeon-Jae Wins BronzeSouth Korean rhythmic gymnast Son Yeon-Jae has garnered bronze in the individual all-around at the international competition held in Bulgaria on August 23, 2014.

She is planning to clinch a gold medal in Asian Games to be held in Incheon near Seoul in September of 2014.

Rhythmic gymnast Son Yeon-jae, who is aiming for a gold medal in September's Incheon Asian Games, has won bronze in the individual all-around at an international competition in Bulgaria.

At the FIG (Federation Internationale de Gymnastique) Rhythmic Gymnastics Dundee Cup held on the day the 20-year-old finished third with a total score of 70.25 points: 17.55 points in hoop, 17.55 points in ball, 17.35 points in clubs and 17.60 points in ribbon.

Russia's Yana Kudryavtseva took gold with a total score of 73.90 points and her fellow Russian Margarita Mamun won silver with 72.20 points.

Earlier in April this year Son took a gold medal at the FIG World Cup held in Lisbon. With this gold she has become the first Korean rhythmic gymnast to win an individual all-around gold medal at a senior level World Cup event.

She achieved her victory in Lisbon with a combined score of 71.20 points. In 201w Son won the junior-level individual all-around.
ST Photo Gallery
Photo News
Embassy Events
Econo People 2005
Fashion Images
New Movies
Travel Images
Nayan Sthankiya's Photo Features New
Abuses of Iraqi Prisoners of War
Academy Awards Photos 2004
Adolf Hitler
Aishwarya Rai-Indian actress
Buddha`s Birthday 2004
Cannes 2004 — 57th Cannes Film Festival
Choi Tae-Ji Photo Gallery
Comfort Woman Picture Gallery
Crown Prince Felipe of Spain
Dokdo Photo Gallery
Erotic Paintings of Hyewon and Danwon
Franz`s Art Exhibition
Gando Photo Gallery
Geisha in Japan
Gwangju Massacre
Jeju Island
Kim Jong-Il and Kim Il-Sung
Koguryo Murals
Korean War (1950-53)
Madonna
Miss Universe 2004
Miss World Contest 2003
Mt. Kumkang or Mt. Diamond New
Natural Beauty of Korea
Rape of Nanjing (Nanjing Massacre)
Rio Carnival 2004
Ronald Reagan`s Life in Pictures
ST Family
Sonia Gandhi and Gandhi Clan
Taj Mahal Photo Gallery
Ukrainian Embassy
World War Two
Photo Gallery of World Newspapers/Media
Times of India
Hindustan Times
SantaBanta.com
Straights Times (Singapore)
Chicago Sun-Times
Moscow Times