Fashion Images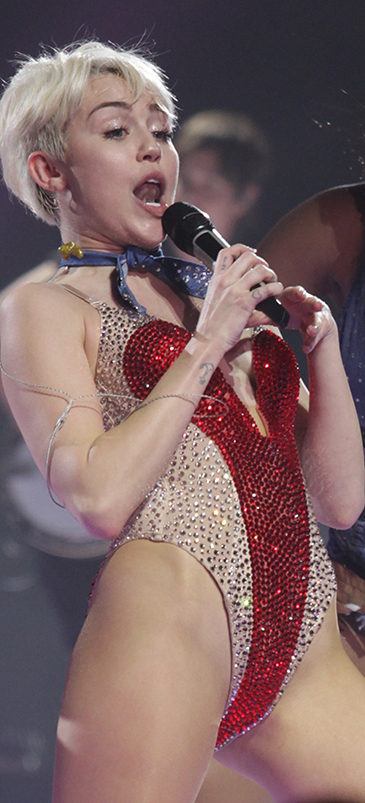 Miley Cyrus Battles DepressionONLY last week we saw Miley Cyrus in tears after her beloved husky, Floyd, passed away – and now it's clearer why she was so affected by his death.

The singer admits she has suffered bouts of depression and once had to be rescued by her dad, Achy Breaky Heart singer Billy Ray.

"I went through a time where I was really depressed," she revealed.

"I locked myself in my room and my dad had to break my door down."

Miley, 21, says the illness was triggered by insecurity caused by acne.

She said: "I had really bad skin, and I felt really bullied because of that. But I never was depressed because of the way someone else made me feel, I just was depressed."

Earlier this week, the Wrecking Ball singer cancelled a show in North Carolina, citing a bad case of flu.

But, she said, it's the thought of preventing her fans from suffering the same way she did that motivates her to continue performing – as many told her she inspires them.

"They know that I've ­struggled with depression, and that helped them get over theirs," she said.

"That gives me a big purpose – a reason to wake up that's bigger than to put on my feathers and my little outfits."

No one should really need a reason to put on feathers … but this bodes well for next month's UK leg of her Bangerz tour.

Elsewhere in a new chat with Elle magazine, Miley said she found breaking away from Disney more difficult than breaking up with her fiance, Hunger Games star Liam Hemsworth.

The singer, who started her career as a squeaky-clean teen on Disney Channel's Hannah Montana, says: "When I went through a really intense ­break-up – you know, I was engaged.

"The thing that gave me the most anxiety was not knowing what to do with myself when Disney wasn't there to carry me anymore or if I didn't have him.

"And now I'm free of both of those things, and I'm fine.

"I lie in bed at night by myself and I'm totally OK, and that's so much stronger than the person three years ago, who would have thought they would have died if they didn't have a boyfriend."

And we're pleased to hear it, mate.

Miley Cyrus is the daughter of country singer Billy Ray Cyrus and his wife Tish. She has 5 siblings - two half-brothers, a half-sister and a younger brother and sister. Her birth name is Destiny Hope, given to her by her parents who hoped she would achieve greatness. Her childhood nickname was Smiley, as she had a cheerful disposition which was eventually shortened to Miley.

Cyrus was initially educated at Heritage Elementary School in Tennessee. When she turned eight, her family moved to Toronto, Canada where Cyrus' father Billy Ray took a role in the TV series Doc (2001). It was around this time that Cyrus decided she wanted to act too. Her first role came alongside her father in Doc (2001). She also scored a small role in Tim Burton's Big Fish (2003).

In 2005, Cyrus was cast as the lead in the Disney series Hannah Montana (2006), about a teen leading a double life as a pop star. Again her father acted alongside her.

The show was a smash and hit records, sell-out tours and merchandising deals soon followed. Cyrus became a teen superstar. Following the success of Hannah Montana (2006), Cyrus made the move into other roles - including playing Ronnie Miller in The Last Song (2010) and Lola in LOL (2012) alongside Demi Moore.
ST Photo Gallery
Photo News
Embassy Events
Econo People 2005
Fashion Images
New Movies
Travel Images
Nayan Sthankiya's Photo Features New
Abuses of Iraqi Prisoners of War
Academy Awards Photos 2004
Adolf Hitler
Aishwarya Rai-Indian actress
Buddha`s Birthday 2004
Cannes 2004 — 57th Cannes Film Festival
Choi Tae-Ji Photo Gallery
Comfort Woman Picture Gallery
Crown Prince Felipe of Spain
Dokdo Photo Gallery
Erotic Paintings of Hyewon and Danwon
Franz`s Art Exhibition
Gando Photo Gallery
Geisha in Japan
Gwangju Massacre
Jeju Island
Kim Jong-Il and Kim Il-Sung
Koguryo Murals
Korean War (1950-53)
Madonna
Miss Universe 2004
Miss World Contest 2003
Mt. Kumkang or Mt. Diamond New
Natural Beauty of Korea
Rape of Nanjing (Nanjing Massacre)
Rio Carnival 2004
Ronald Reagan`s Life in Pictures
ST Family
Sonia Gandhi and Gandhi Clan
Taj Mahal Photo Gallery
Ukrainian Embassy
World War Two
Photo Gallery of World Newspapers/Media
Times of India
Hindustan Times
SantaBanta.com
Straights Times (Singapore)
Chicago Sun-Times
Moscow Times