Fashion Images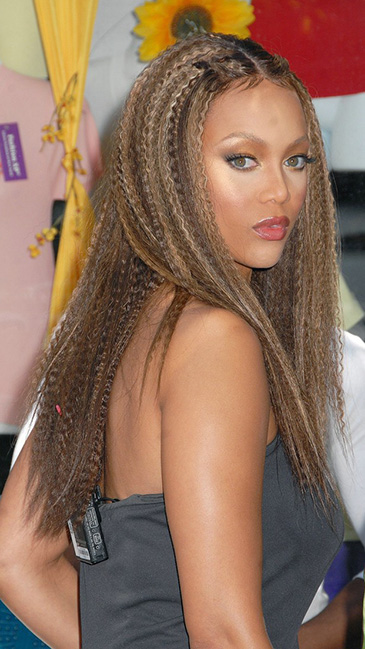 Tyra Banks Visit S. KoreaUS Celebrity Meets with Top Model Jang Yoon-Joo

American celebrity Tyra Banks left South Korea for the US on April 4, 2014 after rounding up her two-week stay in the nation's capital.

During her stay in Seoul she took her fashion photos and met with fashion leaders in the nation.

At a press meeting with the local reporters she called Seoul a "hot city," praising the beauty of the South Korean capital.

She is now working as the creator and host of "America's Next Top Model," a mega hit program broadcast in 180 nations around the world.

She also mentioned the popularity of K-pop, Korean food on world stage.

On March 30, 2014 Banks met with South Korean supermodel Jang Yoon-Joo, a host of "Korea's Next Top Model."

With the cast and crew of "ANTM," Banks started shooting in various locations in the beautiful capital city of South Korea.

K-pop boy band BtoB was the first Korean celebrity group featured in the show. Reports followed that the members of the K-pop girl band 2NE1 will be featured as guest judges in finale of this season.

After their conversation, Jang showed the contestants of "Challenge Super Model Korea Guys and Girls" to Banks.

Jang, 33, is a Bachelor of Movie Arts graduate from Seoul Institute of the Arts, while Banks, 40, has a Harvard Business School degree.

Tyra Lynne Banks was born on Dec. 4, 1973. She is an American television personality, producer, author, actress, and former model.

She first became famous as a model, appearing twice on the cover of the Sports Illustrated Swimsuit Issue and working for Victoria's Secret as one of their original Angels.

Banks is the creator and host of the UPN/The CW reality television show America's Next Top Model, co-creator of True Beauty, and was the host of her own talk show, The Tyra Banks Show.

Banks is one of four African Americans and seven women to have repeatedly ranked among the world's most influential people by Time magazine.
ST Photo Gallery
Photo News
Embassy Events
Econo People 2005
Fashion Images
New Movies
Travel Images
Nayan Sthankiya's Photo Features New
Abuses of Iraqi Prisoners of War
Academy Awards Photos 2004
Adolf Hitler
Aishwarya Rai-Indian actress
Buddha`s Birthday 2004
Cannes 2004 — 57th Cannes Film Festival
Choi Tae-Ji Photo Gallery
Comfort Woman Picture Gallery
Crown Prince Felipe of Spain
Dokdo Photo Gallery
Erotic Paintings of Hyewon and Danwon
Franz`s Art Exhibition
Gando Photo Gallery
Geisha in Japan
Gwangju Massacre
Jeju Island
Kim Jong-Il and Kim Il-Sung
Koguryo Murals
Korean War (1950-53)
Madonna
Miss Universe 2004
Miss World Contest 2003
Mt. Kumkang or Mt. Diamond New
Natural Beauty of Korea
Rape of Nanjing (Nanjing Massacre)
Rio Carnival 2004
Ronald Reagan`s Life in Pictures
ST Family
Sonia Gandhi and Gandhi Clan
Taj Mahal Photo Gallery
Ukrainian Embassy
World War Two
Photo Gallery of World Newspapers/Media
Times of India
Hindustan Times
SantaBanta.com
Straights Times (Singapore)
Chicago Sun-Times
Moscow Times