Fashion Images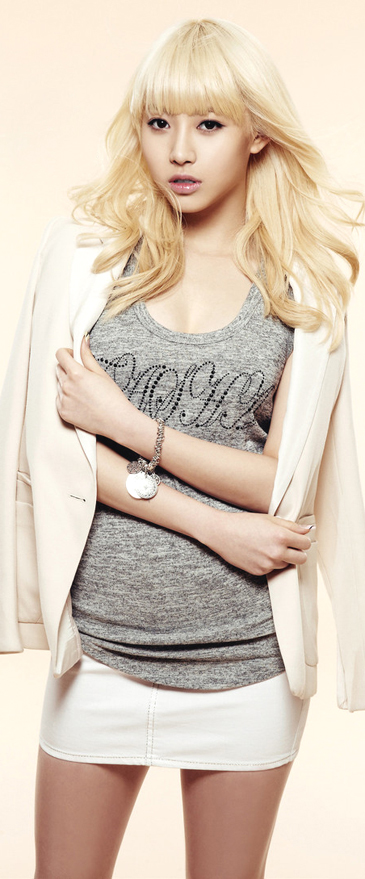 Yura of "Girl's Day" Displays Sexy BodyYura, one of the four-member South Korean girl group "Girl's Day," makes a striking pose at a recent photo shoot. Pundits say that Yura, amongst other members, is boasting of her voluminous and sexy body.

Girl's Day, under the management of Dream Tea Entertainment, consists of four members whose names are Sojin, Minah, Yura and Hyeri. Their fan-club is called "Daisy" or "Dai5y".

DreamTea Entertainment started Girl's Day promotions before their debut with the creation of an official Cafe, YouTube channel, and Twitter accounts for the group and each member. A forum, made by fans was also recognized by the company as their official international forum. The group also released dance flash mobs before their debut on the commercial and entertainment districts of Seoul gaining much interest.

On July 7, the group released their first MV, "Tilt My Head", and two days later their debut mini-album "Girl's Day Party 1".
Only two months after their debut, on September 12, it was announced through the group's official Twitter that members Ji Sun and Ji In left the group and two new members would be added to the group: "Two of our precious members of Girl's Day are to be replaced.

They are Ji Sun and Ji In. Ji Sun will study music more to find her own character in music, as she wanted. And Ji In is attracted in acting so she will concentrate on acting career."

Two days later, on September 14, the two new members were announced, Yura and Hyeri. On October 29, the new line-up released the group's first digital single, "Girl's Day Party 2". On October 30 the MV for their lead track, "Nothing Lasts Forever" was released.

In December 2010, Girl's Day got their first TV-show along with boyband U-KISS. The show, "We Are Dating", is a spinoff of the hit TV-show We Got Married and paired three members of each group on the first season.


Rumors of Girls' Day's comeback started when member Yura had a new hair color for one live performance. On March 4, 2011, the girls greeted their Japanese fans for the first time in which they announced the release of their 2nd single on March 17.

Concept photos for the groups comeback was release on March 13, and 15 respectively while the MV Teaser for "Twinkle Twinkle" was released on March 13 and currently has over 200,000 hits YouTube.

The full music video was released 3 days after on March 16 and currently has over 5 million[6] views on YouTube. The group made their comeback on M! Countdown on March 17, 2011, they also made their comeback in Music Bank, Music Core, and Inkigayo the same week. The track proved to be popular as it landed on the No.1 spot upon its release, also the song has entered among the Top 10 in M!Countdown and Music Bank respectively plus entering Inkigayo's Take 7.

With this song, the group enjoyed immense popularity among soldiers as well. Promotions for "Twinkle Twinkle" ended on May 15, 2011.
On May 17, 2011, Girl's Day had their first oversea concert in Taiwan with U-KISS and Super Junior M.The concert I Love You Taiwan - We are friends Concert(Traditional Chinese£º»ç¶ûÇØ(ÞíÕÇ嘿) ÷»Ø½! WE ARE FRIENDS æÑóÝüå) was held by Korea Tourism Organization Taipei, Taiwan Office in Taipei International Convention Center,TICC.

On July 3, 2011, Girl's Day announced their comeback with their second mini-album, Everyday, to be promoted with the title song "Hug Me Once". The teaser for the music video was uploaded on that same day. The full music video was released on July 6, 2011 along with the mini album. Along with the title song "Hug Me Once", the album contains a new track called "Young Love", two previous digital singles "Nothing Lasts Forever" and "Twinkle Twinkle", and an instrumental version of "Hug Me Once". Girl's Day are scheduled to begin their comeback performances on the July 8 episode of Music Bank. Promotions for "Hug me Once" ended on August 6, 2011.

On August 29, 2011, it was announced that prior to the groups' Japanese advancement they would release a new single entitled "Girls' Day Party # 4" with "Don't Let Your Eyes Wander" as the title track. Concept photos for the song was released on August 30[9] while the song was revealed to the public on September 1.[10] Despite the lack of proper promotions the song itself proved to be quite popular as it reached the no. 1 spot in Bugs and had similarly high-rankings on other music sites as well.

Girl's Day released their 3rd mini album, Everyday 2, on April 17, 2012. The album was announced on April 10, along with the album cover. It includes the new title track "Oh! My God" along "Don't Let Your Eyes Wander", from their previous single, along with 3 new songs.

In October 17, it was revealed by the group's company, DreamTea Entertainment, that Jihae left the group due to personal reasons.

The remaining four members of Girl's Day made their comeback on October 26 with the song "Don't Forget Me" from their fifth digital single, Girl's Day Party #5. The music video for the song was simultaneously released and features a drama-like story with Girl's Day member Hyeri. On this same day, Girl's Day made their first performance of the song on Music Bank.

In December 31, 2012 it was revealed by one of the representatives for the group that they are aimed to release their first full-length album in February 2013 with the group staying with four members. It was also revealed that Dream Tea Entertainment, the group's agency, is considering adding one of their trainees as a new member of the group in the future.

In March 7, details about the album were revealed. The album is called Expectation and will be released in March 14, coinciding with the White Day. The member Yura will be the female lead star in the music video of the title track, also titled "Expectation".
ST Photo Gallery
Photo News
Embassy Events
Econo People 2005
Fashion Images
New Movies
Travel Images
Nayan Sthankiya's Photo Features New
Abuses of Iraqi Prisoners of War
Academy Awards Photos 2004
Adolf Hitler
Aishwarya Rai-Indian actress
Buddha`s Birthday 2004
Cannes 2004 — 57th Cannes Film Festival
Choi Tae-Ji Photo Gallery
Comfort Woman Picture Gallery
Crown Prince Felipe of Spain
Dokdo Photo Gallery
Erotic Paintings of Hyewon and Danwon
Franz`s Art Exhibition
Gando Photo Gallery
Geisha in Japan
Gwangju Massacre
Jeju Island
Kim Jong-Il and Kim Il-Sung
Koguryo Murals
Korean War (1950-53)
Madonna
Miss Universe 2004
Miss World Contest 2003
Mt. Kumkang or Mt. Diamond New
Natural Beauty of Korea
Rape of Nanjing (Nanjing Massacre)
Rio Carnival 2004
Ronald Reagan`s Life in Pictures
ST Family
Sonia Gandhi and Gandhi Clan
Taj Mahal Photo Gallery
Ukrainian Embassy
World War Two
Photo Gallery of World Newspapers/Media
Times of India
Hindustan Times
SantaBanta.com
Straights Times (Singapore)
Chicago Sun-Times
Moscow Times