Fashion Images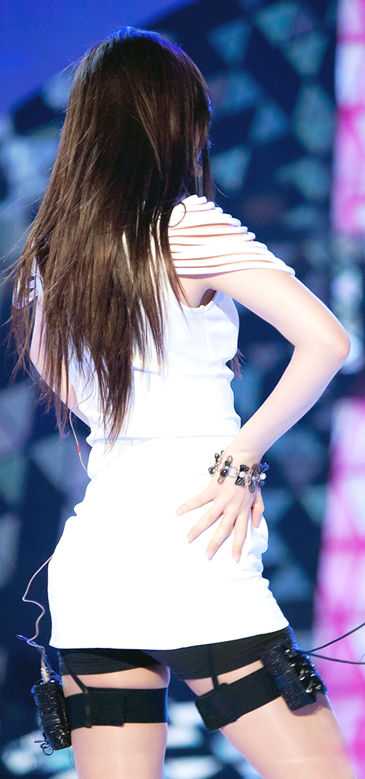 Miss A's "Fei" Becomes More PopularMiss A's key member, "Fei" is emerging as a "blue chip" in variety show field, local South Korean news media reported recently.

She announced that she will soon star in "Dancing with the Star, Season 3" on her Twitter site.

Fei also displayed a variety of her photos in which she showed off her sexy beauty, garnering huge popularity from her fans.

Fei would most likely follow her fellow member "Suzy," who already became one of the top idol stars and a cash cow for JYP Entertainment through her various roles in dramas, movies, variety shows.

Media pundits argue that Fei is also becoming a "blue chip" in the variety show field.

Local news report that Fei has been gaining popularity as the representative "chef-idol" through "Master Chef Korea Celebrity"

Fei showed off her cooking prowess by claiming her second win on the latest episode.

Miss A

Miss A (미쓰에이), commonly known as Its stage name "Miss A," is a four-member Chinese-Korean girl group based in South Korea. They were formed by JYP Entertainment and are managed by AQ Entertainment. The group consists of: Fei, Jia, Min and Suzy.

Members Fei and Jia were selected in 2007 (Fei was scouted on her way to dance school, while Jia's school held auditions). Before their debut, members Fei and Jia appeared in 2PM's "My Color" music video.

Originally, Miss A were a 5-member group in training in 2009. While still in training, the group flew to China where they appeared in numerous variety shows performing dance routines and songs to showcase themselves to the Chinese audience. As the group had no official name they were widely known to the Chinese audiences as JYP Sisters and the "Chinese Wonder Girls". However the group had gone through several changes during this period, most notably the exit of member Lim who was re-grouped to join the Wonder Girls, while two other girls decided to withdraw from the group. JYPE then decided to group the two remaining girls, Fei and Jia with JYPE South Korean trainee 15-year old, Suzy Bae who had previous experience as a model for an online shopping mall.

The girls began their first official promotional activities in China as a group by signing up with Samsung China and released a commercial song called "Love Again" for the Samsung Beat Festival. The song has a strong Korean team/influence behind it, as it was written by Korean composer, Super Changddai while the music video was directed by Hong Won Ki. Lee Min Young, a solo artist and a long-time JYPE trainee in America, also made a cameo appearance in the music video. She had auditioned when she was in the 6th grade, and traveled to the U.S., where she trained for 6 years, but came back in 2008 to continue activities in Korea. During her time in New York, she studied at the Repertory Company High School in Manhattan.

It was later announced she would be joining the group under her stage name, Min, and will be debuting with the group in South Korea.

2010: Debut in South Korea with "Bad Girl Good Girl" and "Breathe"
Miss A made their official debut in South Korea as a four-member group on June 30 with their single "Bad Girl Good Girl" which was taken from their debut mini-album called "Bad but Good". Their single topped various music charts and eventually earned the group their first Mutizen award on M.net M! Countdown and the following day Miss A became number #1 on KBS Music Bank. On August 1 they had their number #1 on SBS Inkigayo. The song went to #1 on M.net M! Countdown, KBS Music Bank and SBS Inkigayo for one week.

The group later on made their comeback with their first mini-album called "Step Up" on September 26. The group promoted "Breathe" as the lead single for the album and showed an "exotic and a doll-like transformation" that was completely different from their debut single's concept. They made their first comeback on M.net M! Countdown and the following day on KBS Music Bank, MBC Show! Music Core and SBS Inkigayo. The song went to #1 on M.net M! Countdown staying for one week.

2011: Solo activities, Comeback and Chinese debut
Fei appeared in the music video of the song "I Only Love You" by Huh Gong. Jia appeared in M&D's music video for "Close Your Mouth". Min was a fixed student on KBS's variety show Oh! My School, also known as 100 Out of 100. And she starred in the movie Countdown as Jang Hyeon-ji. Suzy starred in Dream High as the main character Go Hye-mi.

In May 2011, Miss A released "Love Alone", one of their song from their A Class album. "Love Alone" was utilised as a promotional song for Kim Yuna's ice show and Miss A performed the song at the opening of "All That Skate Spring 2011."

In July 2011, Miss A announced their comeback with their first full album called A Class which was released on July 18, 2011. A Class consists of a mix of previously released hits and four new tracks, including the single, "Good Bye Baby". The album has a total of 13 songs. They released their album digitally on July 18, 2011. They started promoting the title song "Good Bye Baby" on July 21, 2011 on Mnet's M! Countdown followed by KBS's Music Bank, MBC's Show! Music Core, and SBS's Inkigayo. On the following week of promotions they won all awards from the shows.

On September 30, Miss A debuted in Chinese with the release of a special edition of their first full album, containing a DVD with music videos, as well as Chinese versions of "Bad Girl Good Girl", "Breathe", "Goodbye Baby" and "Love Again". After the Chinese album release, its ranked first on several charts. "Good Bye Baby" ranked first on Taiwan's biggest music portal, 'Ezpeer', alongside 'A Class' topping their weekly Korea/Japan chart. On 'G-MUSIC', the girls have ranked in third.

2012: Touch, Chinese mini-album, Independent Women Part III
Miss A announced their comeback in Korea with a new mini-album called Touch, that was released on February 20, 2012. The first music video teaser for their song "Touch", which featured their youngest member Suzy, was uploaded on their official YouTube channel on February 13. The second teaser featuring their rapper Jia was released on February 14. The third teaser featuring their elder member Fei was released on February 15. The final music video teaser featuring their 4th member Min was released on February 16. On February 19, 2012, the music video was uploaded to YouTube through Miss A's official channel and gained over one million views in one day.

Miss A's song Touch reached #1 on various Korean real-time music charts. Touch, the song and also the album got #2 on Gaon Chart Digital Singles and Physical Albums rankings for the 4th week of February.

Miss A started their promotions for Touch on February 23 on M.net M! Countdown and on other music shows respectively. On February 29, Miss A won the Champion Song on MBC MUSIC Show Champion with the song Touch. On March 1, Touch also went to #1 on M.net M! Countdown. On March 4 they won Mutizen on SBS Inkigayo with Touch. On March 7 Miss A won on jTBC Music On Top.

On March 22, popular Chinese video sharing site YinYueTai revealed Miss A's Chinese music video for "Touch". On March 23, Miss A released a Chinese version of the Touch album in Hong Kong and Taiwan. This album contains the Korean and Chinese version of "Touch" and also the music videos under the DVD version. After the release, "Touch" immediately topped Chinese online charts.

The group wrapped up their promotions for the album by performing "Over U", another song from the album, on each music program during their last week. April 12, 2012, members Fei and Jia made their acting debut on the Korean-Chinese drama 'Happy Noodle'.[45][46] Min was featured in B1A4 member Baro song "Just Two Of Us" for B1A4 album Ignition. While Suzy was featured in "Before This Song Ends" for JJ Project's debut album Bounce. Suzy was confirmed for a role in the drama 'Big.'

On October 7, 2012, Miss A released a teaser image with a quiz question on it, and that the answer would be given on October 15 at 12 o'clock. On October 8, Miss A announced their comeback with their fifth project album entitled Independent Women Pt.III. The following day, moving teaser images of Min and Fei were released, with excerpts of the song lyrics provided. The day after, Jia and Suzy's teaser images were released. On October 10, a video teaser featuring the entire group was released, all members dressed in male attire. Finally, the album was released on October 15. On October 16, Miss A was involved in a minor car accident. They were taken to a hospital and their condition has yet to be revealed, they continued their schedules with only a few hours delay.[48] They began their promotions for "I don't need a man" on October 18.

Members include Fei (age 25, 64 cm), Jia (age 24, 164 cm), Min ( age 21, 161 cm), and Suzy ( age 18, 168 cm).
ST Photo Gallery
Photo News
Embassy Events
Econo People 2005
Fashion Images
New Movies
Travel Images
Nayan Sthankiya's Photo Features New
Abuses of Iraqi Prisoners of War
Academy Awards Photos 2004
Adolf Hitler
Aishwarya Rai-Indian actress
Buddha`s Birthday 2004
Cannes 2004 — 57th Cannes Film Festival
Choi Tae-Ji Photo Gallery
Comfort Woman Picture Gallery
Crown Prince Felipe of Spain
Dokdo Photo Gallery
Erotic Paintings of Hyewon and Danwon
Franz`s Art Exhibition
Gando Photo Gallery
Geisha in Japan
Gwangju Massacre
Jeju Island
Kim Jong-Il and Kim Il-Sung
Koguryo Murals
Korean War (1950-53)
Madonna
Miss Universe 2004
Miss World Contest 2003
Mt. Kumkang or Mt. Diamond New
Natural Beauty of Korea
Rape of Nanjing (Nanjing Massacre)
Rio Carnival 2004
Ronald Reagan`s Life in Pictures
ST Family
Sonia Gandhi and Gandhi Clan
Taj Mahal Photo Gallery
Ukrainian Embassy
World War Two
Photo Gallery of World Newspapers/Media
Times of India
Hindustan Times
SantaBanta.com
Straights Times (Singapore)
Chicago Sun-Times
Moscow Times