Fashion Images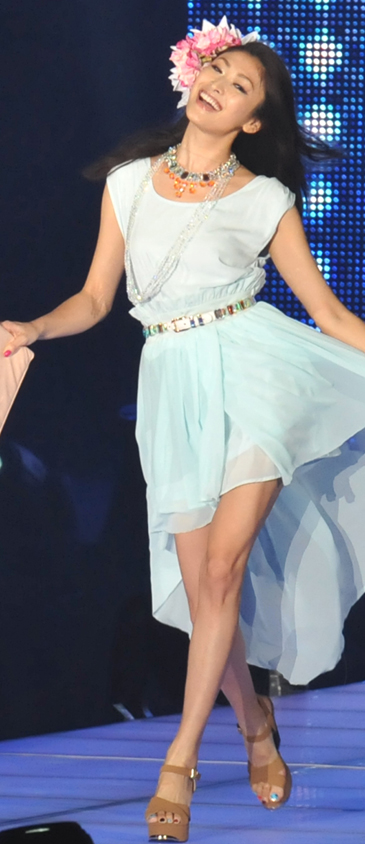 Yu Yamada in Asia's Biggest Fashion FestasThe March 3 (Saturday), 2013 saw the 16th instalment of what has become Japan, and Asia's biggest and brightest fashion festas — 30,000 plus young women in the late teen to early 30s age range packed into one of Japan's most iconic stadia — the Tokyo Olympic "Yoyogi Gymnasium."

With the action kicking off with a performance by the hugely popular Namuro Amie — a household name for almost 20 years the stage was set.

Many of Japan's most popular models including Yu Yamada, Lena Fujii, and Karina donned the outfits of a number of the nation's off the peg brands as seen in the weekly and monthly fashion mags.

Yamada in particular drew wild applause early on when appearing in her short at the front, long at the back one-piece, Fujii later on in her perfect-for-summer flower-pattern mini-dress with matching parasol (pictured).

Throughout the Spring / Summer theme was evident with patterned dresses, bags for the beach, and skin aplenty as numerous brands and scores of Japanese and foreign born models took to the runway, not least Korean star Youn-Ha (pictured in full length green print backless dress).

Highlights of the six-hour extravaganza in addition to the Amuro performance centered on the appearance of one of the nation's most popular boy-bands - Exile - albeit in junior version, as well as brief appearances by comedienne Naomi Watanabe and a number of other well known TV entertainers.

Here's to TGC 17 - expected to take place in September.

The writer, Mark Buckton, a Tokyo-based freelancing journalist, contributes his articles to a number of world's noted newspapers including The Seoul Times.
ST Photo Gallery
Photo News
Embassy Events
Econo People 2005
Fashion Images
New Movies
Travel Images
Nayan Sthankiya's Photo Features New
Abuses of Iraqi Prisoners of War
Academy Awards Photos 2004
Adolf Hitler
Aishwarya Rai-Indian actress
Buddha`s Birthday 2004
Cannes 2004 — 57th Cannes Film Festival
Choi Tae-Ji Photo Gallery
Comfort Woman Picture Gallery
Crown Prince Felipe of Spain
Dokdo Photo Gallery
Erotic Paintings of Hyewon and Danwon
Franz`s Art Exhibition
Gando Photo Gallery
Geisha in Japan
Gwangju Massacre
Jeju Island
Kim Jong-Il and Kim Il-Sung
Koguryo Murals
Korean War (1950-53)
Madonna
Miss Universe 2004
Miss World Contest 2003
Mt. Kumkang or Mt. Diamond New
Natural Beauty of Korea
Rape of Nanjing (Nanjing Massacre)
Rio Carnival 2004
Ronald Reagan`s Life in Pictures
ST Family
Sonia Gandhi and Gandhi Clan
Taj Mahal Photo Gallery
Ukrainian Embassy
World War Two
Photo Gallery of World Newspapers/Media
Times of India
Hindustan Times
SantaBanta.com
Straights Times (Singapore)
Chicago Sun-Times
Moscow Times