Fashion Images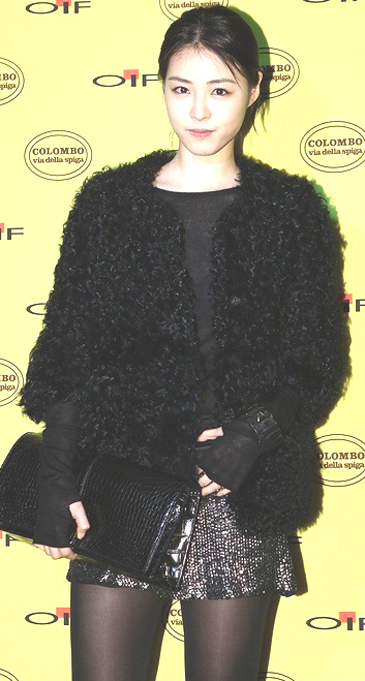 S. Korean Actress Lee Yeon-HeeSouth Korean actress and model Lee Yeon-Hee was born on Jan. 9, 1988. She works under record label and talent agency, S.M. Entertainment.

She made her first appearance in Moon Heejun's music video, "ALONE" in 2001 and officially debuted in theKorean television drama, Sea God as young Junghwa in 2004. She played her first movie in 2006 known as "A Millionaire's First Love" as Eun-whan.

Lee was born in the Bundang district of Seongnam, Gyeonggi-do, South Korea. In the summer of 2001, 13-year-old Lee successfully signed a contract with S.M. Entertainment after she won the category of "Best Feature" in the SM Entertainment Best Youth contest.

For the contest, she acted out a monologue, singing to Dana The Grace's "Until the End of the World", and also did freestyle modeling poses. After she joined the company, she began intense training lessons on acting, singing, and dancing.

Lee was one of the potentials of the trainee pool within SM Entertainment for Girls' Generation before the group debut on 2007. She decided to pursue her acting career and debuted as an actress.

Soon after she joined SM Entertainment she began her career by starring in music videos for SM artists, such as boy band TVXQ, Moon Heejun, KangTa, Shinhwa, and Fly to the Sky, achieving over SM artist Kim Bomi (of M.I.L.K.) and Lee Jiyeon or commonly known as LinA (of CSJH The Grace) as "The SM music video girl". In the span of one year, she already starred in eight music videos versus Bomi's five and Lina's also five in two years.

Though Lee had relatively steady work between modeling in magazines, commercial ads, and appearing in music videos, she did not officially debut until late 2004. In November, she had a role in the popular historical drama Sea God. A few months later, she landed a role in the latter episodes of the daily drama My Precious Child

A role in Resurrection brought the number of dramas under her belt to three. Lee kept busy throughout the rest of 2005 by filming many commercials and modeling for various magazines.

Lee's big break came in the form of the movie Millionaire's First Love playing the lead opposite popular actor Hyun Bin. Lee resolves to "act as hard as she can with all that she's learned" for her movie debut. Through the movie, she also makes her singing debut, singing "Do Re Mi" from The Sound of Music in the movie and "Insa" on the original sound track.

Lee's name as "music video girl" became more apparent after labelmate Zhang Liyin's 2006 "Timeless" music video, where she starred alongside Super Junior's Han Geng and Choi Siwon. Two years later, the trio reunited for Zhang's "I WILL" and "The Left Shore of Happiness", which were released in early 2008 in China and weeks later, Korea. Together, netizens commonly termed the trio as "The Timeless Cast." She once again reprised her title in 2010, playing an angel in the label's project group S.M. The Ballad's music video for their debut single "Miss You."

In 2009, she starred as one of the main cast in East of Eden. Unfortunately, her acting in the series was poorly received by many, calling it "weak" and "not living up to her her full potential". As a singer, she was featured on Super Junior's third album Sorry Sorry.

She participated at the SMTown Live '10 World Tour. Her performances during the tour included a cover of the song Slow Motion which was originally sung by Karina Pasian.

In 2011, as a celebration for her 23rd birthday, the actress held a photo exhibition/fan meeting. The exhibition went by the name of 'Time' and was held from February 11 to the 13th. During the exhibit, the star received much attention from the press as well as special visits from friends and label-mates.
ST Photo Gallery
Photo News
Embassy Events
Econo People 2005
Fashion Images
New Movies
Travel Images
Nayan Sthankiya's Photo Features New
Abuses of Iraqi Prisoners of War
Academy Awards Photos 2004
Adolf Hitler
Aishwarya Rai-Indian actress
Buddha`s Birthday 2004
Cannes 2004 — 57th Cannes Film Festival
Choi Tae-Ji Photo Gallery
Comfort Woman Picture Gallery
Crown Prince Felipe of Spain
Dokdo Photo Gallery
Erotic Paintings of Hyewon and Danwon
Franz`s Art Exhibition
Gando Photo Gallery
Geisha in Japan
Gwangju Massacre
Jeju Island
Kim Jong-Il and Kim Il-Sung
Koguryo Murals
Korean War (1950-53)
Madonna
Miss Universe 2004
Miss World Contest 2003
Mt. Kumkang or Mt. Diamond New
Natural Beauty of Korea
Rape of Nanjing (Nanjing Massacre)
Rio Carnival 2004
Ronald Reagan`s Life in Pictures
ST Family
Sonia Gandhi and Gandhi Clan
Taj Mahal Photo Gallery
Ukrainian Embassy
World War Two
Photo Gallery of World Newspapers/Media
Times of India
Hindustan Times
SantaBanta.com
Straights Times (Singapore)
Chicago Sun-Times
Moscow Times