Fashion Images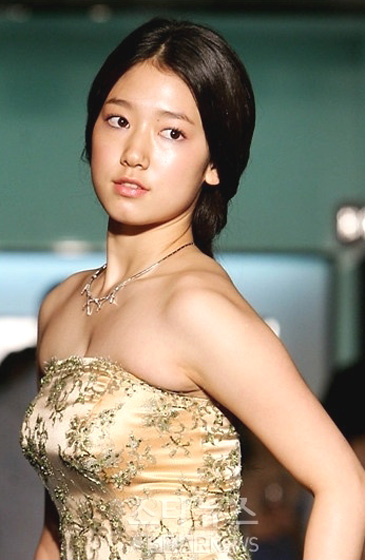 South Korean Actress Park Shin-HyePark Shin-hye (朴信惠) was born on 18 February 1990. She is a South Korean actress and singer. She debuted in the 2003 music video "Ggot" (Hangul: 꽃, flower). She is best known for the roles of "Go Mi Nam" in the 2009 television drama You're Beautiful and "Lee Gyu Won" in the 2011 drama Heartstrings. She attends Chung-Ang University.

Park Shin-hye was born on February 18, 1990, in Gwangju, South Korea. Her family consists of her parents, an older brother and her. When she was in the 6th grade at Hak-Kang Elementary School in Gwangju, she auditioned for the lead role in the music video "Ggot - Flower" by "Dream Factory," pop singer Lee Seung-Hwan's music company. She passed the audition, joined the company, and began training as a singer there.

ark's fame came when she played the younger version of the character Han Jung-suh in the popular Korean dramaStairway to Heaven. She also starred in a drama series called Tree of Heaven which aired on SBS, starring her former co-star in Stairway to Heaven, Lee Wan. The show had decent ratings, and the reviews and criticism were mixed, but mostly positive. Many critics keyed in on her portrayal of the character Hana's pain of loving her step brother Yoon-suh (Lee Wan) as brilliantly done. It should also be noted that due to the age difference between her and Wan, romantic scenes such as kissing on the lips could not occur, where had it been an older actress, such scenes may have occurred. Tree of Heavenstarted with borderline mediocre ratings, as do many new Korean dramas, but went on to finish very respectably, and gained a fan base in Korea, which further helped Park's credibility and young career in acting. Since then, Park has done many commercials (CF) and modeled for a number of Asian companies.

Through her roles and their requirements, Park has displayed an instinctive talent for dancing and martial arts. She has also released a digital single, "Prayer", a song she sang in the drama Tree of Heaven. However, the track was not released in the official OST.
Park made her big screen debut in the movie Evil Twin, a summer horror flick where she had 2 roles: one as the main character, and the other as the ghost of the main character's sister, who haunts the other sister after her death. Park was extremely happy to act in this movie, because she had always wanted to act in a period setting drama or movie.

Park starred as one of the four main characters in Goong S, a spin off (not the sequel) to the wildly successful Goong. The series did not match the success of its original, and received borderline ratings. However, the drama was the most re-watched and replayed series in the first half of 2007, gaining fame after the first run. Park later gained more popularity through idol drama series You're Beautiful with Jang Geun Suk. The drama made her popular worldwide and the songs 'Lovely Day ' and 'Without Words' sung by her forYou're Beautiful OST made her even more lovable. Her 2011 drama Heartstrings began airing on June 29, 2011. Jung Yong Hwa, a co-star from You're Beautiful, played the male lead opposite her.
In 2012, Park was featured in the first three episodes of the show "Music and Lyrics" with Yoon Gun (윤건) of Korean R&B duo Brown Eyes (브라운아이즈). 'Music and Lyrics' is a reality/romance show that collaborates a top actress and an amazing songwriter to write a one-of-a-kind song in 30 days. Their efforts produced the song "I Think of You". The release date is yet to be revealed.
Park Shin Hye will join the cast of the KBS drama special season 3, "Don't Worry, I'm a Ghost" which is scheduled to broadcast on July 15. She will play the ghost "Yeon Hwa."

On October 31, 2012, It was announced that Park Shin Hye would star in the third installment of tvN's "flower boy" series called Flower Boys Next Door, along with actor Yoon Shi Yoon. The drama series is currently airing.
ST Photo Gallery
Photo News
Embassy Events
Econo People 2005
Fashion Images
New Movies
Travel Images
Nayan Sthankiya's Photo Features New
Abuses of Iraqi Prisoners of War
Academy Awards Photos 2004
Adolf Hitler
Aishwarya Rai-Indian actress
Buddha`s Birthday 2004
Cannes 2004 — 57th Cannes Film Festival
Choi Tae-Ji Photo Gallery
Comfort Woman Picture Gallery
Crown Prince Felipe of Spain
Dokdo Photo Gallery
Erotic Paintings of Hyewon and Danwon
Franz`s Art Exhibition
Gando Photo Gallery
Geisha in Japan
Gwangju Massacre
Jeju Island
Kim Jong-Il and Kim Il-Sung
Koguryo Murals
Korean War (1950-53)
Madonna
Miss Universe 2004
Miss World Contest 2003
Mt. Kumkang or Mt. Diamond New
Natural Beauty of Korea
Rape of Nanjing (Nanjing Massacre)
Rio Carnival 2004
Ronald Reagan`s Life in Pictures
ST Family
Sonia Gandhi and Gandhi Clan
Taj Mahal Photo Gallery
Ukrainian Embassy
World War Two
Photo Gallery of World Newspapers/Media
Times of India
Hindustan Times
SantaBanta.com
Straights Times (Singapore)
Chicago Sun-Times
Moscow Times