Fashion Images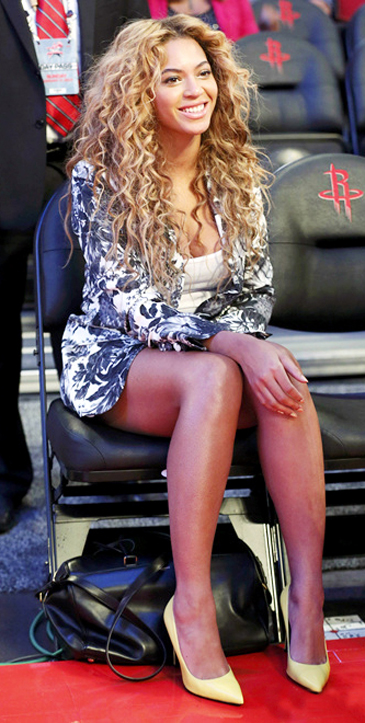 Beyonce to Buy Neverland Ranch, Reports SayMichael Jackson's Neverland Ranch has been abandoned since 2005, but it appears that it might become a home again — for other members of pop music royalty. The majestic 3,000-acre property in Los Olivos, Calif., where the late King of Pop built a private amusement park and a petting zoo, is reportedly being eyed by none other than Beyonce and Jay-Z. A number of news outlets were pointing to British tabloid The Sun as the original source. We do, however, cast a skeptical eye: In January The Sun reported that Lady Gaga was planning a bid on Jackson's famous former home.

The New York Post also reported the latest rumor, with the newspaper saying that it had spoken to "Jackson family sources" who were optimistic that the power couple would buy Neverland Ranch. Bey-Z reportedly toured the once-opulent property recently, but Jay-Z was quoted by the Post as saying: "I've got no interest in Neverland." Still, the Jackson family seems to be holding out hope. A Jackson family member told the Post: "If [the current owners] took them to the ranch ... there must be something to it."

Jackson officially lost the home in 2008, when a private equity firm bought a $23.5 million loan that the singer had defaulted on. Since then, the company has controlled the property. Thomas Barrack Jr., owner of the firm that manages Neverland Ranch, declined to comment to the Post about a potential sale. Neverland Ranch had fallen to ruin by the time Jackson lost it, becoming a host to weeds, stagnant water and rust.

Still, if it's true that Beyonce and Jay-Z are about to bid on the property, they likely have the resources to return it to its former glory. The home used to house a state-of-the-art theater, two-story game room, restaurant, swimming pools — and even its own fire department. You thought Beyonce spoiled her mom with the Houston home that she bought her? Bey may be saving the best for herself.
ST Photo Gallery
Photo News
Embassy Events
Econo People 2005
Fashion Images
New Movies
Travel Images
Nayan Sthankiya's Photo Features New
Abuses of Iraqi Prisoners of War
Academy Awards Photos 2004
Adolf Hitler
Aishwarya Rai-Indian actress
Buddha`s Birthday 2004
Cannes 2004 — 57th Cannes Film Festival
Choi Tae-Ji Photo Gallery
Comfort Woman Picture Gallery
Crown Prince Felipe of Spain
Dokdo Photo Gallery
Erotic Paintings of Hyewon and Danwon
Franz`s Art Exhibition
Gando Photo Gallery
Geisha in Japan
Gwangju Massacre
Jeju Island
Kim Jong-Il and Kim Il-Sung
Koguryo Murals
Korean War (1950-53)
Madonna
Miss Universe 2004
Miss World Contest 2003
Mt. Kumkang or Mt. Diamond New
Natural Beauty of Korea
Rape of Nanjing (Nanjing Massacre)
Rio Carnival 2004
Ronald Reagan`s Life in Pictures
ST Family
Sonia Gandhi and Gandhi Clan
Taj Mahal Photo Gallery
Ukrainian Embassy
World War Two
Photo Gallery of World Newspapers/Media
Times of India
Hindustan Times
SantaBanta.com
Straights Times (Singapore)
Chicago Sun-Times
Moscow Times