Fashion Images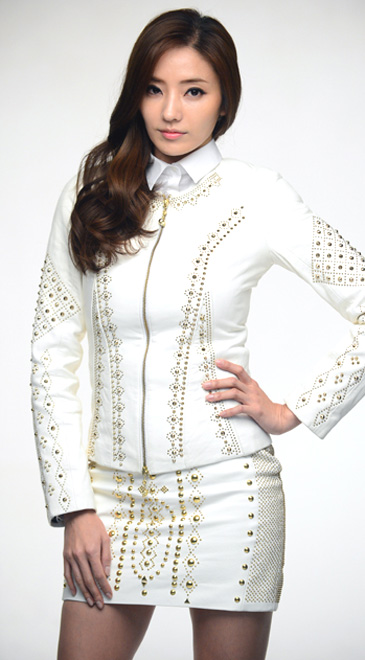 Han Chae-Young's Office LookSouth Korean actress Han Chae-Young poses for camera in a press conference held to promote the popular KBS 2TV's drama "Ad Genius Lee Tae-Bak" on Feb. 11, 2013.

The South Korean actress was born as Kim Ji-Young (real name) in Daegu, South Korea on Sept. 13, 1980 but her family soon migrated to the United States. She spent her growing up years in a suburban Chicago area.

During one of her visits to Korea, she was reportedly discovered by a famed Korean comedian who suggested that she put her college plans on hold and try acting.

Taking on the stage name Han Chae-young, she made her acting debut in 2000 through horror film The Record. She then played the antagonist in popular TV melodrama Autumn Fairy Tale.

The press dubbed her "Barbie Doll of Korea" — for her tall, shapely proportions. Though this image would land her numerous commercial endorsements, her acting projects in the next few years saw Han typecast as an unapproachable beauty from a wealthy background.

But she made her breakthrough in 2005's Delightful Girl Choon-Hyang, a modern-day, romantic comedy retelling of the famous folktale Chunhyangjeon. Playing the titular role of a smart, lively high school girl who matures into a self-sufficient woman, Han shot to stardom throughout Asia with the success of the TV series.
After playing a single mother with culinary dreams in 2005's Only You and a jilted girl looking for employment in 2006's Exhibition of Fireworks, she reverted back to a glamorous character in 2007 couple-swapping film Changing Partners (a.k.a. Love Now).

She surprised fans by acting on stage for the first time in Jang Jin's play Clumsy People, which had a sell-out theater run from December 7, 2007 to March 2, 2008. Later that year she released her clothing line Rachel Han's (taken from her American name), produced in conjunction with online retailer G-Market.

In 2009 she made a special guest appearance in the smash hit drama Boys Over Flowers and starred in the film Good Morning President alongside top Korean actor Jang Dong-gun.

Han said her cheerful character in the film Girlfriends resembled her real self the most and was also the role she said she "had the most fun playing."

Horror film Soul Mates, a Korea-New Zealand co-production, was supposed to have been Han's English-language international debut, but the project was cancelled.

After a lengthy hiatus from the small screen (her 2009 fashion drama Magazine Allo did not push through due to plagiarism charges), Han was cast as a down-to-earth rookie journalist in 2010's manhwa adaptation A Man Called God.

She then played Lee Byung-hun's love interest in The Influence, an online mystery-fantasy movie about a love that transcends time and space.

Hoping for a Hollywood crossover, the English-speaking actress signed with agency Creative Artists Agency (CAA) that same year.

Considered a Korean wave star due to the popularity of Choon-hyang, Han has begun expanding her career to the mainland Chinese market. She starred in the 2011 fantasy-comedy A Big Deal opposite Blue Lan, Leon Jay Williams, and Chapman To.

She was also cast in a leading role in Chinese drama Wu Xie Ke Ji Zhi Lan Se Meng Xiang (lit. "Dream in Blue") opposite Zhu Zi Xiao, which aired on Zhejiang TV in 2012.

She returned to Korean television in 2013 in the series Ad Genius Lee Tae-baek.
ST Photo Gallery
Photo News
Embassy Events
Econo People 2005
Fashion Images
New Movies
Travel Images
Nayan Sthankiya's Photo Features New
Abuses of Iraqi Prisoners of War
Academy Awards Photos 2004
Adolf Hitler
Aishwarya Rai-Indian actress
Buddha`s Birthday 2004
Cannes 2004 — 57th Cannes Film Festival
Choi Tae-Ji Photo Gallery
Comfort Woman Picture Gallery
Crown Prince Felipe of Spain
Dokdo Photo Gallery
Erotic Paintings of Hyewon and Danwon
Franz`s Art Exhibition
Gando Photo Gallery
Geisha in Japan
Gwangju Massacre
Jeju Island
Kim Jong-Il and Kim Il-Sung
Koguryo Murals
Korean War (1950-53)
Madonna
Miss Universe 2004
Miss World Contest 2003
Mt. Kumkang or Mt. Diamond New
Natural Beauty of Korea
Rape of Nanjing (Nanjing Massacre)
Rio Carnival 2004
Ronald Reagan`s Life in Pictures
ST Family
Sonia Gandhi and Gandhi Clan
Taj Mahal Photo Gallery
Ukrainian Embassy
World War Two
Photo Gallery of World Newspapers/Media
Times of India
Hindustan Times
SantaBanta.com
Straights Times (Singapore)
Chicago Sun-Times
Moscow Times