Fashion Images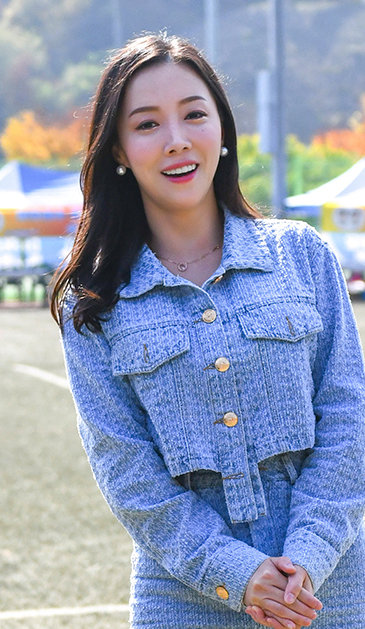 Korean Singer Han So-Min Meets Fans on SNSSing-a-song-writer Han So-Min of South Korea is showing off her own popularity for her fans through her social medea — Instagram, her agent Park Hyong-Meen said recently.

He said that the 37-year-old singer displayed several photos of her recent images on her social media under the title of "2023 New Profile Photos."

She made various poses, showing her clean image, highly sophisticated hair style, distinctive eyes and noses, and snow-white skin. She is 166cm tall and weighs at 47 kilograms.

Han So-Min is her stage name. Park So-Min is her real name. She made her debut as the grand prize winner of KBS Pan-National Song Contest in 2016.

highly popular Han became the recipient of the Grand Prize of the 29th Korea Culture and Entertainment in 2021.


| | |
| --- | --- |
| | Han So-Min in Seoul — South Korea's multi-faceted entertainer Han So-Min is meeting her fans on the social media, her agent recently announced. The sing-a-song-writer, vocalist, and actress has been very active on TVs and, earning her popularity. In 2021 she was awarded the Grand Prize of the 29th Korea Culture and Entertainment. |


Aside from her singing Han also worked as an actress on South Korea's major network TVs including MBC.

Han was born in Gapyeong County, Gyeonggi Province on Feb. 15, 1986. She grew up in Incheon west of Seoul.

She majored in music at her college. On campus she was a vocalist of the student music group.

Han lives with her both parents and a younger brother.

For details or inquiries
leave an Email at
ppakgun@naver.com
ST Photo Gallery
Photo News
Embassy Events
Econo People 2005
Fashion Images
New Movies
Travel Images
Nayan Sthankiya's Photo Features New
Abuses of Iraqi Prisoners of War
Academy Awards Photos 2004
Adolf Hitler
Aishwarya Rai-Indian actress
Buddha`s Birthday 2004
Cannes 2004 — 57th Cannes Film Festival
Choi Tae-Ji Photo Gallery
Comfort Woman Picture Gallery
Crown Prince Felipe of Spain
Dokdo Photo Gallery
Erotic Paintings of Hyewon and Danwon
Franz`s Art Exhibition
Gando Photo Gallery
Geisha in Japan
Gwangju Massacre
Jeju Island
Kim Jong-Il and Kim Il-Sung
Koguryo Murals
Korean War (1950-53)
Madonna
Miss Universe 2004
Miss World Contest 2003
Mt. Kumkang or Mt. Diamond New
Natural Beauty of Korea
Rape of Nanjing (Nanjing Massacre)
Rio Carnival 2004
Ronald Reagan`s Life in Pictures
ST Family
Sonia Gandhi and Gandhi Clan
Taj Mahal Photo Gallery
Ukrainian Embassy
World War Two
Photo Gallery of World Newspapers/Media
Times of India
Hindustan Times
SantaBanta.com
Straights Times (Singapore)
Chicago Sun-Times
Moscow Times