Embassy Events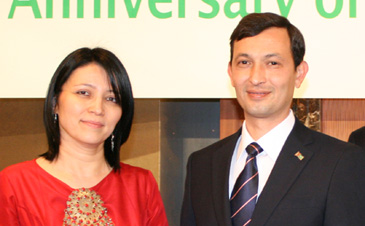 Turkmenistan Marks 23rd Anniversary of Its IndependenceAmb. Myrat Mammetalyyev Hosts Reception at Lotte Hotel in Seoul

Ambassador of Turkmenistan to South Korea Myrat Mammetalyyev hosted a dinner reception at Lotte Hotel in Seoul on Nov. 17, 2014 on the occasion of the 23rd anniversary of its Independence Day.

A number of high-profile guests including scores of top foreign envoys and their spouses were invited to the dinner reception held at 6:30 p.m. on the day.

Mr. Mammetalyyev has been serving as the ambassador of Turkmenistan to Seoul since April. 28, 2014.

Currently, South Korean ambassador to Turkmenistan is Mr. Jong Tae-In.

Turkmenistan and South Korea opened the official diplomatic ties in February in 1992.

Since then the bilateral relations and mutual cooperation in many areas have been on the steady rise.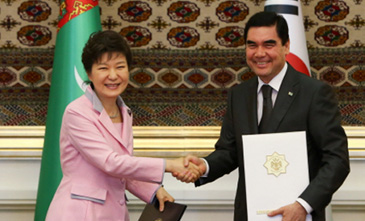 S. Korean President Park Geun-Hye (left) shakes hands with Turkmen President Gurbanguly Berdimuhammadov in in Ashgabat, Turkmenistan. She visited Turkmenistan on June 20-21, 2014.



Particularly, since South Korean opened its embassy in Ashgabat, Turkmenistan's largest city and capital, the ties has been closely developed in politics, economy, and culture.

In November of 2008 Turkmen President Gurbanguly Berdimuhammadov came to Seoul on his state visit to South Korea, meeting with President Park Geun-Hye.

In return, President Park visited Turkmenistan on June 20-21, 2014, becoming the first South Korean head of state to visit the Central Asian nation.

Since the exchange of the presidential visits to each other's nation the overall bilateral relations has further developed.

President Park's visit to Turkmenistan will further propel South Korean businesses to invest in the Central Asian nation.


For details or inquiries please contact Embassy of Turkmenistan in Seoul at 796-9975.
ST Photo Gallery
Photo News
Embassy Events
Econo People 2005
Fashion Images
New Movies
Travel Images
Nayan Sthankiya's Photo Features New
Abuses of Iraqi Prisoners of War
Academy Awards Photos 2004
Adolf Hitler
Aishwarya Rai-Indian actress
Buddha`s Birthday 2004
Cannes 2004 — 57th Cannes Film Festival
Choi Tae-Ji Photo Gallery
Comfort Woman Picture Gallery
Crown Prince Felipe of Spain
Dokdo Photo Gallery
Erotic Paintings of Hyewon and Danwon
Franz`s Art Exhibition
Gando Photo Gallery
Geisha in Japan
Gwangju Massacre
Jeju Island
Kim Jong-Il and Kim Il-Sung
Koguryo Murals
Korean War (1950-53)
Madonna
Miss Universe 2004
Miss World Contest 2003
Mt. Kumkang or Mt. Diamond New
Natural Beauty of Korea
Rape of Nanjing (Nanjing Massacre)
Rio Carnival 2004
Ronald Reagan`s Life in Pictures
ST Family
Sonia Gandhi and Gandhi Clan
Taj Mahal Photo Gallery
Ukrainian Embassy
World War Two
Photo Gallery of World Newspapers/Media
Times of India
Hindustan Times
SantaBanta.com
Straights Times (Singapore)
Chicago Sun-Times
Moscow Times