Embassy Events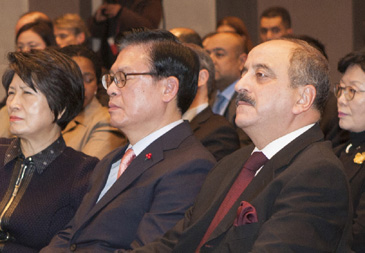 Tunisia Marks 60th Independence in SeoulAmb. Mohamed Ali Nafti Keeps Best Ties with Locals

Tunisian Ambassador to South Korea Mohamed Ali Nafti hosted a reception at the Lotte Hotel in central Seoul at 6:30 p.m. on March 21 (Monday), 2016 to celebrate his country's 60th anniversary of independence.

Tunisian Independence Day, which is the National Day, is the day Tunisia gained independence from France in 1956.

A number of high-profile guests from nearly all walks of life were invited to the dinner reception, which lasted into the late evening.

Among them were scores of top foreign envoys serving in Seoul's diplomatic community.

From South Korean government came Minister Kang Eun-Hee the Ministry of Gender Equality and Family. She delivered a congratulatory speech.

The Tunisian envoy also made an impressive welcoming speech in front of the large audience.
(full text of his speech is at the bottom). He is one of the most favored foreign envoys loved by local people.

Developing Tunisia-S. Korea Ties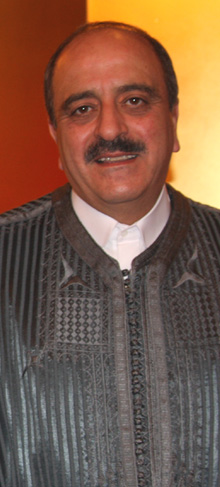 Tunisian Ambassador to South Korea Mohamed Ali Nafti



Tunisia was also one of the first African and Arabic nations to establish diplomatic ties with South Korea.

On March 31, 1969 Tunisia and South Korea established formal diplomatic relations, opening embassies in each other capitals.
But the actual relations began a year earlier in May 1968 when the two nations opened consulatesgeneral in the respective capitals.

Since then bilateral relations have undergone a significant development.

The two nations have been developing friendly, and practical cooperative relations based on economic cooperation.

In particular, South Korea invites a substantial number of industrial trainees from Tunisia.

South Korea also sends experts to the North African country.

Meanwhile, Tunisia formed formal diplomatic ties with North Korea in July of 1975.

In 1991 the bilateral trade volume stood at 23.2 million US dollars. Tunisia imported 15.8 million US dollars' worth of goods from South Korea and exported 7.4 million US dollars' worth of mainly aluminum to South Korea.

But the bilateral trade volume increased to the whopping 380 million US dollars in 2010.

Tunisia's imports were 345 million US dollars and its exports were 35 million US dollars.

Main import items were railroad cars, passenger cars, construction equipment, synthetic resins, and cordless phones.

Tunisia exported to South Korea such items as aluminium, textile and garments, wireless communications parts, and fish and meat.

Currently some 180 South Koreans work or live in Tunisia. They are employees of LG Electronics, Samsung Electronics, Yura Corporation, and KOICA as well as other South Korean government officials and their family members.

Tunisia wishes to induce technology and investment from South Korea.

For details or inquiries call the Tunisian Embassy in Seoul at 790-4334/5.


Speech by Tunisian Envoy

Excellency Ms. Kang Eun-Hee, Minister of Gender Equality and Family,

Excellencies, distinguished guests,

Dear fellow citizens, ladies and gentlemen

60 years in a history of a country which enjoys more than 3000 years of civilization is relatively short, nevertheless it is rather very meaningful in terms of major achievements made by its vibrant people.

Indeed, on 20th March 1956, our country retrieved its freedom and sovereignty and started setting up the foundation of its modern state after choosing the republic as a political regime.

Notwithstanding a significant number of very valuable accomplishments in diverse fields mainly women empowerment - where Tunisia has been a pioneer in the Arab and Muslim world- free education, birth control, the country lived decades of lack of political freedom, liberty of expression and good governance.

This has led to the outbreak of a peaceful Revolution in January 2011 Revolution, ushering in a new era of hope for a better future where dignity, justice, democracy and a genuine social development should prevail.

Five years later and despite some painful moments and difficult regional conjuncture, there are a lot of good reasons to remain optimistic about the young Tunisian democracy.

We should mention in particular, the adoption of a progressive Constitution in January 2014 which paved the way to the holding of the first ever fair and transparent legislative and presidential elections, and marked the successful passage from the transitional period to the phase of permanent institutions.

The Nobel peace prize recently awarded to the Tunisian National Dialogue Quartet was hence a recognition of these historical achievements, fruit of consensus among political parties and proactive role of the civil society in leading the dialogue to succeed the political transition.

This prestigious prize will always be a matter of national pride for us and a source of motivation to keep preserving our young democracy and raise the big challenges our country is facing especially at security level to consolidate its position in the concert of Nations.

More recently, Tunisia was able to timely thwart a big terrorist attack in the southern city of Ben Guerdane, thanks to the effective intervention of our army and security forces and the impressive and unwavering solidarity of the authentic residents of this city who courageously backed our forces.

Excellencies, Ladies and gentlemen

We remain absolutely aware that we should primarily rely on our National unity to bolster our young democracy against all threats but we also welcome any political and official support coming from the International Organizations as well as brotherly and friendly countries and among them the Republic of Korea through its government, National Assembly and civil society.

In this context, and while expressing our gratitude to the Korean Government for its constant assistance through the KOICA and other institutions, we reiterate our invitation to Korean private sector to further explore the promising investment opportunities and the attractive business environment and numerous incentives that the Tunisian site offers especially after the newly adopted economic reforms.

And as we are convinced that any sustainable relations between countries and nations should focus on people to people exchanges, the cultural and educational fields remain a core component of our efforts to further reinforce the bonds of friendship and cooperation between Tunisia and the Republic of Korea.

In this spirit, I would like to pay tribute to the Institute of Middle Eastern Affairs of Myongji University for having translated the Tunisian Constitution in Korean language, the sixth fundamental law of the Tunisia's history, since the Constitution of Carthage which is one of the oldest constitutions of ancient history evoked by the Greek philosopher Aristotle in his famous book, "Politics".

I would also like to praise the excellent work made by Professor Kim Jong-A in translating into Korean language the great book "Muqaddimah" of Ibn Khaldoune, the prominent Tunisian historian, regarded to be among the founding fathers of modern sociology, historiography, demography and economics.

Excellencies, Ladies and gentlemen

Before I conclude, I would like to express my congratulations to the Tunisian women who enjoy 60 years of emancipation, freedom and effective participation in public life in Tunisia thanks to the Code of Personal Status adopted in August 1956.

In this spirit, while praising the efforts of the Korean Government in promoting gender equality through new laws and policies, we highly appreciate the meaningful presence among us of Madam the Minister of Gender Equality and Family in this very special commemoration.

Thank you very much for your attention and for being with us to commemorate this meaningful event.

Kamsahamnida.
ST Photo Gallery
Photo News
Embassy Events
Econo People 2005
Fashion Images
New Movies
Travel Images
Nayan Sthankiya's Photo Features New
Abuses of Iraqi Prisoners of War
Academy Awards Photos 2004
Adolf Hitler
Aishwarya Rai-Indian actress
Buddha`s Birthday 2004
Cannes 2004 — 57th Cannes Film Festival
Choi Tae-Ji Photo Gallery
Comfort Woman Picture Gallery
Crown Prince Felipe of Spain
Dokdo Photo Gallery
Erotic Paintings of Hyewon and Danwon
Franz`s Art Exhibition
Gando Photo Gallery
Geisha in Japan
Gwangju Massacre
Jeju Island
Kim Jong-Il and Kim Il-Sung
Koguryo Murals
Korean War (1950-53)
Madonna
Miss Universe 2004
Miss World Contest 2003
Mt. Kumkang or Mt. Diamond New
Natural Beauty of Korea
Rape of Nanjing (Nanjing Massacre)
Rio Carnival 2004
Ronald Reagan`s Life in Pictures
ST Family
Sonia Gandhi and Gandhi Clan
Taj Mahal Photo Gallery
Ukrainian Embassy
World War Two
Photo Gallery of World Newspapers/Media
Times of India
Hindustan Times
SantaBanta.com
Straights Times (Singapore)
Chicago Sun-Times
Moscow Times