Embassy Events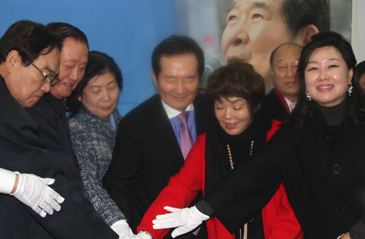 Rep. Chung Sye-Kyun Seeking 6th Term to Save S. Korea, Inter-Korea Ties from Park's Gov'tMild-Mannered Politican Has Been Reforming S. Korea

The fifth-term lawmaker Chung Sye-Kyun has just made his bid for the goal of sixth term in the upcoming General Election slated for April 13, 2016.

At the opening ceremony of his election office in downtown Seoul of Jongno-gu on March 12, 2016, the former chairman of the main opposition Democratic Party (DP) declared that he would do his best to punish the current President Park Geun-Hye's government.

The ceremony was attended by hundreds of his followers and supporters including nation's top politicians as well as scores of journalists from the major news media.

The opposition politician argued that President Park Geun-Hye's regime has been ruining both the inter-Korean relations and South Korea's overall economy with her wrong policies.


Rep. Chung Sye-Kyun

"We have to change the current regime with a clear victory in the coming general elections by choosing the right politicians," the mild-mannered politician roared.

"For one thing the household debts have been snowballing under Park's government, and nation's ties with North Korea is now at its worst because of Park's confrontational inter-Korea policy," Chung argued.

Hundreds of his supporters gathered at the office chanted "Change the Government, Punish Park's Regime!" to the tune of Chung's angry remarks.

Rep. Chung has been receiving very positive responses from his electorates in Jongno-gu District, the central part of Seoul where presidential Blue House and various government offices are located.

Politicians call the district "No. 1 District for National Assembly seekers," because it produced two presidents and many top politicians.

Chung began his political career in 1995 as a special advisor to then President Kim Dae-Jung, a icon of South Korea's democratization.

A year later Chung was elected to the National Assembly on the ticket of the now-defunct New Millennium Democratic Party.

Since then Chung has been elected to the Assembly for four times in a row. Now he presents central Jongno-gu district of Seoul as a fifth-term lawmaker.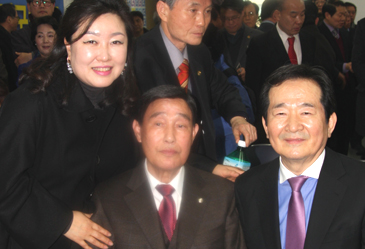 Rep. Chung Sye-Kyun (right) poses with Madam Kim Sung-Eun (left). At center is Chairman Nam Sang-Hae of Harimgak, world's largest Chinese restaurant.



Within the major opposition party Chung held a series of key posts including chief of planning and policy coordination.

In 2002 Chung played a leading role in electing lawyer-turned politician Roh Moo-Hyun as president. Under reform-minded Roh's regime Chung served as commerce minister.

Chung later served as chairman of DP, the predecessor of the current The Minjoo Party of Korea, nation's main opposition party.

Chung was born in Jinan, North Jeolla Province, in 1950. He majored in law at Korea University in Seoul, graduating from the university with a BA degree in law in 1975.

Upon graduation he started his social career as a company worker. He entered the once colossal Ssangyong Business Group, working as its New York City branch manager until 1995.

While working for Ssangyong in the Big Apple city, Chung earned a master's degree in business at Pepperdine University in 1990. He received a PhD degree in business management from Kyung Hee University in Seoul in 2004.

Briefly Chung worked as a university faculty. He once taught students at Kyungsung University in Busan for a year.
ST Photo Gallery
Photo News
Embassy Events
Econo People 2005
Fashion Images
New Movies
Travel Images
Nayan Sthankiya's Photo Features New
Abuses of Iraqi Prisoners of War
Academy Awards Photos 2004
Adolf Hitler
Aishwarya Rai-Indian actress
Buddha`s Birthday 2004
Cannes 2004 — 57th Cannes Film Festival
Choi Tae-Ji Photo Gallery
Comfort Woman Picture Gallery
Crown Prince Felipe of Spain
Dokdo Photo Gallery
Erotic Paintings of Hyewon and Danwon
Franz`s Art Exhibition
Gando Photo Gallery
Geisha in Japan
Gwangju Massacre
Jeju Island
Kim Jong-Il and Kim Il-Sung
Koguryo Murals
Korean War (1950-53)
Madonna
Miss Universe 2004
Miss World Contest 2003
Mt. Kumkang or Mt. Diamond New
Natural Beauty of Korea
Rape of Nanjing (Nanjing Massacre)
Rio Carnival 2004
Ronald Reagan`s Life in Pictures
ST Family
Sonia Gandhi and Gandhi Clan
Taj Mahal Photo Gallery
Ukrainian Embassy
World War Two
Photo Gallery of World Newspapers/Media
Times of India
Hindustan Times
SantaBanta.com
Straights Times (Singapore)
Chicago Sun-Times
Moscow Times