Embassy Events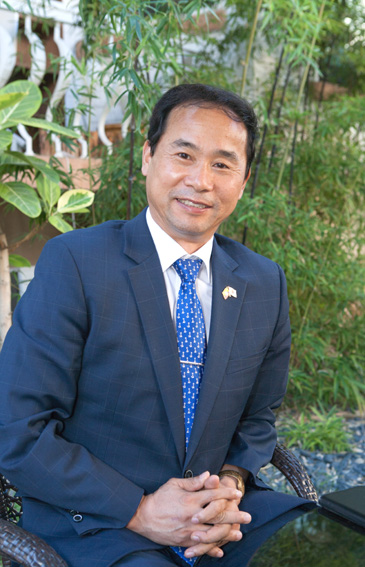 Chairman Moon Yong-Jo of "Pinco World" Devoted to Global Exchanges, PeaceS. Korea's Ex-Army Officer Loves Helping Poor Countries

Former army officer Moon Yong-Jo is now busy doing his international businesses and international exchanges. He spent nearly three decades in the South Korean Army before he set up the "Pinco World," an enterprise for realizing his dream of global exchanges and friendship several years ago.

As the chairman and CEO of the "Pinco World," he is tied up with a hectic schedule for visiting many nations in Africa and meeting with top foreign envoys serving in Seoul. The Seoul Times recently interviewed Chairman Moon for his activities and philosophy.

Q1:What are the international exchanges and international businesses you are involved in?

A1: Aa part of my international exchanges, I started last year "Dream Egg Movement," through which I and other members parcel out plastic eggs to the people who lost dreams and hopes in the world particularly in the poor Third World countries. I have visited military installations, prisons, schools, and various organizations for lectures and for the "Dream Egg Movement." So far, I am quite satisfied with the results. They all want to join me for this movement.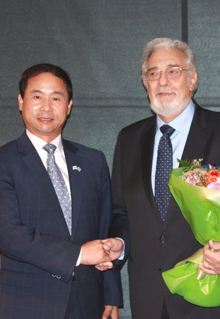 Chairman Moon Yong-Jo meets with Placido Domingo in Seoul.

I often visit African countries like Nigeria, Cameroon, Angola, and Cote d'Ivoire for businesses, but from now on I will propagate "Dream Egg Movement" to the African nations.

I also plan to help people around the world who are suffering from the natural calamities like earthquakes.

As for my internal business I plan to export to Africa soybean milk and other food and beverages. I will also bring local construction companies to Africa for the construction projects. Also solar energy companies will be send there by me.

As for international exchanges in education I m making an arrangement for local Changwon National University to set set up an Asia research center in a Nigerian university.

Q2: We are aware that you are very popular among the foreign ambassadors in Seoul, with which ambassadors you maintain good relations?

A2: I am particularly well acquainted with the foreign envoys from such countries as Nigeria, Angola, Tunisia, Cote d'Ivoire, Bolivia, and Equator. I enjoy hobnobbing with them for personal friendship as well as business and cultural exchanges.

Q3: Why are you involved yourself in international exchanges?

A3: My ultimate purpose for international exchanges lies in helping the needy people in poor countries. I try to serve as a medium for connecting the high technology of South Korea with the developing African countries. For this I believe that "Dream Egg Movement" will be quite effective.

Q4: You were decorated with various awards while serving in the army. What were the secrets?

A4: I served in the military for 33 years as an officer. I was one of the highly decorated officers in the history of South Korean Army. I received 180 awards during my service. I did not aim for reward or award, I just did my duty sincerely and very hard.

Q5: Will you introduce your "Pinco World" company?

A5: I established "Pinco World" in 2013 for international business and international exchanges. I exports food and beverage products and clothes to the countries of Africa and other areas. We are going to supply African and Latian American nations with South Korean electric power generators.

I also bring Korean arts and performances to those countries for international exchanges. I plan to export the "Korean Wave" throughout the world.

Q6: Let us give you a personal question. What sorts of sports or martial arts did you practice? How do you maintain your health these days?

A6: As a boy I enjoyed practing all kinds of sports and martial arts. I am master of such martial arts as Taekwondo, Aikido, Kendo, and Special Assault Martial Art. I also hold license for judges for all the martial arts mentioned. But, now I enjoy practicing soccer and golf games to maintain my health.
ST Photo Gallery
Photo News
Embassy Events
Econo People 2005
Fashion Images
New Movies
Travel Images
Nayan Sthankiya's Photo Features New
Abuses of Iraqi Prisoners of War
Academy Awards Photos 2004
Adolf Hitler
Aishwarya Rai-Indian actress
Buddha`s Birthday 2004
Cannes 2004 — 57th Cannes Film Festival
Choi Tae-Ji Photo Gallery
Comfort Woman Picture Gallery
Crown Prince Felipe of Spain
Dokdo Photo Gallery
Erotic Paintings of Hyewon and Danwon
Franz`s Art Exhibition
Gando Photo Gallery
Geisha in Japan
Gwangju Massacre
Jeju Island
Kim Jong-Il and Kim Il-Sung
Koguryo Murals
Korean War (1950-53)
Madonna
Miss Universe 2004
Miss World Contest 2003
Mt. Kumkang or Mt. Diamond New
Natural Beauty of Korea
Rape of Nanjing (Nanjing Massacre)
Rio Carnival 2004
Ronald Reagan`s Life in Pictures
ST Family
Sonia Gandhi and Gandhi Clan
Taj Mahal Photo Gallery
Ukrainian Embassy
World War Two
Photo Gallery of World Newspapers/Media
Times of India
Hindustan Times
SantaBanta.com
Straights Times (Singapore)
Chicago Sun-Times
Moscow Times