Embassy Events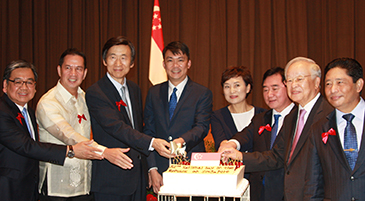 Singapore's 52nd National Day Marked in Seoul"Lion City" Enjoys Highly Amicable Ties with Seoul

Singaporean Ambassador to South Korea Yip Wei Kiat (ç¨êÉËø) held a dinner reception at the Grand Hyatt Hotel in Seoul on August 18 (Friday), 2017 on the occasion of Singapore's 52nd National Day.

The National Day of Singapore is celebrated on August 9 every year as its people commemorate the day it gained the independence from Malaysia in 1965.

A large crowd of both local Korean and international guests including South Korean lawmakers and government officials were invited to the dinner reception held at 6:00 p.m. on the day. They included South Korean Foreign Minister Yun Byung-Se, and top foreign envoys and their spouses serving in Seoul.

Ambassador Yip has been serving as the "ideal ambassador" for Singapore's ties with South Korea for over two years now.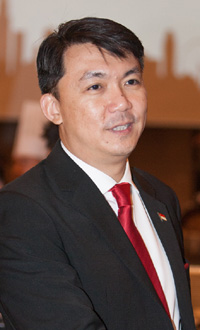 Singaporean Ambassador to South Korea Yip Wei Kiat (ç¨êÉËø)

He is said to be not only highly efficient but also extremely friendly top envoy in Seoul's diplomatic community.

Mr. Yip was serving as director-general of Northeast Asia of Singapore's Ministry of Foreign Affairs' (MFA) before he was appointed as the ambassador to Seoul at the start of 2015.

Previously Mr. Yip served as consul-general in Shanghai from 2008 to 2012. He also worked as deputy chief of mission in Beijing from 2005 to 2007.

Presently South Korea has huge influence on the people in Singapore: its pop culture, drama, and food is making a strong inroad in the everyday life of Singaporean peoples.

Both Singapore and South Korea have enjoyed excellent bilateral relations since the establishment of diplomatic ties in 1975.

Singapore has been one of the most important trading partners and a major investor to South Korea.

Since the free trade agreement (FTA) came into effect in 2006 the bilateral trade volume between Singapore and South Korea has increased several folds.

The bilateral trade volume grew from 12.7 billion US dollars in 2005 to 32.6 billion US dollars in 2013.

The bilateral trade cooperation is expected to grow even further driven by South Korea¡¯s expertise in plant construction, equipment and manufacturing and by Singapore¡¯s excellence in financing and engineering.

Singapore is often called one of the ¡°Four Tigers¡± of rising Asian states along with South Korea, Taiwan and Hong Kong. Both South Korea and Singapore have been exemplary for their highly developed and advanced economies in Asia.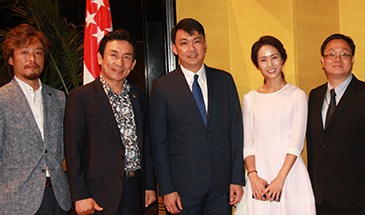 Singaporean Ambassador to South Korea Yip Wei Kiat (center) poses with Master Artist Min Tae-Hong (2nd from left), and actress Park Soo-Yeon at the reception held in Seoul on August 18, 2017 to celebrate the 52nd National Day of Singapore.



While Singapore emerges as one of the world-leading international financial centers, South Korea establishes itself as one of the world leaders in manufacturing information technology.

Bilateral cooperation between the two nations included trade and investment promotion, information and communications technology, maritime transport and science and technology.

Currently over 1,000 Korean companies are operating in Singapore. They include CJ Group, Samsung Electronics, LG Electronics, SK Group, Daewoo International, Hanjin Shipping, Sunwoo Entertainment, and the Ssangyong Engineering Construction.

More than 23,000 Koreans are presently residing in Singapore and the figure is on the steady rise in recent years.

Singapore is a South East Asian city-state off the southern tip of the Malay Peninsula. It has the third highest per capita income in the world and has a population of slightly over 5 million people.

Renowned worldwide for its cleanliness, Singapore is better known as the ¡°green city¡± to many. A multi-cultural and multi-racial country, it has a diverse population consisting of the Chinese, Malays, Indians, and Europeans.

The Lion City is highly urbanized and has established itself as the world¡¯s fourth leading financial center and its port one of the five busiest ports in the world.

For details or inquiries contact the Embassy of Singapore in Seoul at 774-2464~7.
ST Photo Gallery
Photo News
Embassy Events
Econo People 2005
Fashion Images
New Movies
Travel Images
Nayan Sthankiya's Photo Features New
Abuses of Iraqi Prisoners of War
Academy Awards Photos 2004
Adolf Hitler
Aishwarya Rai-Indian actress
Buddha`s Birthday 2004
Cannes 2004 — 57th Cannes Film Festival
Choi Tae-Ji Photo Gallery
Comfort Woman Picture Gallery
Crown Prince Felipe of Spain
Dokdo Photo Gallery
Erotic Paintings of Hyewon and Danwon
Franz`s Art Exhibition
Gando Photo Gallery
Geisha in Japan
Gwangju Massacre
Jeju Island
Kim Jong-Il and Kim Il-Sung
Koguryo Murals
Korean War (1950-53)
Madonna
Miss Universe 2004
Miss World Contest 2003
Mt. Kumkang or Mt. Diamond New
Natural Beauty of Korea
Rape of Nanjing (Nanjing Massacre)
Rio Carnival 2004
Ronald Reagan`s Life in Pictures
ST Family
Sonia Gandhi and Gandhi Clan
Taj Mahal Photo Gallery
Ukrainian Embassy
World War Two
Photo Gallery of World Newspapers/Media
Times of India
Hindustan Times
SantaBanta.com
Straights Times (Singapore)
Chicago Sun-Times
Moscow Times