Embassy Events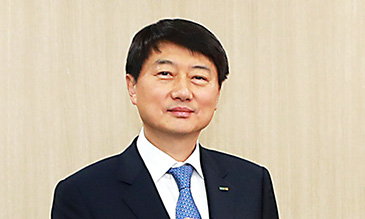 Dr. Chang Ho-Jin at Helm of Hyundai Department Store Group in South KoreaIconic Figure Who Rose from Bottom to Top Position

South Korea's Hyundai Department Store Group, headed by its flagship company of Hyundai Department Store, is the most representative company in the nation in its business area.

And recent years the gigantic department store group has been successful in transition of the ownership from parents to the two young brothers: Chairman Chung Ji-Sun, and Vice Chairman Chung Kyo-Sun at the helm of the top management.

The Hyundai Department Store Group has been thriving based on its three main business areas: Distribution business driven by Hyundai Department Store Company, fashion business, and living interior business.

However, behind decades of its highly successful business performance there are a number of company officials of exceptional capacity.

Among them is Dr. Chang Ho-Jin, a graduate of the prestigious Seoul National University. Dr. Chang received a doctorate from Université Laval in Quebec City, Quebec, Canada. Dr. Chang served in the US Army in South Korea for nearly three years as a KATUSA soldier, practicing English, and learning Western way of living. The acronym KATUSA accounts for Korean Augmentation to the US Army.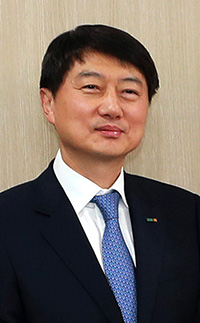 Dr. Chang Ho-Jin, president & CEO of Hyundai Department Store Group in South Korea

Dr. Chang spent most of his social career at Hyundai Business Group, working at various companies of the business group. By the time Dr. Chang joined Hyundai, it was nation's largest business group.

Currently, Dr. Chang holds a host of job titles with the business group.

He is the president of Hyundai Department Store, president of Hyundai Shopping, director of Hyundai Green Food, director of Hanmu Shopping, director of Hansom, and director of Hyundai HCN. He holds six business cards for his work.

Arguably, Dr. Chang is the iconic figure for nation's all company employee and officials. As a ordinary employee Dr. Chang climbed all the way to the top from the bottom.

But, the most important position Dr. Chang holds is chief executive officer (CEO) in charge of planning and controlling the business management of entire Hyundai Department Store Group, which has a total of 13 separate businesses. In short he manages all the companies as the top CEO in areas of management, personnel management, PR, business strategy, and investment.

Dr. Chang entered Hyundai Business Group in 1987 as a regular employee. After Hyudai Department Company separated from the group in 2001 he moved to the department group, serving all his later years with the department.

He moved from Hyundai Group, Hyundai Department, Hyundai Home Shopping, and to Hyundai Green Food during his three decades of his affiliation with Hyundai.

Every time he moved to company he showed exceptional work performance, according to sources close to him, earning him a nickname "CEO with Soft Charisma." He is also called No. 1 CEO as long as management concerned within the group.

When Dr. Chang was in charge of Hyundai Green Food, he more than doubled its total sales from 993.2 billion won in 2010 to 1,965.8 billion won in 2014.

In January of 2015 Dr. Chang was inaugurated as chief executive officer (CEO) in charge of planning and controlling the business management of entire Hyundai Department Store Group.

Since then on Dr. Chang has been not only growing business performance in quantity but also improving management in quality. He was recognizing for stabilizing its corporate structure.

For an instance, when he was CEO of Hyundai Green Food in 2010 he increased the number of affiliate companies from four to as many as 13 within four years.

Based on department business now Hyundai Department Store Group is gearing up for another major take off. It wants to bolster the other two areas of it business: Fashion and living area.

As he tried his best as a most successful employee Dr. Chang is expected do his utmost as well in the new businesses folding in years to come.
ST Photo Gallery
Photo News
Embassy Events
Econo People 2005
Fashion Images
New Movies
Travel Images
Nayan Sthankiya's Photo Features New
Abuses of Iraqi Prisoners of War
Academy Awards Photos 2004
Adolf Hitler
Aishwarya Rai-Indian actress
Buddha`s Birthday 2004
Cannes 2004 — 57th Cannes Film Festival
Choi Tae-Ji Photo Gallery
Comfort Woman Picture Gallery
Crown Prince Felipe of Spain
Dokdo Photo Gallery
Erotic Paintings of Hyewon and Danwon
Franz`s Art Exhibition
Gando Photo Gallery
Geisha in Japan
Gwangju Massacre
Jeju Island
Kim Jong-Il and Kim Il-Sung
Koguryo Murals
Korean War (1950-53)
Madonna
Miss Universe 2004
Miss World Contest 2003
Mt. Kumkang or Mt. Diamond New
Natural Beauty of Korea
Rape of Nanjing (Nanjing Massacre)
Rio Carnival 2004
Ronald Reagan`s Life in Pictures
ST Family
Sonia Gandhi and Gandhi Clan
Taj Mahal Photo Gallery
Ukrainian Embassy
World War Two
Photo Gallery of World Newspapers/Media
Times of India
Hindustan Times
SantaBanta.com
Straights Times (Singapore)
Chicago Sun-Times
Moscow Times