Embassy Events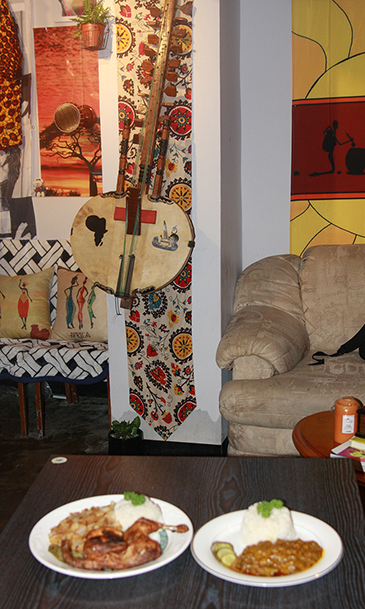 JAK Offers Gambian-Style African DishesJollof Rice & Chicken Yassa Are My Love at First Bite

There are seven or eight African restaurants in and around Seoul's Itaewon area as the Korean folks' taste is getting more and more global. Among the African restaurants is JAK Jollof Africa Korea restaurant on Gyeongridan street just 200 meters down from Grand Hyatt Seoul Hotel.

What makes JAK African restaurant so special? Its Jollof rice and scores of other West African dishes made by chefs from Gambia. JAK specializes in Gambian food. The visitors to the recently opened African restaurants say the Jollof rice at the restaurant is more delicious and more authentic than the Jollof rice served in Nigerian or any other African style.

The Seoul Times recently met with the owner and founder of JAK African restaurant to find about the real taste of Jollof rice and other African dishes popular among Korean gourmets.

The following is the full text of the questions and answers.


Ms. Lee Bong-Eun — Ms. Lee Bong-Eun, CEO of JAK African restaurant is being interviewed by The Seoul Times at her restaurant in Gyeongridan Street in Seoul's Itaewon area on July 24, 2018. She opened her first Gambian restaurant recently to introduce to the local Koreans the West African taste and culture.
The Seoul Times photos


Q1: First of all, thanks for the interview opportunity. Compared with other African restaurants what are the characteristics of your restaurant?

A1: Unlike other African restaurants in and around Itaewon area our JAK (Jollof Africa Korea) specializes in the West African foods particularly the traditional Gambian and Senegalese dishes. All the authentic Gambian dishes are made by Gambian chefs here. Our taste and the interior design of our restaurant will make our customers feel like they are travelling the West Africa. They will experience the mysterious taste of it here at our restaurant.

Q2:What about the menu of JAK? How many dishes you offer? What are the most popular dishes particularly favored by Koreans?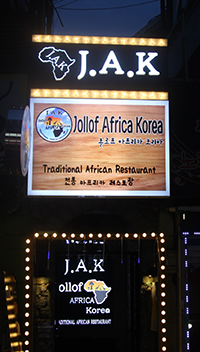 JAK African restaurant in Gyeongridan Street in Seoul's Itaewon area

A2: We have a total of 15 official dishes. The best selling dishes are an African-style of fried rice called "Jollof Rice" and "Chicken Yassa." The Jollof Rice, which is also known as "Benachin," is made with rice, tomatoes, other vegetables, meats, and spices including nutmeg, cumin, and ginger. "Benachin" means "one spot" in the local language. It is more or less like the fried rice.

Experts say that Jollof rice originated from the Wolof people in modern-day Senegal, Gambia, and Mauritania areas. In the past the Wolof people ruled a wealthy and powerful empire that traded with Europeans. They developed the culture of Jollof rice, which spread throughout West Africa.

Then comes Chicken Yassa, which is my favorite. When I tasted it was like "love at first bite" for me. It is fried chicken and rice made with onion sauce.

Q3: What is the name of the juice made out of hibiscus, the de-facto national flower of Korea? Can you explain about its recipe?

A3: It is called "Wonjo Juice." It is the healthy, sweet, and refreshing Gambian juice made out of hibiscus flowers hibiscus flowers and wonjo leaves. Gambian Wonjo Juice is also known as bissap or zoo juice in some parts of Africa.
It is a very nutritious and refreshing drink perfect for a hot summer day.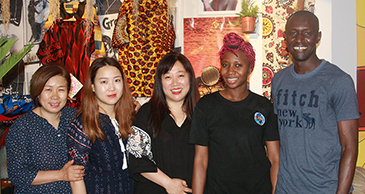 Ms. Lee Bong-Eun (center) poses with her older sister "Kyong-Won," her niece "Na-Jung," the Gambian chef at JAK African restaurant.



I heard that Egyptian Queen Cleopatra used to drink it to maintain her beauty. It helps to burn the fat. It also helps to improve functions of kidney. It is indeed a healthful drink highly effective for being on a diet.

Q4: What are the ratio of Korean and foreign clients? How many Africans come to your restaurant? What are their nationalities?

A4: It is about half and half. Foreigners account for nearly half of our customers. On the rise are the young couples enjoy dating on Gyeongridan Street. They are our regular visitors. Those who want to go to Africa or who want to visit it again are also our customers. They keep visiting JAK.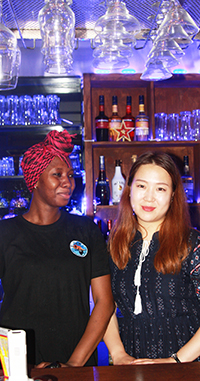 Ms. Na-Jung (right) works as the manager of JAK African restaurant. At her right is her Gambian chef. Ms. Na-Jung speaks English fluently.

Senegalese and Gambians are having their regular meeting at JAK. Many Africans from such West African nations as Mali, Côte d'Ivoire, and Guinea are also our regulars.

Q5: On what occasion did you open the JAK African restaurant?

A5: In the past I was invited to the house of two African men who came from Gambia in West Africa. I was treated with "Chicken Yassa" at their home. I was immediately impressed by the African cuisine. I also came to enjoy other African dishes such as "Domoda" and "Supakanja."

Such desert dishes as "Ponce," "Chakery," and "Wonjo Juice" fascinated me as well. Naturally, I came to think that I can introduce the African food to the local Koreans. That how I was able to open the JAK African restaurant with the help of my Gambian friends.

Q6: Do you like Africa and African culture? What are the characteristics of African cuisine culture? How bright is the future of the Africa restaurants in Korea?

A6: The continent of Africa is still unknown world to us Koreans. All the images of Africa are the ones we see through TV channels like grasslands of Savanna with full of animals.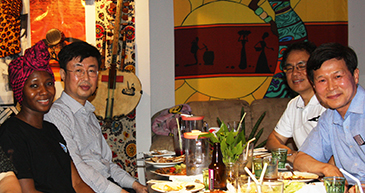 Customers at the JAK restaurant in Seoul's Gyeongridan Street



In actuality Africa is world's second largest continent. A total of 56 nations are located in Africa and each country has its distinctive culture. Africans have well preserved their uncontaminated traditional cultures, merging them with the modern ones.

Just line traditional Korean culture Africans gather together and share food altogether. Both Korean and Africans like to share from the common plate or pot, even if Africans are fast adjusting to the modern cuisine culture.

Q7: Do you have the future business plans to expand your restaurant business? For business promotion what events do you plan to host?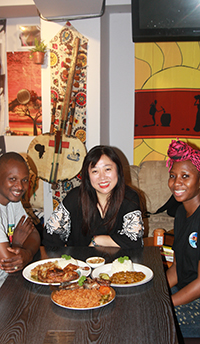 Ms. Lee Bong-Eun (center) with her staff at JAK African restaurant

A7: I and the whole JAK staff are planning to open the second JAK restaurant and from then on we would like to go for the franchise plan. For that we want to make this first JAK an absolute success.

We wish to make JAK like Noma, the famous restaurant in Copenhagen. As you know Noma is often named as world's best restaurant. For that dream we are working hard today.

A lot of African residents in Seoul want to hold their parties here at JAK. Africans enjoy parties and dancing. We will have them to hold their parties and events at our restaurant.

Q8: What, do you think, can South Korea do for African nations?

A8: The African continent is just waking up now. I believe that they have a strong yearning for the economic success. Korea's past New Community Development Movement of Saemaeul is already functions as a role model for the development of their village and their nations in many parts of Africa. South Korean can be a great help to Africa.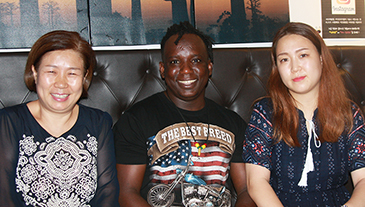 JAK manager "G" from Gambia poses with Madam Kyong-Won (right) and Ms. Na-Jung at JAK restaurant in Gyeongridan Street.



I believe that South Korea's technological and economic assistance is in dire need in Africa. Africa's abundant human and natural resources can be the great help to South Korea as well. A lot of Christian charity groups from Korea are in operation on African continent now. They are as important as South Korean government or its large corporations in helping and developing the African nations.

Q9: A number of Nigerians and other Africans are visiting or living in South Korea. How many Gambians are living in South Korea? What are they doing?

A9: In the past, a number of ethnic Korean residents in China used to visit South Korea in search of jobs. After them came migrant workers from such nations as Bangladesh, Indonesian, Mongol, and Malaysia to get a job or to learn advanced skills and technologies or culture of South Korea.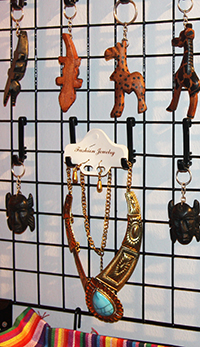 Jewelry and other African craft art pieces imported from Africa at JAK

These days foreigners from many parts of Africa are visiting South Korea. Currently, some 50 Gambians are either visiting or living in South Korea for various reasons. But, I am sure that more Africans will come and visit Korea in the future. We should give them a good image of us and our nation.

Q10: How do you maintain your health? What are your hobbies? How are your family members are doing?

A10: I like all kinds of arts including drawing. I also liked singing and dancing from my early childhood period. I used to enjoy jogging and running.

My older sister Kyong-Won is like mentor. She is mother figure to me. She helps me with a lot of things including my business. Her daughter, I mean, my niece Na-Jung helps me at JAK restaurant as a manager. After all JAK is the African restaurant run by my whole family. We are happy working together.
ST Photo Gallery
Photo News
Embassy Events
Econo People 2005
Fashion Images
New Movies
Travel Images
Nayan Sthankiya's Photo Features New
Abuses of Iraqi Prisoners of War
Academy Awards Photos 2004
Adolf Hitler
Aishwarya Rai-Indian actress
Buddha`s Birthday 2004
Cannes 2004 — 57th Cannes Film Festival
Choi Tae-Ji Photo Gallery
Comfort Woman Picture Gallery
Crown Prince Felipe of Spain
Dokdo Photo Gallery
Erotic Paintings of Hyewon and Danwon
Franz`s Art Exhibition
Gando Photo Gallery
Geisha in Japan
Gwangju Massacre
Jeju Island
Kim Jong-Il and Kim Il-Sung
Koguryo Murals
Korean War (1950-53)
Madonna
Miss Universe 2004
Miss World Contest 2003
Mt. Kumkang or Mt. Diamond New
Natural Beauty of Korea
Rape of Nanjing (Nanjing Massacre)
Rio Carnival 2004
Ronald Reagan`s Life in Pictures
ST Family
Sonia Gandhi and Gandhi Clan
Taj Mahal Photo Gallery
Ukrainian Embassy
World War Two
Photo Gallery of World Newspapers/Media
Times of India
Hindustan Times
SantaBanta.com
Straights Times (Singapore)
Chicago Sun-Times
Moscow Times