Embassy Events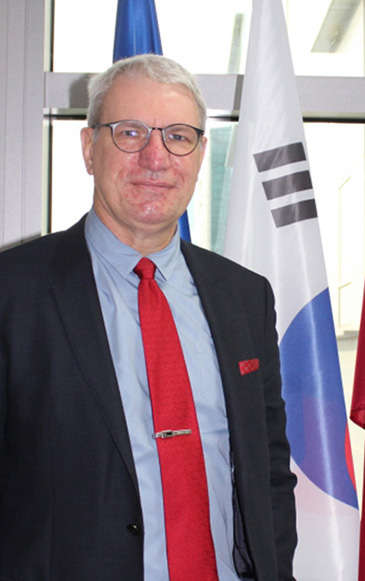 Latvia's National Day Observed in SeoulLatvian Ambassador Peteris Vaivars to Seoul Devoted to Booting Ties with S. Korea

Latvian Ambassador to South Korea Peteris Vaivars and his spouse Mrs. Peteris Vaivars hosted a reception at Grand Hyatt Hotel in Seoul on Nov. 17 (Friday), 2017 on the occasion of the 99th Anniversary of the Proclamation of the Republic of Latvia.

The dinner reception was held at Regency Rooom of the hotel from 6 p.m. till 8:30 p.m. on the day.

Latvia's National Day falls on November 18 as its people celebrate the public holiday. On Nov. 1918 Latvia declared independence from Russia and established the Republic of Latvia in the aftermath of the First World War.

Latvian Ambassador to Seoul Peteris Vaivars became the first ever resident ambassador to South Korea in September 2015 when Latvia opened its embassy in Seoul, following over quarter of a century diplomatic relations between the Baltic republic and the East-Asian nation.

A year earlier in 2014 South Korea established its embassy in Riga, the capital of Latvia.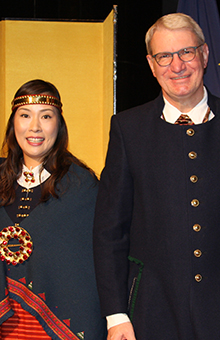 Latvian Ambassador to S. Korea Peteris Vaivars and his spouse Mrs. Peteris Vaivars at the reception at Grand Hyatt Hotel in Seoul on Nov. 17 , 2017 on the occasion of the 99th Anniversary of the Proclamation of the Republic of Latvia.

The Latvian ambassador was presented the letters of credence for his new post in South Korea on Jan. 15, 2016 by ex-President Park Geun-Hye at the presidential office of Chongwadae in Seoul.

Since then the Latvian envoy has been dedicated to promoting the mutual ties between the two nation in nearly all areas including businesses, culture, and tourism.

Prior to his Seoul post Vaivars served in Kuala Lumpur as Latvia's first ambassador to Malaysia.

In particular he servied in Tokyo for many years as Latvian ambassador to Japan, covering Latvia's foreign affairs with South Korea as well.

While he was serving as the Latvian ambassador to Japan he was quite active with his ambassadorial duty. He was also a popular object of the local Japanese news media.

Japan Times once covered the Lativian envoy as the avid marathon runner took part in the Tokyo Marathon in 2011. Vairars helped promote Japanese participation in the Riga Marathon in his home country.

As in other areas of the bilateral ties between Latvia and Japan, the Latvian ambassador tried hard to boot sports connections and exchanges. The lover of Japanese literature served in Japan for six years.

Ambassador Vaivars is at the forefront of imparting Lativian culture to the local Korean people.

At an earlier interview with The Seoul Times the Latvian ambassador mentioned that Latvia is known very little to the South Koreans as Latvians are not well informed about South Korea.

For one thing, the Latvian envoy wants Koreans to know about the origin of Christmas tree decorations, which was originated in Latvia. He said that trees were first used as a Christmas decoration by German merchants in Latvia over half a millennium ago.

He also mentioned about another Latvian custom of wearing jeans. Jeans were first invented by a Lativan designer named Jacob Davis, who emigrated from Latvia to the US at the late 19th century.

The Latvian envoy is so proud of Latvia's culture particularly music. He enumerated the long list of famous Latvian musicians: globally famed conductors Mariss Jansons and Andris Nelsons; violinist Gidons Kremers; and opera singers Elina Garanca, Kristine Opolais, and Marina Rebeka.

Mikhail Baryshnikov, Ballet dancer and movie star; and modern painter Mark Rothko were also Latvian artists yet to be better known to the local Korean folks.

South Korea popular tune "A Million Roses," sung by local songstress Shim Soo-Bong, was actually composed by Latvian musician Raimonds Pauls.

"Latvia is a small nation with a population of only 2 million and its size is around two-thirds the size of South Korea," said the envoy, wishing Latvia expand economic cooperations with South Korea.

Once called "Baltic Tigers" along with two other Baltic republics of Lithuania and Estonia, for their rapid economic growth,
Latvia is fast recovering from economic sluggishness of the recent past.

During his diplomatic career, Peteris Vaivars has served as Latvia' ambassador to a hot of countries, including Ukraine, Romania, Moldova, Serbia, Malaysia, Japan, and South Korea.

He first began his life as a diplomat in 1992 at the Northern Europe Division of the Latvia's Foreign Ministry.

Ambassador Vaivars is the recipient of numerous decorations and awards for his contributions to promoting Lativia's bilateral ties with other countries.

For details or inquiries contact the Embassy of Latvia in Seoul at embassy.seoul@mfa.gov.lv
ST Photo Gallery
Photo News
Embassy Events
Econo People 2005
Fashion Images
New Movies
Travel Images
Nayan Sthankiya's Photo Features New
Abuses of Iraqi Prisoners of War
Academy Awards Photos 2004
Adolf Hitler
Aishwarya Rai-Indian actress
Buddha`s Birthday 2004
Cannes 2004 — 57th Cannes Film Festival
Choi Tae-Ji Photo Gallery
Comfort Woman Picture Gallery
Crown Prince Felipe of Spain
Dokdo Photo Gallery
Erotic Paintings of Hyewon and Danwon
Franz`s Art Exhibition
Gando Photo Gallery
Geisha in Japan
Gwangju Massacre
Jeju Island
Kim Jong-Il and Kim Il-Sung
Koguryo Murals
Korean War (1950-53)
Madonna
Miss Universe 2004
Miss World Contest 2003
Mt. Kumkang or Mt. Diamond New
Natural Beauty of Korea
Rape of Nanjing (Nanjing Massacre)
Rio Carnival 2004
Ronald Reagan`s Life in Pictures
ST Family
Sonia Gandhi and Gandhi Clan
Taj Mahal Photo Gallery
Ukrainian Embassy
World War Two
Photo Gallery of World Newspapers/Media
Times of India
Hindustan Times
SantaBanta.com
Straights Times (Singapore)
Chicago Sun-Times
Moscow Times