Embassy Events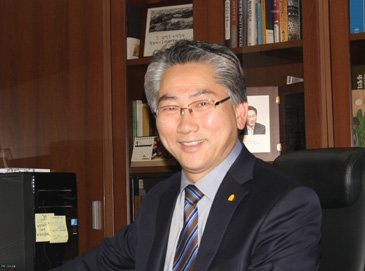 Jongnogu, Center of Tourism for ForeignersMayor Kim Young-Jong Turns Jongnogu into Quality City

City Mayor Kim Young-Jong of Jongnogu in Seoul is doing his best to redesign Jongnogu into one of the most livable cities in the nation. The architect-turned city mayor recently met with The Seoul Times to tell about his Jongnogu city where two of its numerous cultural assets, Changdeok Palace and Jongmyo Shrine, are now listed as UNESCO World Cultural Heritage. The mayor revealed his plans to turn Jongnogu into a quality city well-balanced between past and present. The following are the questions and answers.

Q1: Jongnogu or Jongno Ward has a number of cultural assets including royal palaces of Joseon Dynasty (1392-1910). In view of this as the head Jongno ward office what plans do you have to promote your ward (city) to the world?

A1: Jongnogu boasts of Joseon Dynasty's 500 years of history and culture. We are one of the nation's 13 cities that have lists of UNESCO World Cultural Heritage. We have Changdeok Palace and Jongmyo Shrine for Joseon kings.


Mayor Kim Young-Jong of Jongnogu in Seoul interviewed by The Seoul Times in his office

As of 2014, a total of 13 million foreign tourists visited the nation. More than half of them came to our city of Jongnogu ward to enjoy various cultural relics of our nation.

I have formed Council of Cities for World Cultural Heritage with other city mayors in 2010 and currently 13 cities are participating in the council. We are exerting common efforts to maintain and develop our cultural properties listed as World Cultural Heritage.

In November of 2014 I and six other city mayors attended a World Cultural Heritage conference held in Mexico as part of our efforts to promote our cultural assets to the world.

I believe that our Jongnogu is characterized by the most traditional Korean culture and my role is to maintain our cultural heritage.

In particular, the cores of our traditional culture are Hangeul or Korean alphabet, Hanbok or traditional Korean robe, Korean food, and Hanok or tile-roofed traditional Korean house.

I guess that maintaining these cultural heritage is my mission.

As a former architect, I introduced traditional style to the public buildings within our Jongnogu city. We were the first municipal city in the nation to open our Jongnogu office built in traditional tile-roofed house.

We were also the nation's first city which built Villagers' Center in traditional housing style. A number of other public places were built or reconstructed in the traditional housing style during my tenure.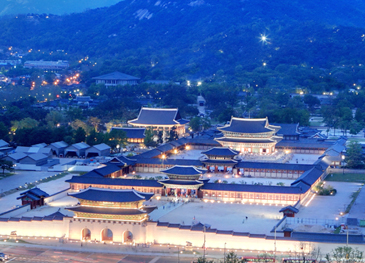 Gyeongbok Palace in Seoul



I received an award for building Cheongwun Hanok (Traditional Korean House) Literature Library at the foot of Mt. Inwang. I do make steadfast efforts to keep and develop our cultural heritage.

I also designated every second Tuesday and Seolnal (Lunar New Year's Day), Chuseok Day (Korean Thanksgiving Day) as the day of wearing our traditonal robe of Hanbok.

This Hanbok Day has been kept very well since its introduction in March 2013. Our staff and employees wear Hanbok on these days as if they are goodwill ambassadors for promoting our traditional culture. We believe that our Jongnogu represents our nation in terms of culture.

This year we are going to open "Sejong Village Korean House" in Gyeongbok Palace to make the visitors go through the advantages of traditional Korean house. Ondol or stone heating system, tea ceremony, and lectures of traditional culture will be parts of the experience they will have.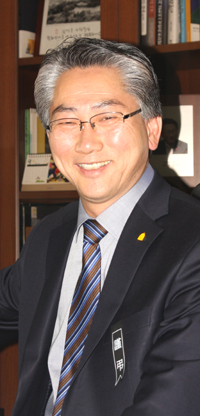 Mayor Kim Young-Jong of Jongnogu

I would like to point out the excellence of our traditional stone heating system or ondol. I highly value ondol heating system. I will make every effort for ondol heating system listed as UNESCO World Cultural Heritage.

Q2: I heard that you served as chairman of Council of Cities for World Cultural Heritage. Could you go into more details on the council?

A2: The council was formed on Nov. 29, 2010 by eight municipal cities and regional governments. They are Jongnogu, Suwon City, Gyeongju City, Andong City, Hwaseong City, Gwanghwa County, Gochang County, and Hapcheon County.

We help each other to maintain and develop World Cultural Heritage, often exchanging information and ideas.

I have been serving as chairman of the council since October of 2012. I have been dealing with politicians for legislation of the special laws needed for keeping our cultural properties.

Q3: Foreign tourists often complain about the lack of proper hotel or guest house accommodations within Jongnogu City. What are your plans for promoting tourism within your city?

A3: Unlike other municipal cities in Seoul, Jongnogu has a number of traditional Korean house of Hanok as a guest house for foreign travellers.

We have a total of 202 Hanok guest houses with the combined rooms of 401. We also have regular 48 guest houses for the low-budget foreign tourists. If I am not mistaken, the number of regular guest houses is on the rise.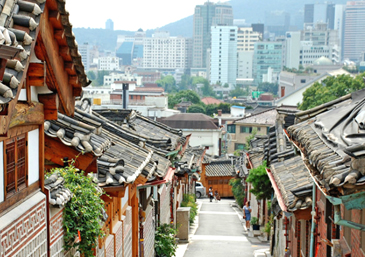 Bukchon Hanok Village in Seoul



For locals and foreigners alike, we have various tour programs including "Hanyang Wall Waling," "Alley Tour with Explanation," and "Culture Tour for the Handicapped with Eye Vision and Hearing Disorder." Hanyang is the old name for Seoul, and was the capital of Joseon Dynasty.

We have produced and secured 33 tour guides for the people with vision and hearing disorder.

Q4: Again, what are some of the things your Jongnogu can be proud of? What makes your city unique or famous among other cities?

A4: Our city used to be the center of capital of Joseon Dynasty which lasted over 500 years. Due to the numerous cultural assets including Gyeongbok Palace, Changdeok Palace, and Jongmyo Shrine located in Jongnogu, our city earned its nickname a "Museum without Roof."

Changdeok Palace and Jongmyo Shrine are listed as UNESCO World Cultural Heritage.



Jongmyo Shrine

We have a lot of interesting places to visit. We have Hanok Village in Bukchon-dong area, traditional street of Insadong or Mary's Alley, and Daehakno or College Road for the young folks to name just a few.

Many government offices, public institutions, and financial institutions. I believe that Jongnogu is the center of nation's politics, economy, and culture. Plus, we are the municipal city visited by most number of foreign tourists in the nation.

Located in the center of Seoul, Jongnogu boasts of relatively clean air blowing from the nearby mountains.

In sum, our Jongnogu is the city well-balanced between traditional and modern culture, and the city of culture and tourism representing entire nation.

Q5: On what occasion did you decide to become a city mayor for Jongnogu? What are your future plans?

A5: I have been residing in Jongnogu for over 25 years. I first moved to Dongsung-dong near College Road in 1990.

I am proud of being a Jongnogu resident in this city in the center of Seoul and the nation as well. It is surrounded by beautiful mountains in the north. It boasts of 621 years of history and culture.

I had long worked as an architect. I wanted to turn this city into a quality city. I wanted to make this Jongnogu one of the most livable cities around the nation by utilizing my expertise as an architect.

That is the reason I wanted to become mayor of this city.

I envision Jongnogu as a city well balanced and harmonized between past, present, and the future. The most livable city in the nation.

With 1,200 of my staff in one mind I would like to design Jongrogu into a quality city for all its residents.

Q6: Do you have anything in common between the work of an architect and the role of city mayor? How do you compare city mayor's work with that of an architect?

A6: The role of good architect is to instill liveliness into the city, enriching the city.

In the field of architecture, even a slightest mistake is not allowed. I guess that the same is true with the work of city mayor.

As a former architect I tried to add professional architect's touch to the construction of numerous projects including literature house, art gallery, and library.

"Yun Dong-Ju Literature House" in Cheongwun-dong is one such case. For that and for other projects I was given a number of awards.

Q7: You seem to be interested in history and historial projects. Could you comment on that?

A7: As aforementioned, Jongnogu was the capital of Joseon Dynasty and for this reason there are a countless number of cultural assets scattered around our city.

Also there lived many literary figures including late poet Yun Dong-Ju, and world famous video artist, the late Paik Nam-June, and legendary Park No-Soo, making our Jongnogu as the symbol of Korean literature and art.

Some of my works include efforts to reconstruct "Yun Dong-Ju Literature House," "Park No-Soo Museum," and "Cheongwun Literature Library."

Q8: You are the recipient of a number of awards and citations for your feats as an architect and as a Jongnogu mayor. Could you explain about this?

A8: It is not me alone but our Jongnogu city under my administration that received a myriads of top awards for excellence in public service.

As a second-term city mayor I will do my utmost to make Jongnogu one of the world famous municipal cities where all the residents can live safely and comfortably.
ST Photo Gallery
Photo News
Embassy Events
Econo People 2005
Fashion Images
New Movies
Travel Images
Nayan Sthankiya's Photo Features New
Abuses of Iraqi Prisoners of War
Academy Awards Photos 2004
Adolf Hitler
Aishwarya Rai-Indian actress
Buddha`s Birthday 2004
Cannes 2004 — 57th Cannes Film Festival
Choi Tae-Ji Photo Gallery
Comfort Woman Picture Gallery
Crown Prince Felipe of Spain
Dokdo Photo Gallery
Erotic Paintings of Hyewon and Danwon
Franz`s Art Exhibition
Gando Photo Gallery
Geisha in Japan
Gwangju Massacre
Jeju Island
Kim Jong-Il and Kim Il-Sung
Koguryo Murals
Korean War (1950-53)
Madonna
Miss Universe 2004
Miss World Contest 2003
Mt. Kumkang or Mt. Diamond New
Natural Beauty of Korea
Rape of Nanjing (Nanjing Massacre)
Rio Carnival 2004
Ronald Reagan`s Life in Pictures
ST Family
Sonia Gandhi and Gandhi Clan
Taj Mahal Photo Gallery
Ukrainian Embassy
World War Two
Photo Gallery of World Newspapers/Media
Times of India
Hindustan Times
SantaBanta.com
Straights Times (Singapore)
Chicago Sun-Times
Moscow Times