Embassy Events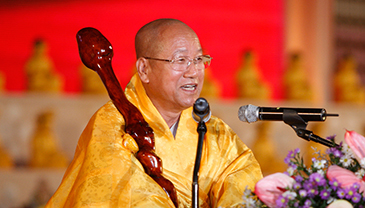 Korea's Zen Master Ven. Jinje to Save Souls of Corona, War Victims in Largest Buddhist EventProceeds to Be Donated to Ukraine War Victims

A total of 10,000 important personalities including scores of top foreign envoys from all walks of life will participate in the "International Dharma Assembly for Lost Souls."

In particular the current Ukrainian Ambassador to South Korea Dmytro Ponomarenko will be invited to the event.

Ven. Hobeop said that the proceeds from the ceremony will be donated to the victims of the war between Ukraine and Russia.

The world's largest soul saving Buddhist event will be held at 1 pm at Amir Park by the side of the Korea National Marine Museum in the Yeongdo-gu area of Busan, the nation's second largest city and largest port city.

Some 100 Buddhist monks from Southeast Asian countries will also be invited for the common chanting with the local monks.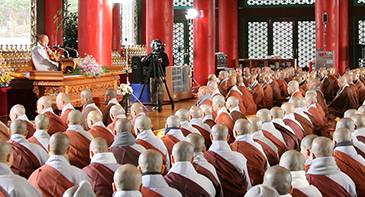 Seon (àÉ: Zen) master Ven. Jinje (òØð·) delivers Seon message at Donghwasa Temple in Daegu, South Korea.



Also an estimated 1,000-member Buddhist choir will take part in the largest Buddhist's ceremony in the world. Thousands of memorial tablets will be made and donated to the coronavirus victims and Ukraine-Russia war dead, according to Ven. Hobeop.

"Globally more than 15 million people fell victim to the coronavirus and a growing number of people are being killed by the war between Ukraine and Russia," Ven. Jinje was quoted as saying. "I want to lead the souls of these victims in the right way"

The Buddhist ceremony will be interpreted simultaneously for the international participants. The nation's major Buddhist leaders from other sectors of Korean Buddhism will also be invited to the event.

Meanwhile Ven. Jinje urges all the leaders of the world for ways of compromise and peace by overcoming all global conflicts.

For this event the metropolitan city of Busan donated 70 million won, its municipal Yeongdo City also supported the event with 20 million won. Ven. Jinje alone donated 100 million won to the event.

Who Is Ven. Jinje (òØð·)? South Korean Seon (Zen) Grand Master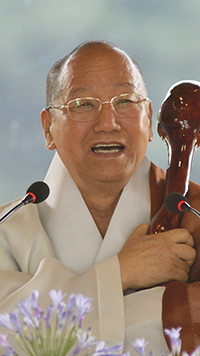 S. Korean Seon (àÉ: Zen) master Ven. Jinje (òØð·)

Jinje served the 13th and 14th Jongjeong (ðóïá), the highest spritual leader of South Korea's Chogye Order, predominantly the largest order in the nation.

Each term was five years. He was elected jeongjeong in 2012 by a senior council officer 26 leaders of Joegye Order back then.

The 88-year-old leader of the Korean Buddhism lives at Haewoonjeongsa (ú­ê£ïñÞì) Temple in Busan. He has been promoting Korean Buddhism throughout the world.

He was born at Samdong-myeon, Namhae -gun, South Gyeongsang Province, the beautiful beach area of the nation's southernmost coast on Jan 12, 1935, when the whole Korean Peninsula was under Japanese colonial rule.

It was at age 20 when he left his house to become a Buddhist monk. At 34 he enlightened himself, becoming Korea's most representative Seon master.

In the past he led massive Buddhist events in such major US cities as New York City and Washington DC.

For details or questions call Ven. Hobeop at 82-10-3873-6128 or leave Email at chson73@naver.com
ST Photo Gallery
Photo News
Embassy Events
Econo People 2005
Fashion Images
New Movies
Travel Images
Nayan Sthankiya's Photo Features New
Abuses of Iraqi Prisoners of War
Academy Awards Photos 2004
Adolf Hitler
Aishwarya Rai-Indian actress
Buddha`s Birthday 2004
Cannes 2004 — 57th Cannes Film Festival
Choi Tae-Ji Photo Gallery
Comfort Woman Picture Gallery
Crown Prince Felipe of Spain
Dokdo Photo Gallery
Erotic Paintings of Hyewon and Danwon
Franz`s Art Exhibition
Gando Photo Gallery
Geisha in Japan
Gwangju Massacre
Jeju Island
Kim Jong-Il and Kim Il-Sung
Koguryo Murals
Korean War (1950-53)
Madonna
Miss Universe 2004
Miss World Contest 2003
Mt. Kumkang or Mt. Diamond New
Natural Beauty of Korea
Rape of Nanjing (Nanjing Massacre)
Rio Carnival 2004
Ronald Reagan`s Life in Pictures
ST Family
Sonia Gandhi and Gandhi Clan
Taj Mahal Photo Gallery
Ukrainian Embassy
World War Two
Photo Gallery of World Newspapers/Media
Times of India
Hindustan Times
SantaBanta.com
Straights Times (Singapore)
Chicago Sun-Times
Moscow Times