Embassy Events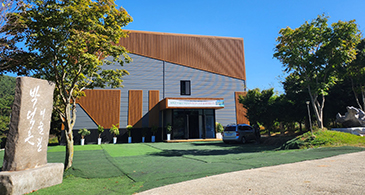 Prof. Park Deok-Eun Multi-Faceted ArtistPart Deok-Eun Art Museum Opens in Sunchang

A little over a month ago, a major art gallery was dedicated in honor of a famous senior artist Park Deok-Eun in the picturesque place of Gurim-myeon, Sunchang-gun County in South Korea's North Gyeongsang Province.

Park Deok-Eun Art Museum or Gallery was opened on the Park of Architecture in the county on Sept. 23, 2023 as a venue of art in the nation's far-off southern province of Jeolla, which is called a "province of art and culture."

Dr. Park Duck-Eun is a multi-faceted artist. He is university professor, poet, essayist, novelist, oil painter, and promoter of arts and literature based in the beautiful provincial town of Sunchang.

The opening ceremony on the day attracted hundreds of well-wishers including artists, provincial government officials, local journalists as well as neighbors.

mong the guests were dignitary participants including Sunchang County Chief Choi Young-Il, Sunchang Council Chairman Shin Jung-E, and many county heads from nearby counties.

The congratulatory speech from Mayor Kang Gi-Jung of Gwangju Metropolitan City was read at the ceremony.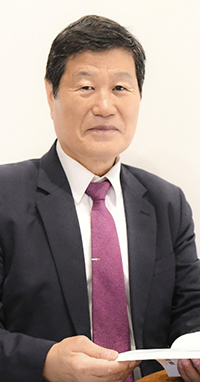 Dr. Park Duck-Eun is a multi-faceted artist. He is university professor, poet, essayist, novelist, oil painter, and promoter of arts and literature.

Park Deok-Eun, who received a PhD in Korean Literature from Jeonnam National University, had served for decades as a professor.

So far Prof. Park has produced a myriad of poems, essays, novels, and liberal books. In particular he is known as the prominent artist in the area. The Seoul Times has recently interviewed the master artist for his world of art and literature. The following is the full text of the questionnaire.

Q1: First, congratulations on opening your Park Deok-Eun Art Museum. When and why did you open the Park Deok-Eun Museum?

A1: It was established on Sept. 23, 2023 on the Park of Architecture in Gurim-myon in Sunchang-gun, North Jeolla Province. It came into being with some 600 pieces of my oil painting art collection. I donated to the park. The gallery was named after me. I taught the Korean literature at Chonnam National University for over three decades. So my oil paintings are constantly on show at this art gallery. The gallery also provides a healing space for tourists and visitors in this area particularly Mt. Gangcheon.

Q2: What is the scale of your art museum or art gallery? What plans do you have to make it popular cultural venue in the southern part of the nation?

A2: Park Deok-Eun Art Museum is three-story building built on the site 100,000 square pyeongs. One pyeong is 3.3 square meters. Its building space is 160 square pyeongs. Adjacent to the gallery are Mt. Gangcheon and Gangcheon Buddhist Temple. So, the gallery is a good cultural and healing venue for the visitors to the places. The upper part of the majestic river of Seomjingang is not far away from there.

Q3: What is your plan to use the exhibition areas of the gallery?

A3: Exhibition area on its second floor is being used to display 600 pieces of my works 365 days of the year. Exhibitions change season by season. We plan to use the first floor to exhibit the new works of art of up and rising artists.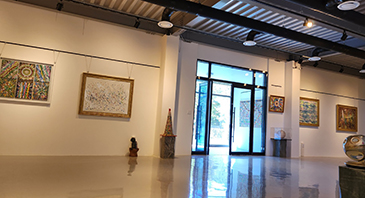 Part Deok-Eun Art Museum in S. Korea's Sunchang-gun County



Q4: Will your art museum be used for other cultural purposes?

A4: Park Deok-Eun Museum will be used for a variety of other cultural activities as well. For instance we can host a contest of essay or poem writing.

Q5: What are the requirements for the Korean fine art to be globally recognized? What role can your art museum play for it?

A5: First is for the individual artists to build up their ability. Second is to promote them to the world. And we need to host exhibitions frequently. Last but not least we need to activate auctioning of their collections. Anyhow we are going to host as many exhibitions as possible here at this gallery. Park Deok-Eun Art Museum wants to contribute to the globalization of the Korean fine art.

Q6: You are the professor and oil painting artist. You are not only a scholar, but also a poet, an essayist, and a novelist. Now you are the director of the art museum. You have played a number of roles so far in your life. What are your plans for the remainder of your life?


Part Deok-Eun Art Museum

A6: From now on I would like to spend the rest of my life, mixing fine art with literature, and mixing fine art with healing. I also want to mix literature with creative activities. In particular I would like to do some activities to make our neighbors fell happy. I want to turn this gallery into the place for the neighbors.

Q7: As a scholar how many theses have you written? Also as a writer how many poems or novels have you authored?

A7: I wrote one dissertation for my PhD degree. The theses I have thus far written amount to 387. Over the last 36 years I have published them in a monthly journal. I have written 27 poems, four essay books, seven novels, 12 literature theory books, 11 children's literature books, 59 liberal books, five books on health, and translated five foreign books into Korean. The books I authored or translated so far reach 125.

Q8: What made you play so many roles? What are the secrets for your health, which made all these possible? What are your hobbies?

A8: For exercise I walk and do a little other physical exercise. Before each meal I make sure I drink water of cold and hot combination. I try not to eat snacks in between official meals. I am a total abstainer. I never touch any alcohol or cigarettes. When alone I paint, my biggest hobby.

Q9: Did you inherit your artistic talents? Are there artists in your family?

A9: I believe that I received my artistic talent from my mother's side. My younger brother is artist. My daughter is an artist too. My nephew is an architect.

Q10: Could you introduce your family? How many children do you have? What do they do for a living?

A10: I have one daughter and one son. My daughter is an art teacher at high school. And her husband is a dentist. My son is a company worker in Seoul. And his wife works as a real estate specialist. The End
ST Photo Gallery
Photo News
Embassy Events
Econo People 2005
Fashion Images
New Movies
Travel Images
Nayan Sthankiya's Photo Features New
Abuses of Iraqi Prisoners of War
Academy Awards Photos 2004
Adolf Hitler
Aishwarya Rai-Indian actress
Buddha`s Birthday 2004
Cannes 2004 — 57th Cannes Film Festival
Choi Tae-Ji Photo Gallery
Comfort Woman Picture Gallery
Crown Prince Felipe of Spain
Dokdo Photo Gallery
Erotic Paintings of Hyewon and Danwon
Franz`s Art Exhibition
Gando Photo Gallery
Geisha in Japan
Gwangju Massacre
Jeju Island
Kim Jong-Il and Kim Il-Sung
Koguryo Murals
Korean War (1950-53)
Madonna
Miss Universe 2004
Miss World Contest 2003
Mt. Kumkang or Mt. Diamond New
Natural Beauty of Korea
Rape of Nanjing (Nanjing Massacre)
Rio Carnival 2004
Ronald Reagan`s Life in Pictures
ST Family
Sonia Gandhi and Gandhi Clan
Taj Mahal Photo Gallery
Ukrainian Embassy
World War Two
Photo Gallery of World Newspapers/Media
Times of India
Hindustan Times
SantaBanta.com
Straights Times (Singapore)
Chicago Sun-Times
Moscow Times