Embassy Events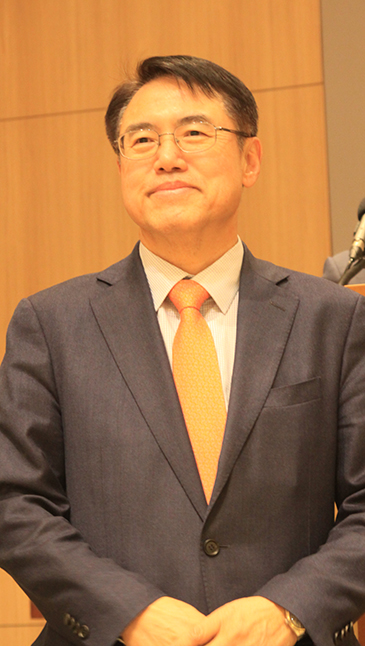 Tenya Enterprise Brings African Arts to SeoulKenyan CEO Everlyne Mwango Nyambegera at Its Helm

Tenya Enterprise, an African arts and craft shop in Seoul, brings to Korea the hidden treasures of African art including the African wood carvings in various forms of land animals and birds.

Set up in 2009 by Everlyne Mwango Nyambegera, a Kenyan businesswoman, Tenya Enterprise is offering to the local Koreans a large collection of exotic artifacts and hand-carved items gathered from all over Africa.

The African arts shop is not limited to the sales of the African arts and crafts. But it also sells African animal skins and horns, various kinds of ornaments and decorative objects.

Madame Everlyne Mwango Nyambegera, shortly known as Madame Eva, takes pride in her belief that she is the first African personality to bring African arts and artifacts all the way to Korea.


Madame Everlyne Mwango Nyambegera, shortly known as Madame Eva, CEO of Tenya Enterprise, African arts shop
in Seoul, Korea

She says that nowadays more and more Koreans want to feel the essence of the remote African arts away from China, Japan, and European arts.

"Africa has a rich tradition of arts and crafts," Madame Eva says. "My role is to bring them to the local Koreans"

She came to South Korea some 20 years ago. It was in 2009 that she opened the African arts shop Tenya Enterprise at the urging of then Kenyan Ambassador to Seoul Ngovi Kitau.

Back then the Kenyan envoy was of great help to Madame Eva in promoting and publicizing the African arts among the Koreans.

Situated at Dongmyo Flee Market near Dongdaemun in Seoul, Tenya Enterprise is filled with hundreds of African arts and crafts in a variety of wood carvings including brass and leather art works.

Tenya Enterprise is also full of various sculptures, paintings, pottery, ceremonial and religious headgear, and African dresses.

The following is the full text of questions and answers.

Q1: What are the African artifacts or ornaments, jewelry, and other objects of the art you are selling in your shop?

A1: Nowadays many consumers are moving toward a preference for handmade jewelry vs mass-produced jewelry. Handmade jewelry is becoming so popular. There are many different jewelry making techniques in use today and we try to explore the different types from Africa traditional artists.

Necklaces, chokers, earrings, nose rings, finger rings, bracelets, anklets, earrings and ear cuffs are some styles that have a plethora of design options available within them. Handmade jewelry designers have created a basket of traditional as well as modish styles that women can choose from.

Handmade gemstone jewelry is generally picked out by women for formal occasions such as parties, religious festivities and other family function.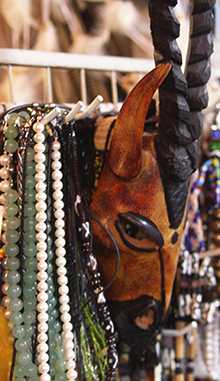 Tenya Enterprise, African arts shop
in Seoul, Korea

The African craft shop products supplying quality African decor, including AA Grade Zebra Rugs, Cow Hides, Impala, Springbok, Kudu, Wildebeest, Gemsbok, Warthog, Nyala, Jackal and other super fine game skin hides.

We are registered in Kenya Wildlife under Kenya Sports and Culture that allow us to obtain by-products such as horns, skulls and skins and sell them to the international market.

We do have quite a number of leather, wood, probably made from giraffe, gazelle, antelopes or rhinoceros skin, stretched with purple velvet and decorated with punched metal sheet ornaments, back and handle stretched with red.

There are many African, tribal, ceremonial or other decorative masks.

Artifacts such as: usahbtis, celts, etruscans, coreform glass, bronzes, Egyptian, Roman, and Greek artifacts, faience pieces, amulets, jades, terra cotta figures, byzantine, olmec, and mezcala figures, pre-Columbian, Mayan, and Aztec artifacts.

Q2:What kind of people are your main customers?

A2: We normally sell local to the Koreans and other passerby that includes foreigners, people who wishes to offer as presents to their loved ones. They are not just Koreans but any other passerby.

Q3: How popular among the Koreans is the African art?

A3: Since they are African cultural art handmade, they do attracts many Koreans We believe that most the Korean have never experienced African cultural arts and crafts and therefore seeing or coming across this products, give a sense of understanding somehow about the African artists. Some of them, we would wish to access the African traditional songs, music and stories. Every story has a moral to teach people, such as goodwill prevail over evil.

It should be understood that the aspects of Sub-Saharan music were transferred to the new world by enslaved Sub-Saharan Africans and can be seen in its influence on music forms as samba, jazz, rhythm and blues, rock and roll, salas, and rap, music, involving strings, drums, horns, and very little poly-rhythms.


Tenya Enterprise, African arts shop
in Seoul, Korea

Q4: Can you tell us about your Songtan shop?

A4: The Songtan Shop was set up for the purpose of expanding the business in Korea, to earn more in order help the need in Africa.

Kenya in particular. There is a shop but currently is being managed by my Tanzanian partner.

Q5: When and on what occasion did you set up the African art shop?

A5: The present shop in Korea was set up around 2009. The shop was set up some 15 years back at Euljiro 3-ga. Before setting up the art shop, I had in mind to earn more and thereafter as time goes by, begin to offer support the poor country men in that whenever some is purchases a product, he or she will be helping a small business owner to pursue their passion when you buy handmade jewelry. Some of these businesses are as small as a stay-at-home mom working from home and selling items online. Most are small business owners who are active in their local community beyond just the economy. They also often source from other small business suppliers for their materials and stones. Even if you're not in their local community and purchase online, you're supporting the small business backbone of our economy.

Q6: Ae yuo helping needy and poor people particularly on African Continent?

A6: Yes I do support poor, Kenya in particular. It has been a while since my friends and I came up with the idea to support poor. Most the Africa poor people, actually need almost everything in their daily life. From the food, clothing and shelter to school fees, medical care and counselling. I therefore do offer clothes, food and some medical support, mostly to the handicapped.

Q7: Can you compare African culture with Korean culture?

A7: Yes we can compare to some extend but Africa is divided into a great number of ethnic cultures, and religion represents a variety of social facets of the various cultures in Africa.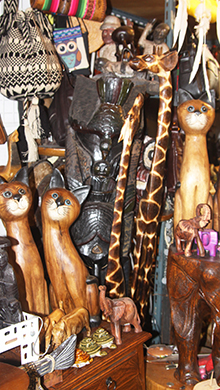 Tenya Enterprise, African arts shop
in Seoul, Korea

The most interesting thing about African culture, tradition and customary is that it all varies from country to country and Tribe to Tribes. Therefore, culture in Africa is varied and manifold, consisting of a mixture of countries with various tribes that each have their own unique characteristic from the continent of Africa. It is a product of the diverse populations that today inhabit the continent of Africa and the African diaspora. African culture is expressed in its arts and crafts, folklore and religion, clothing, cuisine, music and languages. Expressions of culture are abundant within Africa, with large amounts of cultural diversity.

African tradition is expressed through many different art forms, such as music, dance, art, sculpture and beadwork. These traditions are deeply ingrained into the whole African culture. Many African languages are "tone languages," meaning that pitch level determines meaning.

There are the 16 most interesting traditions in Africa.

Wealth is measured by cows (Kenya)

In the Pokot tribe in Kenya, wealth is measured by how many cows a family has. Most Pokot people are either "corn people" or "cow people"— meaning that's what they cultivate on their land — but all Pokot people measure their wealth by cows. The number of women a man can marry is determined by how many cows he has.

Living with animals (Kenya / Tanzania)

The Maasai people of Kenya and Tanzania have strict policies against killing wild animals. They keep cattle and livestock, but leave wild animals untouched. In fact, each clan is associated with a specific wild species, which they often keep close to them and treat as a clan member.

Spitting your blessings (Kenya / Tanzania)

Members of the Maasai tribe in Kenya and Tanzania spit as a way of blessing. Men spit on newborns and say they are bad in the belief that if they praise a baby, it will be cursed. Maasai warriors will also spit in their hands before shaking the hand of an elder.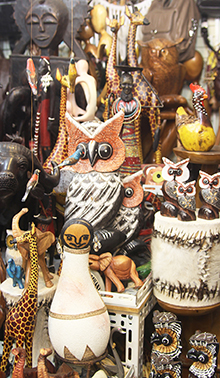 Tenya Enterprise, African arts shop
in Seoul, Korea

Bull jumping (Ethiopia)

In order to prove their manhood in the Ethiopian Hamer tribe, young boys must run, jump and land on the back of a bull before then attempting to run across the backs of several bulls. They do this multiple times, and usually in the nude.

Khweta Ceremony (Southern Africa)

This Southern African ceremony is practiced by several tribes and is how a young boy proves his manhood. When they are of age, boys are sent to spend several days or weeks in a circumcision lodge during winter, where they're put through rigorous and often dangerous tests and rituals such as continuous dancing until exhaustion, and circumcision.

Putting a price on the bride (Southern Africa)

Lobola is an ancient and controversial Southern African tradition in which the families of a bride and groom negotiate how much the groom must pay for the bride. All negotiations must be done in writing — never by phone or in person. The two families cannot even speak until negotiations are complete.

The groom wears a veil (Algeria)

The Ahaggaren Tuaregs of Algeria are part of a larger group of Berber-speaking Tuaregs. In their culture, the men wear veils almost all the time. However, they can take their veils off when inside family camps or while traveling.

Women have their own houses (Ivory Coast)

In the Gio tribe in Ivory Coast, each wife has her own small house that she lives in with her children until they are old enough to move out. The children never live with their fathers.

Women can't grieve elders (Congo)

In the Southwestern Congo, the Suku tribe honors ancestors and elders, when they die, with a ceremony held in the clearing of a forest. Here, gifts and offerings are brought, but outsiders and all women are forbidden to attend.

Sons are raised by their uncles (Angola)

When male children reach age five or six in the Northern Angolan Songo tribe, they are sent to live with their uncles on their mother's side. This is because chiefs inherit their position through matrilineal lines.

Red sun block (Namibia)

The Himba people of Northern Namibia cover their skin with a mixture of butter fat and ochre — a natural earth pigment containing iron oxide — to protect themselves from the sun. For that reason, the Himba people often appear to have a red skin tone.

Hunter-gatherers (Botswana)

The San People of Botswana, also called Bushmen, are hunter gatherers who were evicted from their ancestral land in the 1950s. They were forbidden to hunt and forced to apply for permits to enter reserves. The San switched to farming but they continued to gather herbs for
medication and plants for food. Deprived of the ability to hunt, San numbers dwindled.

A thorough cleansing (Malawi)

The Chewa people are one of the largest indigenous groups of Malawi but live throughout Central and Southern Africa. When a person dies, one family tradition involves taking the body into the woods, slitting the throat, and forcing water through the body to cleanse it. They do this by squeezing the corpse's stomach until what comes out the rear end runs clear.

Lip stretching (South Sudan)

When a girl becomes a teenager in the Surma tribe of Southern Sudan, she begins the process of lip stretching. The girl has her bottom teeth removed to make space for a lip plate, which is increased in size annually.

Kidnapping your bride (Sudan)

In the Sudanese Latuka tribe, when a man wants to marry a woman, he kidnaps her. Elderly members of his family go and ask the girl's father for her hand in marriage, and if dad agrees, he beats the suitor as a sign of his acceptance of the union. If the father disagrees, however, the man might forcefully marry the woman anyway.

Beating the suitor (West Africa)

The Fulani tribe live in many countries in West Africa and follow a tradition called Sharo. Sharo happens when two young men want to marry the same woman. To compete for her hand, they beat one another up. The men must suppress signs of pain and the one who takes the beating without showing signs of pain can take the wife.

Q8: What are your future plans?

A8: Like all business people, expanding the business and earning more are very important.

My uttermost desire is to expand the business, through which I would be able to offer more support to the needy. Should there be any likeminded people, we could collaborate and strategize more to help the needy people, especially women and children, the orphans and most vulnerable groups in society, heightened risk: individuals living alone, mainly the elderly, and victims of domestic abuse confined to an unsafe homes. Cultural factors limit women's rights and engagement in the workplace.

Religion still has key role to play in determining gender norms in many cultures and fundamentalist views across the spectrum of religions threaten or deny women's rights, including rights related to sex and sexualities, and to mobility and employment, early and forced marriage remains a key issue and an important factor limiting young women's engagement in both education and economic activities.

Africa is a very bountiful and colorful country in terms of art and crafts. Furthermore, some of the most ancient art objects and jewelry were found in some African caves. Explore the rock art, handicrafts and modern day art that Africa has to offer.

Africans are talented when it comes to arts and crafts, having a wide range of styles: Afro-French wirework, beadwork, wood carvings, tribal designs, stained glass, world-class pottery and bronze casting, clay and stone sculpting, basket weaving, making paper from elephant dung and ornaments from waste products.

More handicrafts range from embroidered tableware to candle-holders, key rings and beadwork, which appeal to both locals and tourists. Such can be found at many street corners and pavements, shops, markets and even online, where merchants and organizations expand their business.

For most Westerners, the continent of Africa represents early man, exciting cave paintings, tribe people, and abundant wildlife in an undisturbed natural landscape. Wild cats and animals weighing in by the tons thrive there like nowhere else on the planet. It is in celebration of these beautiful creatures that we offer our African animals ornament collection.

Most African ornaments can be personalized, elephant, Lion as well as chimps, leopard ornaments, and many others. Kids are particularly thrilled with the hippo ornaments, many are ready to make a beautiful Christmas gift.
ST Photo Gallery
Photo News
Embassy Events
Econo People 2005
Fashion Images
New Movies
Travel Images
Nayan Sthankiya's Photo Features New
Abuses of Iraqi Prisoners of War
Academy Awards Photos 2004
Adolf Hitler
Aishwarya Rai-Indian actress
Buddha`s Birthday 2004
Cannes 2004 — 57th Cannes Film Festival
Choi Tae-Ji Photo Gallery
Comfort Woman Picture Gallery
Crown Prince Felipe of Spain
Dokdo Photo Gallery
Erotic Paintings of Hyewon and Danwon
Franz`s Art Exhibition
Gando Photo Gallery
Geisha in Japan
Gwangju Massacre
Jeju Island
Kim Jong-Il and Kim Il-Sung
Koguryo Murals
Korean War (1950-53)
Madonna
Miss Universe 2004
Miss World Contest 2003
Mt. Kumkang or Mt. Diamond New
Natural Beauty of Korea
Rape of Nanjing (Nanjing Massacre)
Rio Carnival 2004
Ronald Reagan`s Life in Pictures
ST Family
Sonia Gandhi and Gandhi Clan
Taj Mahal Photo Gallery
Ukrainian Embassy
World War Two
Photo Gallery of World Newspapers/Media
Times of India
Hindustan Times
SantaBanta.com
Straights Times (Singapore)
Chicago Sun-Times
Moscow Times