Comfort Woman Picture Gallery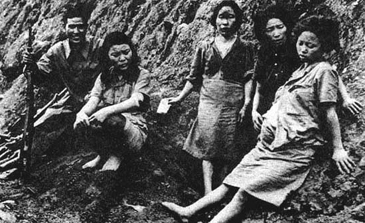 Japan Recruits Comfort Women during Pacific WarImperial Japanese Army first introduced "a system of military sexual slavery" or euphemistically "comfort woman system" for its soldiers in 1932. By 1938 the system was spanned out to the entire military, which conquered and ruled much part of Asia during WWII. "The Rape of Nanking" incident led to the heinous system.

When Japanese soldiers raped Chinese women in Nanking and anti-Japanese feeling heightened Japanese military decided to set up "comfort places" or sex facilities within its military units as a way of relieving its soldiers of their pent up desire.

In 1941 when Pacific War broke out and the Japan's war front was expanded they needed more comfort women. With the help of Japanese governor general in Seoul, Japanese military officers were on a hunt for comfort women in the entire area of the Korean Peninsula.

The number of Korean victims was estimated at between 80,000 and 200,000. Japanese government denied that they ran any such system until 1991 when a brave woman named Kim Hak-Soon came out and revealed the Japanese atrocities to the world. Japanese Governor General's Office in Seoul incinerated all related documents before the closing of WWII.

A 1994 report shows that there are still hundreds of former sex slaves alive. Most of the are women of Asian countries occupied by Japan before and during the Pacific War. Among them are 160 South Koreans, 131 North Koreans, 100 Filipinos, 50 Taiwanese, 8 Indonesians, and two Malays. These numbers are only for those who revealed their real name.

There are much more victims living out there who do not want to identify their tragic past. Even after Korea's liberation from Japan in 1945, many of the Korean victims chose to live in the Asian country where they were forced to serve sex to Japanese soldiers.
ST Photo Gallery
Photo News
Embassy Events
Econo People 2005
Fashion Images
New Movies
Travel Images
Nayan Sthankiya's Photo Features New
Abuses of Iraqi Prisoners of War
Academy Awards Photos 2004
Adolf Hitler
Aishwarya Rai-Indian actress
Buddha`s Birthday 2004
Cannes 2004 — 57th Cannes Film Festival
Choi Tae-Ji Photo Gallery
Comfort Woman Picture Gallery
Crown Prince Felipe of Spain
Dokdo Photo Gallery
Erotic Paintings of Hyewon and Danwon
Franz`s Art Exhibition
Gando Photo Gallery
Geisha in Japan
Gwangju Massacre
Jeju Island
Kim Jong-Il and Kim Il-Sung
Koguryo Murals
Korean War (1950-53)
Madonna
Miss Universe 2004
Miss World Contest 2003
Mt. Kumkang or Mt. Diamond New
Natural Beauty of Korea
Rape of Nanjing (Nanjing Massacre)
Rio Carnival 2004
Ronald Reagan`s Life in Pictures
ST Family
Sonia Gandhi and Gandhi Clan
Taj Mahal Photo Gallery
Ukrainian Embassy
World War Two
Photo Gallery of World Newspapers/Media
Times of India
Hindustan Times
SantaBanta.com
Straights Times (Singapore)
Chicago Sun-Times
Moscow Times