Comfort Woman Picture Gallery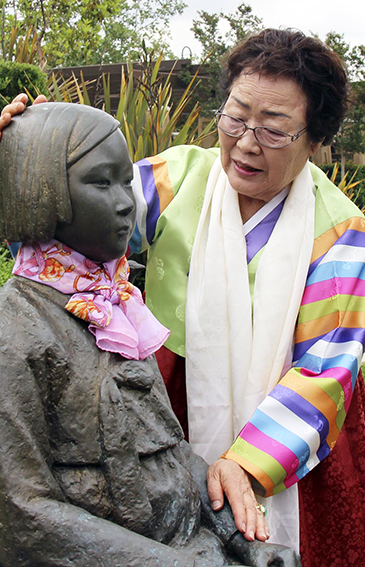 90-Year-Old Ex-Sex Slave Lee Yong-SooThe former comfort woman Lee Yong-Soo, 90, poses with a statue a young girl dedicated to the victims of Japanese military sexual slavery in a public library's park in Glendale, California, in the US on May 6, 2015.

The bronze statue is a replica of "Statue of a Girl (comfort woman)" set up in front of the Japanese Embassy in Seoul.

She was on the victims of the Japan's war-time sexual slavery forced to serve the Japanese soldiers during the Pacific War.

The 90-year-old survivor of the sexual slavery was taken by the Japanese to become a comfort woman at the age of 16 in 1944.

She suffered from violences and tortures by the Japanese while she was forced to work as a sex slave for the Japanese soldiers in Japanese occupied areas of China.

She was able to come back to South Korean in 1945 when Korea was liberated from Japanese colonial yoke at the end of the Pacific War.

She came out to the public in 1992 to reveal her sufferings as a ex-sex slave. Since then she has been very active in improving human rights for the women.

In 2016 the resident of Daegu was honored with a human rights award called "Aesan Human Rights Award" for her contribution to the improvement of the human rights for the women.
ST Photo Gallery
Photo News
Embassy Events
Econo People 2005
Fashion Images
New Movies
Travel Images
Nayan Sthankiya's Photo Features New
Abuses of Iraqi Prisoners of War
Academy Awards Photos 2004
Adolf Hitler
Aishwarya Rai-Indian actress
Buddha`s Birthday 2004
Cannes 2004 — 57th Cannes Film Festival
Choi Tae-Ji Photo Gallery
Comfort Woman Picture Gallery
Crown Prince Felipe of Spain
Dokdo Photo Gallery
Erotic Paintings of Hyewon and Danwon
Franz`s Art Exhibition
Gando Photo Gallery
Geisha in Japan
Gwangju Massacre
Jeju Island
Kim Jong-Il and Kim Il-Sung
Koguryo Murals
Korean War (1950-53)
Madonna
Miss Universe 2004
Miss World Contest 2003
Mt. Kumkang or Mt. Diamond New
Natural Beauty of Korea
Rape of Nanjing (Nanjing Massacre)
Rio Carnival 2004
Ronald Reagan`s Life in Pictures
ST Family
Sonia Gandhi and Gandhi Clan
Taj Mahal Photo Gallery
Ukrainian Embassy
World War Two
Photo Gallery of World Newspapers/Media
Times of India
Hindustan Times
SantaBanta.com
Straights Times (Singapore)
Chicago Sun-Times
Moscow Times