Comfort Woman Picture Gallery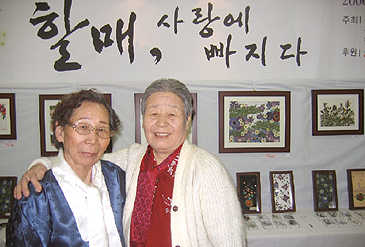 Short Story of Two Former Sex SlavesTwo South Korea's former comfort women pose for camera during their photo exhibition in Seoul in December of 2006.

The 79-year-old Shim Soon-Ak (left) and 85-year-old Shim Dal-Yeon were among the 140 living ex-sex slaves for soldiers of the Imperial Japanese Army.

As many as 200,000 Korean women were coerced or forced to serve as sex slaves for the Japanese soldiers during the Pacific War.

In Shim Soon-Ak's case, she went to Manchuria for money and was sold to the Japanese Army there. She is extremely worried that her own children would know about her past. Her only wish is to have a wedding ceremony in traditional way.

Shim Dal-Yeon was kidnapped by Japanese soldiers near her village in Chilgok County in North Gyeongsang Province. At age 12 she was put on the military truck and was taken to the Japanese military in Taiwan where she was forced to have sex with Japanese soldiers.

She was so brutally abused by the soldiers that she was not able to speak later. He only wish is to find out her older sister who was also taken with her to the Japanese military.
ST Photo Gallery
Photo News
Embassy Events
Econo People 2005
Fashion Images
New Movies
Travel Images
Nayan Sthankiya's Photo Features New
Abuses of Iraqi Prisoners of War
Academy Awards Photos 2004
Adolf Hitler
Aishwarya Rai-Indian actress
Buddha`s Birthday 2004
Cannes 2004 — 57th Cannes Film Festival
Choi Tae-Ji Photo Gallery
Comfort Woman Picture Gallery
Crown Prince Felipe of Spain
Dokdo Photo Gallery
Erotic Paintings of Hyewon and Danwon
Franz`s Art Exhibition
Gando Photo Gallery
Geisha in Japan
Gwangju Massacre
Jeju Island
Kim Jong-Il and Kim Il-Sung
Koguryo Murals
Korean War (1950-53)
Madonna
Miss Universe 2004
Miss World Contest 2003
Mt. Kumkang or Mt. Diamond New
Natural Beauty of Korea
Rape of Nanjing (Nanjing Massacre)
Rio Carnival 2004
Ronald Reagan`s Life in Pictures
ST Family
Sonia Gandhi and Gandhi Clan
Taj Mahal Photo Gallery
Ukrainian Embassy
World War Two
Photo Gallery of World Newspapers/Media
Times of India
Hindustan Times
SantaBanta.com
Straights Times (Singapore)
Chicago Sun-Times
Moscow Times