Adolf Hitler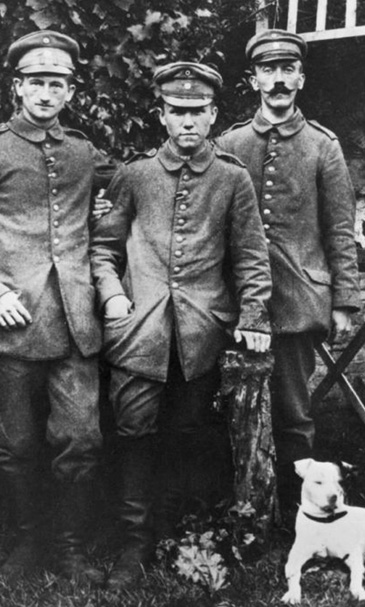 "Adolf Hitler was a 'cowardly pig'" -- WWI fellow soldiersCorporal Adolf Hitler (right) pictuerd with two other soldiers during his stay in a military hospital.

Adolf Hitler was labelled a "cowardly pig" by fellow First World War soldiers in his regiment, newly discovered archives have disclosed.

Letters and diaries revealed for the first time in a new book portray the future Nazi leader as a loner, a wimp, and an object of ridicule.

The documents published in, 'Hitler's First War', overturn the commonly held view that he was popular within the 16th Bavarian Reserve Infantry Regiment.

The book dispels the myth that Hitler was at the heart of a close-knit regiment with many veterans going on to form the core of the National Socialist Party.

Dr Thomas Weber, a University of Aberdeen historian, who wrote the book, also discloses that Hitler's role during the Great War was exaggerated by Nazi propaganda.

It overturns the popular belief that Hitler's brutal experiences during the First World Ward radicalised him and led him to unleash his hatred on the rest of the world.

"The myth of Hitler as a brave soldier and the camaraderie of the trenches was used by the Nazi Party from the beginning in order to extend its appeal beyond the far Right," Dr Weber said.

"They went to great lengths to protect this idea but the reality was a gulf between the majority of soldiers and Hitler."

"The commonly held view that Hitler had the dangerous job of running between trenches to deliver messages simply does not stand up," Dr Weber said.

"His role was to deliver messages between regimental HQ and, for instance, battalions or the HQs of other units, and not companies as has been stated, so he would have been between three and five kilometres behind the front line."

It was Hitler's distance from the front line that led one soldier to describe him as "a rear area pig", or Etappenschwein in German.

Dr Weber argues that the Iron Cross was awarded to Hitler because he was known by officers who could make recommendations and not because of any heroics in battle.

The book reveals that only two per cent of veterans from Hitler's regiment had joined the Nazi Party by 1933 and that anti-semitic views was largely absent among the men.

Hitler only ever attended one reunion of veterans from his regiment where he was "cold shouldered", the book claims.
ST Photo Gallery
Photo News
Embassy Events
Econo People 2005
Fashion Images
New Movies
Travel Images
Nayan Sthankiya's Photo Features New
Abuses of Iraqi Prisoners of War
Academy Awards Photos 2004
Adolf Hitler
Aishwarya Rai-Indian actress
Buddha`s Birthday 2004
Cannes 2004 — 57th Cannes Film Festival
Choi Tae-Ji Photo Gallery
Comfort Woman Picture Gallery
Crown Prince Felipe of Spain
Dokdo Photo Gallery
Erotic Paintings of Hyewon and Danwon
Franz`s Art Exhibition
Gando Photo Gallery
Geisha in Japan
Gwangju Massacre
Jeju Island
Kim Jong-Il and Kim Il-Sung
Koguryo Murals
Korean War (1950-53)
Madonna
Miss Universe 2004
Miss World Contest 2003
Mt. Kumkang or Mt. Diamond New
Natural Beauty of Korea
Rape of Nanjing (Nanjing Massacre)
Rio Carnival 2004
Ronald Reagan`s Life in Pictures
ST Family
Sonia Gandhi and Gandhi Clan
Taj Mahal Photo Gallery
Ukrainian Embassy
World War Two
Photo Gallery of World Newspapers/Media
Times of India
Hindustan Times
SantaBanta.com
Straights Times (Singapore)
Chicago Sun-Times
Moscow Times