Adolf Hitler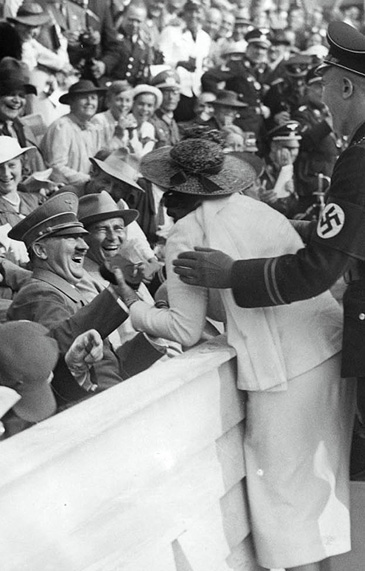 A woman jumps over a barrier to kiss Adolf Hitler in 1936.Shortly before the finish of the men's 1500 meters free-style swimming, a woman in a red hat, whom Black Guards repeatedly prevented from photographing Hitler at close range, broke the cordon during the excitement of the finish of the race, shook Hitler by the hand and then kissed him, while the crowd of 20,000 rocked with laughter. Hitler, who was in high spirits, joined in the fun, clapping his hands as the woman returned triumphantly to her seat.

The woman, Carla De Vries, was a 40-year old American traveling in Europe. Her brother-in-law was quoted in that "She wanted to meet Hitler but I'm surprised at the way she did it". Her rationale from her own words? "Why? I simply embraced him because he appeared so friendly and gracious.

People sitting near Der Fuehrer's box began to cheer and applaud so loudly that I ran back to my husband and told him we had better leave. I don't know why I did it. Certainly I hadn't planned such a thing. It's just that I'm a woman of impulses, I guess. It happened when I went down to take Hitler's picture with my small movie camera.

Hitler was leaning forward, smiling, and he seemed so friendly that I just stepped up and asked for his autograph, which he wrote on my swimming ticket. He kept on smiling and so I kissed him".
ST Photo Gallery
Photo News
Embassy Events
Econo People 2005
Fashion Images
New Movies
Travel Images
Nayan Sthankiya's Photo Features New
Abuses of Iraqi Prisoners of War
Academy Awards Photos 2004
Adolf Hitler
Aishwarya Rai-Indian actress
Buddha`s Birthday 2004
Cannes 2004 — 57th Cannes Film Festival
Choi Tae-Ji Photo Gallery
Comfort Woman Picture Gallery
Crown Prince Felipe of Spain
Dokdo Photo Gallery
Erotic Paintings of Hyewon and Danwon
Franz`s Art Exhibition
Gando Photo Gallery
Geisha in Japan
Gwangju Massacre
Jeju Island
Kim Jong-Il and Kim Il-Sung
Koguryo Murals
Korean War (1950-53)
Madonna
Miss Universe 2004
Miss World Contest 2003
Mt. Kumkang or Mt. Diamond New
Natural Beauty of Korea
Rape of Nanjing (Nanjing Massacre)
Rio Carnival 2004
Ronald Reagan`s Life in Pictures
ST Family
Sonia Gandhi and Gandhi Clan
Taj Mahal Photo Gallery
Ukrainian Embassy
World War Two
Photo Gallery of World Newspapers/Media
Times of India
Hindustan Times
SantaBanta.com
Straights Times (Singapore)
Chicago Sun-Times
Moscow Times