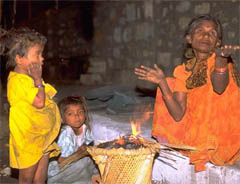 Many of the poor Indians live on the streets with their families.
One important cause for the debacle of the Bharatiya Janata Party-led coalition in the recent Indian general elections was their slogan. India Shining. At least, some analysts feel that this alienated the country's teeming millions of poor people.For, India shines, but for the haves. Some 57 years after India won its well-deserved independence from British colonial yoke, there are still about 700 million men, women and children who merely exist, not even live, let alone shine. A good half of this 700 million survive on a dollar a day, the dollar being shared by a whole family of sometimes seven or eight people. The other half does not even have this: it goes to bed hungry every night.The remaining 300 million people out of the nation's total population of a billion-plus are termed middle-class, which is divided into lower, middle and upper. India's real rich perhaps do not even add up to 40 or 50 million.Sadly, the successive governments in India have looked invariably at and worked for the two upper segments of the middle class and the rich. Most development in this country has centered on these sections.Let me give you two examples. For decades, the governments paid lip service to rural telecommunication. Although telephone users in the cities had to cough up considerably high charges (our international calls cost probably the highest in the world) for the development of rural telephone services, it did not quite happen. What really did was a vast improvement in urban areas, where telephone systems have got dramatically better.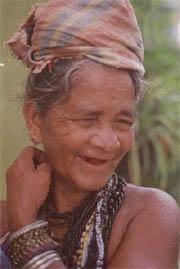 A Halakki woman in India's Karnataka
Another instance of neglecting India's poor has been transport. While little attempt was made to modernize public conveyance, a lot of money and energy have been sunk into promoting private vehicles. There are at least 10 car companies manufacturing in India with most of them catering to the top classes, rich and the upper middle, clogging, in the process, the nation's already congested motorways.The cities have a pathetically low percentage of road space each: New Delhi has 22 percent, Bombay 18 (maybe a little more now), Madras somewhere around 15 and Calcutta just 8 percent!With choked thoroughfares making travel within cities a nightmare, and the public transport (mostly buses) groaning under the exploding population, hundreds of thousands of men and women, especially the young, have switched over to two wheelers, causing a further strain on motorways and adding to the rising fuel costs.These are but two classic instances of lopsided development. In the case of road communication, the administration's priority should have been improving public transport, and certainly not on facilitating car companies to set shop!A recent report by John Pilger in the New Statesman in the U.K. takes a devastating look at the way India's millions have been betrayed. It says: "poverty has never been eradicated in India."The Late Indira Gandhi's slogan of "Garibi Hatao" (Remove Poverty") never happened. What has is a "strain of extreme capitalism, designed in England in the early 19th century and known today as neoliberalism. With the defeat of the Congress and the rise of the BJP in the 1990s, India's divided society was shorn of its paternalism and licensed by the International Monetary Fund.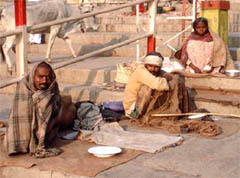 Street people in Inida
The barriers that had protected Indian industry and manufacturing were demolished ... Coca-Cola entered, along with Pizza Hut and Microsoft and Rupert Murdoch. 'Shining India' was invented by the illusionists of its beneficiaries ..."Abhijit Sen in his study, "Poverty and Inequality in India: getting closer to truth," says that "the Indian poor actually increased and that, for them, the 1990s were a lost decade."In 2002, those in absolute poverty made up more than a third of the population, or 364 million people.The result: inadequate nutrition is widespread with half of Indian children being clinically undernourished and almost 40 percent of adults suffering from chronic energy deficiency.But what about India's impressive growth rate of 6 percent? This, we are told, is all about capital, not labor, about liberated profits, not people.Worse, the so-called economic boom in the country has merely translated itself into modern living amenities, which do not even cover essentials like a car for transport or even a mobile telephone instrument.The United Nations reveals that India spends less than 1 percent of its gross domestic product on health, and in the health services available to the people, ranks 171st out of 175 countries.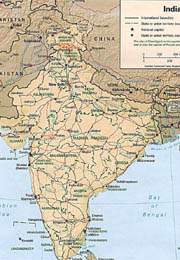 While a handful of private hospitals for the rich flourish, the vast majority of India's population have to do with an apology for medical treatment: terrible public/government hospitals, where death appears to be an easier solution. The condition is as gloomy in the field of education, where most Indians have no choice but to depend on abysmally low standards of teaching. Often schools do not even have roofs, and classes are conducted under trees. Teachers, barring in very few elite institutions, are ill-paid, and hence not committed.Another sphere of utter disregard has been agriculture. About 70 percent of India's population depend on land, but recent suicides among farmers run into thousands. Most of them, ridden by debts, see the futility of living and end their lives. And this has been happening in the some of the most fertile regions of the nation.When the BJP government tried to win the polls riding on the "India Shining" slogan, the country's teeming millions rose in frustration and anger to reject it.Will the new administration under Manmohan Singh of the Congress-led front change its tracks ? May not, despite what India's first Prime Minister, a Congressman, said in 1936: "Congress' outlook is essentially petty bourgeois ... It is not likely to succeed."Unfortunately, India's sheen is illusory. At least, largely so.