Asia-Pacific
S. Korea Interested in Hydro Project in Nepal
By Anil Giri
Kathmandu Correspondent

Kathmandu — South Korea has expressed interest for investment in another power project in Nepal. South Korea, which had invested in Chameliya Hydropower Project, has shown interests for investment in Upper Modi A Project.All pre-project development studies on the 42 MW project have been carried out by Nepal Electricity Authority (NEA). Ambassador of South Korea to Nepal Hong Sang Mog showed his country´s interest for investment in the project during a recent meeting with Energy Minister Dr Prakash Sharan Mahat . He urged the minister to give South Korea the responsibility of development and construction of one attractive power project.South Korea wants to provide financial assistance for one attractive project in Nepal, minister Mahat said.According to officials at Ministry of Energy, Nepal, Korean investors have also visited the Upper Modi A site several times. "We have requested South Korean government to invest in two hydro projects," said minister Mahat. Nepal had requested Korea to invest in the 600 MW Aandhi Khola Hydropower Project which is a reservoir based project. But as it is a mega project, South Korean government has been reluctant for investment in it. The Korean government has hinted that it can finance the project in Nepal through financial institutions in Korea. Once it decides to provide the aid, it will select the contractor of its own choice. According to technical officers at NEA, the estimated investment need for Upper Modi A is Rs 6 billion ( US $ 80.3 million).Korea has already invested $45 million for the under-construction Chameliya project.

Related Articles
S. Korea Give US$5 Mil. for Improving Maternal ...
S. Korean Women Cricket Team in Nepal for ...
5 Climbers including 2 S. Koreans Feared Dead ...
S. Korean Doctor Urges Nepali to Differentiate ...
Political Parties, Police Most Corrupt ...
S. Korean Film Festival Begins in Kathmandu
Bhutan King Ties Knot with Commoner
19 Persons Died in Nepal Plane Crash
Himalaya Quake Kills 65 in Nepal, India, China
Maoists Leader Bhattarai Elected as Nepal PM
15,298 Nepalis Pass Korean Language Exam
Nepal's Prime Minister Steps Down
Prestigious Manhae Awards Goes to Anuradha
S. Korea to Provide 5 Million US$ for Customs ...
Nepal Denies Passport to Third Gender
57,457 Vying for Korean Language Test in Nepal
Nepal Makes Significant Progress on Women's ...
Clinton Honors Nepali Anti-Trafficking Survivor
Nepal Endorses Key UN Accords on Terrorism
Nepal Declares Landmine-Free Country
8-Ton Waste Brought Down from Mt. Everest
WHO Report: Cell Phone Could Cause Cancer
Frequent Strikes Cripples Life across Nepal
"Super Sherpa" Breaks World Record, Climbs Mt. ...
Over 50,000 Korea Job Aspirants Apply for KLT
Minister Stabbed in Nepal, Scores Detained
7 KOICA Volunteers Arrive in Kathmandu
More Jobs for Nepali in S. Korea
Nepali Brothers Set Longest Continuous ...
US Alerts to Travel Nepal
Survey Begins at Birth Place of Buddha in ...
4 South Koreans Successfully Climb Mt. Ama ...
Nepal's Peace Process Largely Deadlock
N. Korean Spy Granted Asylum in S. Korea
2 S. Korans to Be Ousted from Katmandu for ...
Korean Alphinists to Set Up Health Care Center ...
HIV Hit Can Have a Job in Korea
Nepal Launched Calling Card in S. Korea
36,000 Nepali Attended for Korean language Test
Plane Crashes in Nepal, 14 Aboard Killed
Nepal Seeks More Job Seats with S. Korea
S. Korean Firm in Algeria Offers Job to Nepalis
Korean Rotary Helps Cancer Hospital in Nepal
Nepal to Host Gay Parade on Aug. 25
KOICA to Donate Food Aid to Nepal
Korean Company Likey to Bag Multi Million ...
Nepali-Korea Education Cooperations on Rise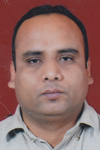 Anil Giri serves as Kathmandu Correspondent for The Seoul Times.As a journalist he has worked for such news media as Annapurna Post, BBC, and Himalayan Times for years. He finished his both undergrad Economics degree and his MA degree in English Literature at Tribhuvan Univ., Kathmandu. He also holds a diploma in Development Journalism from prestigious Indian Institute of Mass Communication-IIMC, New Delhi, India.