Asia-Pacific
Korean Company Likey to Bag Multi Million Dollars Project in Nepal
By Anil Giri
Kathmandu Correspondent

KATHMANDU — Land Mark Worldwide (LMW) Company of South Korea has stipulated a four-lane fast track road to connect with the capital as a prerequisite for the development of the second international airport (SIA) at Nijgadh of Bara district.While submitting a first preliminary report on a detailed feasibility study for SIA, LMW insisted on a fast track to be completed before building an international airport at Nijgadh. Lee Sang Ho, president and CEO of the South Korean company, had met officials at the Ministry of Tourism and Civil Aviation (MoTCA) recently in Kathmandu and held discussions with experts of the Civil Aviation Authority of Nepal (CAAN).According to Kishore Thapa, Secretary at MoTCA, a 10-member team led by Lee had presented the options and concept for the runway, its terminal, and services at the to-be-built SIA. The cabinet had decided to award the SIA feasibility study to LMW, which will bear the estimated cost of $3.551 million."Following inspection of the SIA site the LMW team was very happy and said they found the site far better than they had expected", Thapa said.After completion of a detailed feasibility study, the SIA project would be developed under the Built Own Operate and Transfer (BOOT) concept, Thapa said. According to sources, LMW has verbally assured the government that if it gets to develop the SIA it would make it a transit point for most international airlines.The Korean company is expected to submit a final report on feasibility after seven more months.The SIA construction will be taken as a milestone for Nepal´s infrastructure development if it is completed on time. Other partner company representatives were also in the 10-member Korean team.Ranjan Krishna Aryal, joint secretary at MoTCA who is coordinator of a committee on SIA at the ministry, said LMW disclosed a plan for developing a single runway airport in seven years and a double runway in another seven years. The estimated construction cost has not been disclosed but it is expected to be billions of dollars. SIA is going to be designed and constructed as per passenger growth projections.According to the source, LMW envisages developing an airport city along with the SIA. The SIA project will occupy an area of 80 sq km out of which 40 sq km will be for the airport and a town will be built on the rest of the land. LMW is a global company based in South Korea and famous for development, management, and financing of big projects.Tribhuvan International Airport, the only international airport in Nepal, has only one runway and single engine aircraft and big aircraft operate from the same runway.According to the source, LMW entered into agreements last week with local consulting companies to carry out the feasibility study for the SIA. Depending on data collected by these companies, LMW will do the detailed feasibility study.

Related Articles
S. Korea Give US$5 Mil. for Improving Maternal ...
S. Korean Women Cricket Team in Nepal for ...
5 Climbers including 2 S. Koreans Feared Dead ...
S. Korean Doctor Urges Nepali to Differentiate ...
Political Parties, Police Most Corrupt ...
S. Korean Film Festival Begins in Kathmandu
Bhutan King Ties Knot with Commoner
19 Persons Died in Nepal Plane Crash
Himalaya Quake Kills 65 in Nepal, India, China
Maoists Leader Bhattarai Elected as Nepal PM
15,298 Nepalis Pass Korean Language Exam
Nepal's Prime Minister Steps Down
Prestigious Manhae Awards Goes to Anuradha
S. Korea to Provide 5 Million US$ for Customs ...
Nepal Denies Passport to Third Gender
57,457 Vying for Korean Language Test in Nepal
Nepal Makes Significant Progress on Women's ...
Clinton Honors Nepali Anti-Trafficking Survivor
Nepal Endorses Key UN Accords on Terrorism
Nepal Declares Landmine-Free Country
8-Ton Waste Brought Down from Mt. Everest
WHO Report: Cell Phone Could Cause Cancer
Frequent Strikes Cripples Life across Nepal
"Super Sherpa" Breaks World Record, Climbs Mt. ...
Over 50,000 Korea Job Aspirants Apply for KLT
Minister Stabbed in Nepal, Scores Detained
7 KOICA Volunteers Arrive in Kathmandu
More Jobs for Nepali in S. Korea
Nepali Brothers Set Longest Continuous ...
US Alerts to Travel Nepal
Survey Begins at Birth Place of Buddha in ...
4 South Koreans Successfully Climb Mt. Ama ...
Nepal's Peace Process Largely Deadlock
N. Korean Spy Granted Asylum in S. Korea
2 S. Korans to Be Ousted from Katmandu for ...
Korean Alphinists to Set Up Health Care Center ...
HIV Hit Can Have a Job in Korea
Nepal Launched Calling Card in S. Korea
36,000 Nepali Attended for Korean language Test
Plane Crashes in Nepal, 14 Aboard Killed
Nepal Seeks More Job Seats with S. Korea
S. Korean Firm in Algeria Offers Job to Nepalis
Korean Rotary Helps Cancer Hospital in Nepal
Nepal to Host Gay Parade on Aug. 25
KOICA to Donate Food Aid to Nepal
S. Korea Interested in Hydro Project in Nepal
Nepali-Korea Education Cooperations on Rise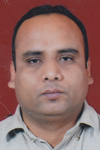 Anil Giri serves as Kathmandu Correspondent for The Seoul Times.As a journalist he has worked for such news media as Annapurna Post, BBC, and Himalayan Times for years. He finished his both undergrad Economics degree and his MA degree in English Literature at Tribhuvan Univ., Kathmandu. He also holds a diploma in Development Journalism from prestigious Indian Institute of Mass Communication-IIMC, New Delhi, India.