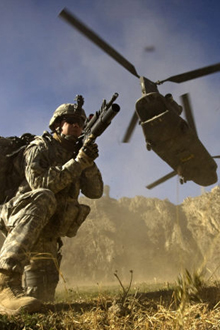 US Plans to Withdraw Its Troops But Leave Behind Toxic Mess

The American military presence in Afghanistan consists of fleets of aircraft, helicopters, armored vehicles, weapons, equipment, troops and facilities. Since 2001, they have generated millions of kilograms of hazardous, toxic and radioactive wastes. The Kabul Press asks the simple question:
"What have the Americans done with all that waste?"The answer is chilling in that virtually all of it appears to have been buried, burned or secretly disposed of into the air, soil, groundwater and surface waters of Afghanistan. While the Americans may begin to withdraw next year, the toxic chemicals they leave behind will continue to pollute for centuries. Any abandoned radioactive waste may stain the Afghan countryside for thousands of years. Afghanistan has been described in the past as the graveyard of foreign armies. Today, Afghanistan has a different title:
"Afghanistan is the toxic dumping ground for foreign armies."
The (U.S.) Air Force Times ran an editorial on March 1, 2010, that read: "Stamp Out Burn Pits" We reprint here the first half of that editorial:
"A growing number of military medical professionals believe burn pits are causing a wave of respiratory and other illnesses among troops returning from Iraq and Afghanistan. Found on almost all U.S. bases in the war zones, these open-air trash sites operate 24 hours a day, incinerating trash of all forms — including plastic bottles, paint, petroleum products, unexploded ordinance, hazardous materials, even amputated limbs and medical waste. Their smoke plumes belch dioxin, carbon monoxide and other toxins skyward, producing a toxic fog that hangs over living and working areas. Yet while the Air Force fact sheet flatly states that burn pits "can be harmful to human health and environment and should only be used until more suitable disposal capabilities are established," the Pentagon line is that burn pits have "no known long-term health effects."On April 12, 2010, the Richmond Times-Dispatch carried an article by David Zucchino who investigated the American burn pits in Iraq. He interviewed Army Sgt. 1st Class Francis Jaeger who hauled military waste to the Balad burn pit which was being operated by a civilian contractor for the Pentagon. Jaeger told Zucchino:
"We were told to burn everything - electronics, bloody gauze, the medics' biohazard bags, surgical gloves, cardboard. It all went up in smoke."The Pentagon now admits to operating 84 "official" burn pits in Iraq and Afghanistan. The number of unofficial burn pits is not known. The Pentagon claims that it is phasing out its burn pits in favor of incinerators and that 27 incinerators are currently operating in Iraq and Afghanistan with 82 more to be added in the near future.According to a website called the "Burn Pits Action Center," hundreds of American veterans who came in contact with burn pit smoke have been diagnosed with cancer, neurological diseases, cardiovascular disease, breathing and sleeping problems and various skin rashes. In 2009, they filed more than 30 lawsuits in Federal courts across the United States, naming Kellogg Brown and Root (KBR), and its former parent company Halliburton. These companies were named because of their involvement in the LOGCAP (Logistics Civil Augmentation Program) contracts for Iraq and Afghanistan. Several KBR entities either managed or assisted in the management of the American military's waste in both countries and allegedly operated some or all of the burn pits. Additional lawsuits were filed in 2010, including one in Federal District Court in New Jersey.The lawsuits reveal that the Pentagon has ignored American and international environmental laws and the results appear to be the widespread release of hazardous pollutants into the air, soil, surface water and groundwater across Afghanistan. This is a persistent problem that continues today. Unlike Saudi Arabia which insisted that American forces cleanup their pollution after the war to oust Iraq from Kuwait in 1991, or the Government of Canada which likewise insisted on a strict cleanup of American bases on its soil, the Government of Afghanistan has been unable to force the Americans and their allies to repair all the environmental damage that they have caused and continue to cause. Afghanistan does not want to wind up like Vietnam. While American ground combat units withdrew from South Vietnam in 1972, neither Vietnam nor its people have recovered from the long term environmental damage and mutagenic effects that American military operations and their exotic chemicals caused.