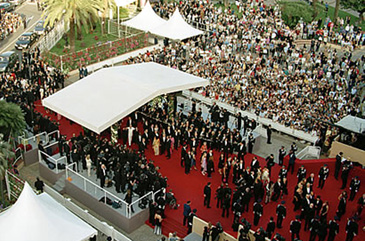 Cannes Film Festival And Selections
As the only Indian work at the Cannes Film Festival that runs from May 12 to 23, Vikramaditya Motwane's "Udaan" certainly holds a special place. It may not be part of the top Competition slot, but having been chosen after a long Indian hiatus at what is widely believed to be the Queen of Movie Festivals, "Udaan" deserves to be applauded. More so, because it is Motwane's first feature.
Produced by the newly established Anurag Kashyap Films, "Udaan" is three-hours long and is the story of a boy as he grows up in an emotional vacuum. Having studied in a boarding school, he has not seen his father for eight years, and the movie – starring television actors Ronit Roy and Ram Kapoor and debutant Rajat Barmecha – traces their relationship as it struggles to take off.
Motwane's work, as part of the second most important section at Cannes, "A Certain Regard", will screen along with the creations of heavyweights, such as Jean-Luc Godard ("Socialisme"), the auteur credited with the French New Wave, 102-year-old Manoel de Oliveira ("The Strange Case of Angelica") and Lodge Kerrigan ("Rebecca H") among others.
More significantly, "Udaan's" selection reaffirms that there is a cinema in India which goes beyond Bollywood and its formulaic song-dance-fight sequences. And, there are people who believe in the immense potential of such cinema.Before "Udaan" was chosen, Motwane's claim to fame was his association with Sanjay Leela Bhansali. The young director had helped Bhansali with "Hum Dil De Chuke Sanam" and "Devdas" (screened in Cannes in 2002 as part of the Special section).
Motwane wrote the "Udaan" script in 2003, but could not find money to film it. Some found the script hollow without conviction, some others lambasted the concept. Till, he met Anurag Kashyap, who agreed to finance the movie and write the dialogue. The shooting took just 42 days.
The inclusion of an Indian film after seven years (Murali Nair's "Arimpara" in A Certain Regard in 2003 was the last) also coincides with a strong Asian presence at Cannes this year, its 63rd edition. And Korean helmers are leading the brigade. South Korea's Im Sang-soo's "The Housemaid" – a remake of a 1960s classic thriller with the same title – and Lee Chang-dong's "Poetry" will compete for the Festival's most cherished Palm d'Or. Lee's "Secret Sunshine" ran for the prize in 2007, and clinched the best actress award for Jeon Do-yeon.
Also in Competition are Japan's Takeshi Kitano with his "Outrage", where the auteur returns to the gangster genre, and Thai newcomer Apichatpong Weerasethakul with "Uncle Boonmee Who Can Recall His Past Lives". It tackles a profound theme like karma and reincarnation.
In the A Certain Regard, Korean director Hong Sang-soo's romance, "Ha Ha Ha", Japanese auteur Hideo Nakata's English work, "Chatroom" and Chinese helmer Xiaoshuai Wang's "Chongqing Blues" will be featured along with movies from other parts of the world.
As usual, Cannes has gone in for a mix of the known and the unknown faces. We have Woody Allen ("You Will Meet A Tall Dark Stranger" with India's Freida Pinto in it), Oliver Stone ("Wall Street: Money Never Sleeps") and Stephen Frears ("Tamara Drewe") to add a dash of zing to Out of Competition cinema. I am told Allen did not want his work to compete, and the Festival agreed.Giants like Mike Leigh ("Another Year"), Alejandro González Iñárritu ("Biutiful"), Abbas Kiarostami ("Certified Copy") and Bertrand Tavernier ("The Princess of Montpensier") will enrich the Competition. So too will Nikita Mikhalkov ("Burnt By The Sun 2") and Rachid Bouchareb ("Outside the Law" — and whose "Days of Glory" was a highly tipped Cannes contender in 2006, where the eventual winner was Ken Loach's "The Wind That Shakes the Barley") These are big festival names that do not go wrong easily.With Leigh, Frears and Ridley Scott (his "Robin Hood" will open the Festival) at Cannes, this seems like a great year for the Brits as well, and it is no secret that they have had a lean period in recent times. Though not as terrible as India's!
The Americans must be disappointed: only one Competition entry from Doug Liman. His "Fair game" is strong on cast, and includes the irresistible Sean Penn (who chaired the Cannes jury in 2008), Anthony Hopkins and Naomi Watts. She also stars in Allen's work.Now for Cannes' surprises, which are no longer a surprise, for they have become an annual ritual: Xavier Beauvois' "Of Gods and Men", Daniele Luchetti's "La nostra vita", Mahamat-Saleh Haroun's "A Screaming Man" , Mathieu Amalric's "Tournee" and Sergey Loznitsa's "You, My Joy".
Incidentally, some more films will snuggle up the Red Carpet before the projectors signal the start of the Festival.
Gautaman Bhaskaran will be at Cannes for the 20th time this year.