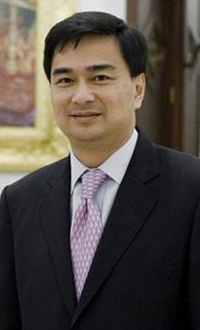 Thai Prime Minister Abhisit Vejjajiva, after meeting then-U.S. President George W. Bush in Bangkok, five months before Abhisit became prime minister in December 2008.
Copyright by Richard S. Ehrlich

BANGKOK, Thailand — After smearing human blood on the gates of official buildings and the prime minister's home, and using the red fluid to paint graffiti on banners, Red Shirt protesters rejected on Monday (March 29, 2010) the government's offer to hold elections in nine months, and instead demanded Parliament be dissolved in 15 days.The protesters' use of red flags and revolutionary rhetoric demanding a "class war" is causing anxiety among targeted "aristocrats" — but it has amused Russian diplomats."In the Russian Embassy they told the joke that the difference between the [Bolshevik] Reds in Russia and the Red Shirts in Bangkok, is that the Russians won their [1917] revolution," said one Russian who asked not to be identified."I am not saying 'no' to Parliament's dissolution. I am just saying, 'not today or within 15 days'," Prime Minister Abhisit Vejjajiva told the Red Shirts' delegation during a second day of nationwide televised negotiations on Monday (March 29)."We will continue to fight, in a non-violent way, for Parliament's dissolution," said Nattawut Saikua, one of three Red Shirts who attended the talks on Sunday and Monday (March 28 and March 29).Up to 100,000 Red Shirts — officially known as the United Front for Democracy Against Dictatorship — have swarmed Bangkok during anti-government protests which began on March 12.Dressed mostly in red, they created a sprawling outdoor camp in a main intersection downtown, where they erected a stage and attract vendors to care for them.Many of the Red Shirts display sun-burnt faces and rural ways which differ from Bangkok's often pampered residents, including people in the capital who use ubiquitous "skin whitening" beauty products to impress upon others that they do not work outdoors, and are wealthier than most rural folk.During the mostly peaceful protests, about a dozen unexplained grenade blasts have rocked Bangkok, resulting in a handful of injuries.The small explosions hit mostly banks, military bases, ministry buildings and other sites linked to the government and army.Bangkok, however, remains tranquil, capitalist-friendly and hedonistic, welcoming international investors and tourists.The Red Shirts claim Mr. Abhisit is a "puppet" of Thailand's U.S.-trained, politicized military.This Buddhist-majority Southeast Asian nation is a staunch non-NATO U.S. ally.Mr. Abhisit has been working and sleeping in a military base since the protests began, apparently fearing the Red Shirts, but also giving the appearance that he is under the sway of the army.Army Commander-in-Chief Gen. Anupong Paojinda helped the military stage a bloodless coup in September 2006, which toppled a popular elected prime minister, Thaksin Shinawatra.The coup's aftermath haunts Thailand today, with frequent fears of another pending putsch.Gen. Anupong and his colleagues are perceived as hoping Mr. Abhisit can cling to power until September, when Gen. Anupong is due to retire and promote his favored replacement, current Deputy Army Commander-in-Chief Gen. Prayuth Chanocha, and other officers.The military apparently worries that if an election is held before September — and the Red Shirts's preferred candidates win as expected — the new government will absolve Mr. Thaksin and cancel the military's promotions.After the army ousted Mr. Thaksin, the military purged several officers loyal to the prime minister, and replaced them with ones who supported the coup or opposed Mr. Thaksin's return.In February, the Red Shirts complained to the U.S. Embassy after it gave a visa to Gen. Anupong to visit America.The Red Shirts said the visa should have been withheld because of Gen. Anupong's role in the coup."U.S. Army Chief of Staff General Casey invited his counterpart, General Anupong, to visit the U.S.," an American Embassy spokeswoman said at the time.Apparently mindful of Gen. Anupong's September retirement, Prime Minister Abhisit's suggested a December deadline for dissolving Parliament when he and two other government officials met a three-man Red Shirt delegation for televised talks on Sunday and Monday (March 28 and March 29)."We only have one demand...dissolve parliament" within 15 days, said a Red Shirt leader Jatuporn Prompan on Sunday (March 28), a deadline echoed again on Monday (March 29).
The Red Shirts also want nationwide elections 45 days after Parliament's dissolution.The two sides may meet for further talks later this week.
Mr. Thaksin, meanwhile, is both a blessing and a curse for the Red Shirts who adorn their banners with his face, and campaign for his return.He is a fugitive in self-exile, sometimes in Dubai or Montenegro, dodging a two-year prison sentence for a conflict of interest case involving the sale of Bangkok real estate to his then-wife.On February 26, in a separate case, Thailand's Supreme Court seized 1.4 billion U.S. dollars in frozen assets from Mr. Thaksin and his family for corruption linked to an international telecommunications deal.His lawyers launched an appeal.Mr. Thaksin's five-years as prime minister include the grisly extrajudicial executions of more than 2,000 people during his harsh "war on drugs" which have never been openly investigated, despite demands by Thai and international human rights groups.He also presided over a deadly military campaign against minority ethnic Muslim Malay-Thai separatists in the south, during which 78 Muslim men were suffocated to death in army trucks, in addition to other alleged human rights violations.Mr. Thaksin, however, is hailed by the Red Shirts because despite being a billionaire, he was one of the first prime ministers to reach out to Thailand's impoverished majority, offering cheap health care, easy loans, and other tax-funded populist policies.As a result, many of his supporters cynically ignore his illegal and questionable acts.Prime Minister Abhisit does not enjoy such support because his base is mostly among the ruling elite and middle class, especially in Bangkok.Mr. Abhisit leads a relatively small Democrat Party, and gained power by cobbling together a coalition within Parliament in December 2008.While Mr. Thaksin supports the Red Shirts through Internet-linked broadcasts displayed on a huge screen at their encampment, some analysts insist the struggle has expanded and awakened aspirations among Thailand's rural and urban poor, who want a bigger slice of the economic pie with or without Mr. Thaksin at the helm.The Red Shirts said their broader demands include better crop prices, assistance for landless farm workers, improvement in public education, and other help for poor Thais.During emotional debates among themselves on the official Red Shirts page on Facebook (www.facebook.com/UDDThailand), some boasted that the televised negotiations helped their cause.
"We became mainstream opposition! We gain respectability!" the site's creators stated on Monday (March 29).One poster, Gogosung Hakkayanon, speculated: "The Reds from upcountry will be deployed to seize the soldiers" if the military unleashes a crackdown."The military and police personnel are not the enemy," a government official announced on Saturday (March 27).
"Officers had been ordered to be most lenient and, since we have hot weather, to be sensitive to the demonstrators."