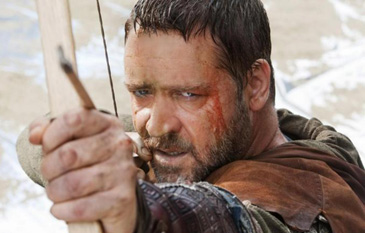 Australian actor Russell Crowe in Ridley Scott's "Robin Hood"
Ridley Scott's "Robin Hood" will open the 63rd Cannes Film Festival on May 12, 2010. Starring Australian actor Russell Crowe and British actress Cate Blanchett, and produced by Universal, the movie will screen out of competition.
The complete list of films in the Festival's three top sections – Competition, Out of Competition and A Certain Regard – will be announced in Paris three weeks before the annual French Riviera event begins.
Cannes as the undisputed queen of all festivals has been playing the novelty card with a flourish. Last year, it opened with Peter Docter's "Up', a delightful Walt Disney animation. This was the first time in the Festival's history that an animated work, and in 3D, heralded the 12-day extravaganza of sheer cinema.
This year, the Festival will go legendary. Robin Hood is a name we all know, and Brian Helgeland (of "L.A. Confidential" and "Mystic River" fame) has written this movie describing, as I have been given to understand, the beginnings of the fascinating legend.
Set in the late 12th century England, the film begins with the return of Sir Robin of Loxley, Earl of Huntington (Crowe), to his native village after fighting in the Third Crusade. He then learns of the tyranny of the new Sheriff of Nottingham, and Sir Robin uses his military skills and intelligence to bring peace to his village and free his country of corruption. And, while he leads his Merry Men of Sherwood Forest on this mission, he wins another battle, the affection of the recently widowed Lady Marian (Blanchett)."Robin Hood's" first look is reportedly as riveting as some of Scott's other movies, such as "Blade Runner", "Gladiator", "Hannibal" and "American Gangster". Renowned for his extraordinarily stylish visuals and microscopic detailing, he has been a familiar face at Cannes. He first went there in 1977 with "The Duellists" and won a prize. His path-breaking, feminist work, "Thelma and Louise" won critical acclaim at the Festival in 1991.
"Robin Hood", as we would see this May, has gone through significant changes. When Universal got hold of a script, titled "Nottingham", in 2007, depicting a heroic sheriff to be played by Crowe, the actor was not very happy with the story. A year later, it was rewritten into a plot about how Robin Hood became an outlaw. And Crowe stepped into Sherwood.
Gautaman Bhaskaran will make his 20th trip to Cannes this May. — Editor's Note